Foundations of Adobe® Photoshop® CC®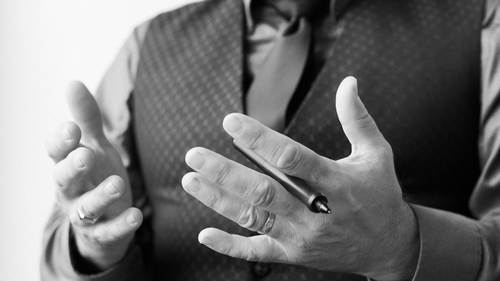 Foundations of Adobe® Photoshop® CC®
Lesson Info
Keyboard Shortcuts
So one of the lessons we learn very quickly in Photoshop is there's a few modifier keys that are very useful. Option or alt is probably one of the most significant ones and I'll talk about that in a second. The other is shift. Shift is almost always a constraint, meaning I want to select a perfect square, I want to draw a straight line, anything you want to be constrained to angles it's almost always the shift key that will do that. The option or alt key is a key that modifies the behavior of a tool or a function in some more interesting way typically. So for example, changing zoom in to zoom out or something of that nature. I always tell this story whenever I'm talking about this because I think it really helps you remember it, and that is many years ago, it was probably Photoshop 2, back in the day where used to get a manual with your software, if you remember when that used to happen. An actual printed book that no one ever used. To me it was always a badge of honor to show here are...
all my manuals still in their shrink wrap. I haven't actually opened them yet. Anyway, I was teaching a Photoshop class and this woman came in and said... I don't know why she told me this story, but anyway, she said "I have to be honest. "I've ordered Photoshop. "It hasn't come yet so I'm using a friend's copy. "I know I'm not supposed to, but as a result, "I don't have a manual so I don't know "what all of the tools are called, "so if I am referring to something and I use a weird name, "that's just what I call them "because I don't know their actual name." I was like okay, that's interesting. So she had some very interesting names for tools, which I won't get into but anyway, at one point she asked a question. She said "I'm a little confused. "I was holding down the make better key and..." I was like... the what? She said "The make better key. "Oh, I'm sorry, that's what I call option or alt." And I was like... why? She said "well I found as I was experimenting "that if I used a tool it worked pretty well, "but if I held down option or alt, it made it even better." At the time I was like that's so... really cool! (laughter) That's a great way to remember it because usually it does do that. If you're in some function, and I'll just give you a quick example here. I'm in a dialogue box. It doesn't matter what it is for now. And I'm making these changes and I realize, okay that's looking really bad, one typical choice would be to hit cancel and then reopen exactly the same dialogue box. But I just want to start again. Look at the button that says cancel. If I hold down the make better key, it changes to reset and now I can just start again. So there's an example of the option or alt key as making that function better by letting me reset it instead of clicking and starting all over again. That's just one example. There's lots of times that you'll see as we progress that using some tool, it works quite well, but if you want to change the functionality of that tool, it's almost always option or alt. Even for people who have the hardest time remembering keyboard shortcuts. Again, that's one modifier to think about. So that was probably like 20 years ago that that happened and a few months ago I was at a conference and this guy, I swear I'd never met him and we were discussing... he was saying "so you teach Photoshop?" I was like yeah, so that's cool. And he's like "can I ask you a question?" I was like sure so he goes "I was using the make better key..." and I was like that's awesome. He'd never even taken one of my classes and he was calling it the make better key. I was like it's working, it's getting out there and people are... I said it's not actually make better key. That's just kind of a way to remember it but it's cool that you said that because I invented that. I didn't really, my student did, but I shared the wealth of that. So (laughing) anytime you're working in Photoshop, you'll find there's always usually some key, holding the shift key to constrain or whatever it might be. If you're ever uncertain, it's almost always option or alt that will do that modification, make better, whatever you want to call it. As a way of demonstrating now be prepared for this, there's always multiple ways to do things in Photoshop, and for the most part especially for tool functions like I'm going to show you here, there's not necessarily a better way. There's just different options. The only thing that might make it better in the sense of a choice is more efficient. So for me, I would prefer not to have to go over and click on a tool to do something, as I showed before with the hand tool and the spacebar. So if I'm over up here in this corner and I want to zoom in on that area and I have a different tool selected, I could go and click on the zoom tool, I could even tap the letter Z, but I just want to temporarily zoom in. So I already know spacebar is the hand tool so that's not it. But if I hold down command and the spacebar, oh look I have the zoom tool. Again the cursor will tell you so if you're not sure, and again these are not things you have to do. I'm just showing you there's lots of different choices that will help you with your efficiency, and I think that's a good habit and a best practice to develop is to try and be as efficient as possible. There's nothing to say if you can't remember that you go over and move your mouse over, click on the zoom tool, zoom in, go back and click on the brush tool. That's fine. That works too. But as a habit to get into early on, if you can remember and don't let it distract you or get to the point of frustration, but if you can think about some of these methods, and I like these ones because again if you can't remember, the cursor will show you. So I'm thinking is it this one? No. Is it that? No. Oh there we go. Now normally you don't have that thing across the bottom, that's a function we put on for training purposes, so you'll just have to look at your keyboard and go, I'm holding down command or control and the spacebar to get this. Okay? And of course... Now let me as a question. I'm still holding these keys down. Now if I wanted to zoom out, what other key might you think that I might hold down in order to be able to add the zoom out function to what I'm doing? Any guesses? No? The make better key perhaps? So to zoom out, believe it or not, it's option command spacebar. Something you probably will never will ever do but just to prove the point that the option or alt key is always gonna add that extra bit of functionality.
Class Description
Join Dave Cross in this beginner friendly class starting at the very basics with Photoshop® CC®. You'll learn how to begin navigating the software and what the best practices and work habits are to approach different projects.
Dave will cover:
Working non destructively on your files
How to resize, crop, and straighten images
Using layers with basic layer examples
Adding text, color, and painting to images
How to retouch and adjust images using selections and masks
Learn how to use the tools you need to create the image you want. Dave will demonstrate using sample workflows that take you through projects from start to finish.
Don't have Photoshop® yet? Get it now so you can follow along with the course!
Software Used: Adobe Photoshop CC 2017.1.1