Choosing a Snare - Ludwig Black Beauty 14x6.5
Kris Crummett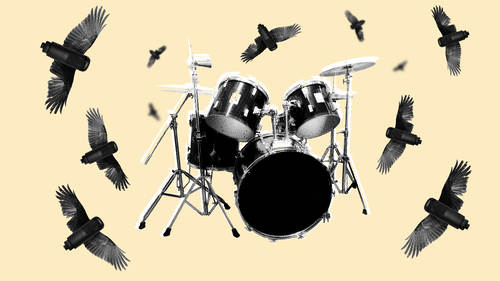 Choosing a Snare - Ludwig Black Beauty 14x6.5
Kris Crummett
Lesson Info
11. Choosing a Snare - Ludwig Black Beauty 14x6.5
Lesson Info
Choosing a Snare - Ludwig Black Beauty 14x6.5
The first run we'll start with is probably one of the most recorded drums of all time it's a very, very classic drum and the ludwig black beauty fourteen by six and a half and this thing I mean there's been on so many records back to the sixties on dawn is no those yeah it's just that's the most it's the universal snare you think universal snare sound that is this on day it's a great dream to have around that being said sometimes it can be a little boring because it is every cent, every snare you know? So if you could buy one snare, I'd probably say this well, I wouldn't myself because I get bored of them, but you know, if you're looking for the quintessential snare sound, this is a good place to start and the reason that it's so unique is that it's actually a nickel over brass and it's kind of a thinner rolled brass, as opposed tio some drums, I'll show you later that are thicker breath, but a lot of ah cheaper beginner snares that she'll get are either like a cheaper sarah we steal b...
ut kind of a mid range scenario find of his shiny and kind of looks like a black beauty like this it's usually actually credible over brass, which is a lot brighter to cool sound but it's not as balanced on the thing that makes this this special is that the brass is coated with nickel so that's the real that's the black beauty secret the secret is out and throw the sun here it looks like the head got put on upside down sail to switch the moon jill cool and this has a control sound on it, right? So this is the same as the first drum. Head wise, this is ludwig black beauty uh sixteen fourteen by six and a half. Same depth as arrest the drums so far I'll just copy my info. So remote controlled sound one moon jell well, one third of a moon jill and, uh the sure s and fifty seven, like all the others are these tracks meet my monitors will play that beat cool and you can hear how the brass the nickel over brass and this is it. It really is. The nickel that makes a big deal here is that somehow, however, they figured the right amount to coat it. It really controls the sustain in what a lot of people would say the perfect way and that's. Why a lot of people consider it the ultimate snare drum er and one thing that's a tell tale of that when you hear him play the non rem shots, the hard hits and then the rim shots you can hear that he's hitting the rim and not but the actual tone of the drum doesn't change as much and the volume in the drum doesn't change as much as others and that's a characteristic of brass in general but it but that characteristics amplified by the nickel yeah that's that's what makes that drum really cool? It's a fun drama play too has a nice frequency response to play this back so the rim shot obviously changes the pitch a little bit but the consistency is is a lot greater. Looks like it's the loudest drum to yeah, it is metal drums often have more volume in jail this was that is a good honest one to play to its fun uh, yeah yeah he lives there good drums I get bored of him and I'm like a black beauty again but it's a good drum it really is like it's the code to honest rooms it is it's the go to for you I like it a lot on do you know what this is? A really good drum to demonstrate something that I want to show you to that you kind of want to be careful of and it's not really wrong or right either way but it will drastically change your snare sound and I saw this happening is that you want to think about how tight you have the stand on the snare and I'm not sure where we're at with it but I do want to demonstrate you could get a big sound difference between clamping right down to the stair itself which is also a fuel thing you know you clamp down to the snare and it will feel more connected and more grounded but if you ever have trouble with the snare walking like the snare stands kind of move around while they're playing just loosen it up a little bit because that will the basically d couples of the snare from the stand so every time you hit the snare and it moves the snare the stand doesn't move with it so was it pretty tight before yeah yeah we go well we right now yeah cool let's let's do that and hear that and it will it will change the sound of the snare a little bit too and like I said there's no right or wrong like both ways are very cool I actually prefer the feel of it a little bit tighter but if you're having trouble with them moving around that's a good way to get rid of that so this will be shortness called what would be be loose stand well here we'll see maybe is a proven wrong but we'll hear how big of a difference it makes or how little go ahead again such a consistent so having drum it's awesome so we'll hear the non room shot here's, the loose stand and here's the tight stand. A lot of years different in tone, I've heard bigger differences. So, again, that's more about keeping the snare in place. It's not walking. You know, you're not like hands behind your head, slamming the drum. So the snare is not really walking either way. But just something to keep in mind and something I wanted to mention.
Class Materials
Kris Crummett - Syllabus.pdf
Kris Crummett - Pro Tools Session.zip
Ratings and Reviews
Kris is methodical and goes over everything related to drum recording in great detail. He covers heads and even how much moon gel he uses for damping the heads, Mic placement, shell choice( size, wood etc ). Listen to Dance Gavin Dance to hear some of his work. I found this class to be super informative and very practical in it's approach. Thank you Kris !
this is a great class! i play drums personally, and i love percussion! he also teaches well
This is an amazing class! Kris is a very scientific instructor. This really opened my eyes to the drum recording process. Take Notes!!!! There are about a thousand unique facts and techniques that you should know. This will help you to record drums correctly at the source so that you can minimize the amount of digital destruction you will do later and thus get a "Professional" sound.
Student Work