Shooting for the Edit Part 2
Victor Ha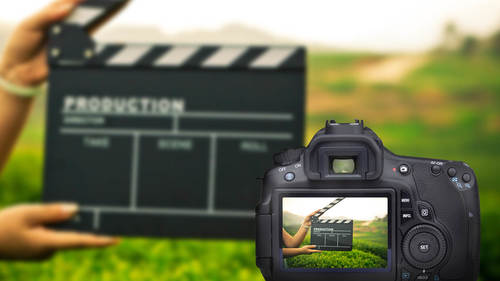 Shooting for the Edit Part 2
Victor Ha
Lesson Info
3. Shooting for the Edit Part 2
Lesson Info
Shooting for the Edit Part 2
The whole purpose of starting the class like this, guys, is because I believe that this is our foundation. This is where we start; this is what we do. You start by watching movies; you start by thinking in little, simple, brief projects. How's that feel? Great. You guys see what I mean? Mm-hmm. You guys hear what I'm saying? Mm-hmm. Cool (laughs). Anything from the chatroom, Amy? So many questions already. All right, let's go (laughs). Okay. All right, since we're talking about creating a story, first question from MovieMagic: "Do you encourage storyboarding to think "about your video shots? "And how would a person who's "terrible at sketching put together a good storyboard? "Or, is there a better way?" Okay, so we're going to a talk about this in-depth on the last day, called in-production, on the last segment of the last day. But, for something like this, if it's simple-- I'm a bad artist, I can't draw for spit. I've got friends who can draw everything and it's re...
ally, really frustrating to me because I draw stick figures. I'm a shotless kind of person What do we do here, guys? I will go will go into a scene, I will take my scouting photographs. I'll take my photographs here and then what I will do is plot them out, and then look at the photographs, and figure out my camera positioning, and then write that down. Now as you do this, as you do it you're going to take less and less production time because you're going to get used to thinking like a filmmaker and thinking what shots work for you. You'll start to kind of design little packets in your brain that go, "Okay, when I see this scenario, "I'm going to do this, this, this, and this. "And then I'll toss in that shot "if it's kind of like off the cuff." Again, let me see here. All right, so there's your punch is the peanut butter, that's because it's going to be used, right. We're going to watch this film one more time and then I'll go through it and then talk you guys through the process that we had. (upbeat music) Okay, so I want to clue you guys into one thing here. Here's a little funny thing. I'm hoping someone in the chatroom noticed this. It's the same shot over and over, right? The continuity is off. Well, the continuity is off, but it was a joke between the guy and I because when we made this video there's a couple things, and we'll scrub through and show you. He ate like 10 peanut butter and jelly sandwiches that day. (students laugh) He ate like 10 of them, and so, for this shot he was done, he was just absolutely done. So, I just kept using the same peanut butter and jelly sandwich just because he kept eating the same sandwich over, and over, and over again. But anyway, when you guys are starting off, continuity isn't something that you guys really think about. It's okay when you start, but we're going to scrub through this really quickly. Pay attention to how much bread is in the bag as I scrub. Watch this. So it's full, and then he starts to make sandwiches. Presumably it's his first sandwich. (students laugh) Presumably it's his first sandwich, but now the bag is empty, it's done. Now, there will be people who will pick it out; most people are focused on who? The character. If you go to IMDB.com, there's always like the goofs, and it's like how do you see that? What do you do when you're watching a movie that you can pick that stuff out? Yeah, I know right (laughs). Here's the thing, as we scrub through, can you guys see now how many different shots are involved? This video is 30 seconds long. It's 30 seconds long. The reason it's 30 seconds long is because we're completing the action, but not completing it. How much of the action am I showing you? Very little, but we all get to that point of understanding what this video is about because I give you just enough information to make it make sense. So, there's another thing. When you start to do this, and start to do it for real, and start to look at what shots are the winning shots versus the shots that are less compelling, the winning shots always leave you wanting a little bit more or they always throw you into the next thing. What else have we got from the chatroom? A question came up from Ivan who said: "How do you keep the lighting conditions consistent "for the different camera views, lenses, and settings?" For your simple projects, guys, I only want you to worry about camera and use ambient lighting. Don't worry about that stuff lighting because we didn't light that, we didn't light it. I'm a believer in practicing what I preach. This video was shot purely on a monopod, was shot with a tripod, and was shot with no extra lighting. I did do a custom light balance, but I did some stuff in post to make it look more orangey. The thing is, I want you worried about the shots. I wanted you worried about the framing, the composition, the camera work, and the camera handling. That's what I want you worrying about. Lighting comes later. Sound comes later. All of that stuff comes later. Advanced production tools come later. Here, was that video watchable? Yes. Why was it watchable? Because I could see the footage, it was in focus, and it wasn't squirrely. Practice on being stable, practice on getting your basics down, and then you can worry about the lighting, and then you can worry about the sound. Because when I started photography, my teacher put a camera in my hand, a roll of film in the other, taught me how to use the cameras, and then said, "Go take pictures." He didn't give me a camera, a roll of film, a flash, a set of reflectors, and a bunch of other stuff and lenses, no. He gave me a camera, a Canon AE-1 with a 50 millimeter lens on it and he put a roll of Tri-X 400 into it and said, "Go shoot some pictures." And I shot some really awful stuff. My first photograph, and I still have it, was really bad. It was a pinhole camera and it was awful, but it made me fall in love with the process. I think so much today we get inundated with, "I want results now," that we forget to fall in love with the process of our craft. What will make everyone in this room different from everyone else in the room isn't the camera, lens, or equipment that you use, it's how you see the world and how much you've practiced before you actually need to do it for real. That's what matters. That's what really sets you guys apart because everyone's going to walk into a room with a 5D Mark III. I can't tell you how many times my friends shoot weddings and they walk in and uncle Bob's got the same camera they do, stands right behind them, shoots the same photograph they shoot, and then complains that his photograph isn't as good as the photographer's. It's not the camera that makes the photograph, it's the photographer that makes the photograph. Filmmaking is the same way. It's just I think we've gotten into a habit of wanting easy results now. In filmmaking, in motion, requires a little bit of effort. Behind the scenes at CreativeLive it's a well oiled machine and it's phenomenal to see a production crew do what they do because everyone has a job, everyone has a purpose, and they know their craft. When we were wiring me up for sound and wiring the monitors up this morning, it was a joy to watch everyone do what they were doing because they were so focused and they knew what they were doing, and you can tell that they were seasoned professionals. That's what's going to set you apart from everyone else is the day you walk into a shoot and go, "Okay, I want a camera here, a camera here, a camera here, "let's put a lens on here." And actually, in your brain, visualize what's going on, having done the homework, and executing. That's when you actually know you've arrived. Let's go back and talk about this video. We're going to talk about this one and I'm going to mute the sound and we're going to watch it. There's one, two, three, four, five, six, seven, eight, nine, 10, 11, 12, 13, 14, 15, 16, 17, 18, 19, almost 20 shots. All of them static, all of them not moving, all of them in focus. That's what we're trying to get at here. That was the very first class that I did where I tried to do this thing, and in this class, everyone but one had video production experience. And everyone who shot the stuff had so much fun because they didn't realize that video, half of it was just the production and the other half was putting it together like this. Now, this isn't going to be an editing course, I'll show some stuff. CreativeLive has got a great three-day course on editing that's coming up. If you really want to learn how to edit, like really do it, there's great classes for that. But, it's funny, I've grown up in the photo industry and there's a class for lighting, there's a class for posing, a class for camera basics. Only when we talk about motion do they want you to teach lighting, sound, camera basics, editing, and all this other stuff in one day or three days. So, cut me a break, guys. (students laugh) Let's look at the next one. Sound is going to be off again. This one, it's funny because over the course of the year, as I show these videos more, everyone was like, "We're going to be better." "Oh, we're going to be better." So, this was the final workshop of the year that we did in Boston and they really pulled out all the stops for it. Okay, so we're going to stop there. That was a collection of, let me just scrub. Where's my mouse? Let's scrub through right here. In the beginning here, we're going to call out the shots. That's a medium wide, that's a closeup with the hands. That's a medium wide with a little bit of a motion element to it. Again, medium wide. Why do those shots work in succession like that? Because I was telling you earlier, I said go wide, then medium wide, then closeup. Like why does it work visually? Add different angles. Yes. We'll talk about that more later, but moving the camera is a really, really important-- Not moving it during the shot, but moving the camera position is really important. This opening sequence is like four shots and it's (finger snaps). Theoretically, let's think about that process, guys. Let's think about that process. One second here. If the shot goes boom, boom, boom, and it's me at the computer, but it's me in three different camera positions and there's only doing one camera, how many clips are there? Three long clips that they've edited and cut down. All right? We're going to pause here, pulse check. (students laugh) Are we good? Yeah, great. We good? Okay, how are doing over there? Everyone loves the way that you're starting this out with getting practical information, talking about how to think as a storyteller instead of just as a guy with a camera or a gal with a camera because it's something that is huge. I love one comment and I forget who said it and I apologize, who was saying that they were taking a screenwriting course and this is actually helping them to think better than their course about screenwriting. (Victor, Amy, and students laugh) This is a fundamental to video, I mean that's how we tell stories, so it's really cool that we're starting this way. I know there's lot of questions that are coming in about topics that we will be talking about throughout the course. Do we have any questions right now that you want to ask? Yeah, I wanted to ask a question from Rick F. I know you touched on keeping that space around a clip so that you have room to edit; the question is: "How much time do you allow before and after a scene "to have room for editing?" Do you have like a go-to 10 seconds before and after, or? If I'm not going to be recording any sound, like if I'm doing just something like this, I'll watch the action as he's doing it-- So, you always test run. Let's make believe I'm going to capture footage of just someone drinking, so you dry run it. If that's the action. What you do is you time it in your head in thousands, so one one thousand, two one thousand, three one thousand. For as long as that clip is, you add two one thousands before and after it. Typically, I'd go, "Okay, camera rolling." "Action." So, "Camera rolling." One one thousand, two one thousand, "Action." Drink. One one thousand, two one thousand, "Cut." So it gives you enough time after the action or before it to really shorten and measure out the clip. That's a great question. More stuff like that, guys. (students laugh) (laughs) I started this class and I was kind of nervous, but now I'm just good, this is great. (students laughs) This is easy now. Let's keep scrubbing. Pay attention to continuity here. This was a bad misstep on continuity, but it's a first video. Here we go. Look at the labels on the water bottles. Hey, that label (laughs). (students laugh) I drank that water so fast I drank it off the bottle. (students laugh) Let's look at this sequence. This was a sequence that one of the groups had to shoot as part of this story. They started here and they pieced together one, two, three, four or five different shots. Now, when you're filming that, you've got to think about the person drinking and then throwing it. Now, if I keep the camera in the same position and throw water bottles, that's not going to look right, is it? You have to move the camera for every water bottle toss, or change your lens, or change the framing. Then you think about the water, so what they didn't do. This is not being critical, this is like if we could've done something different, we would've done this. So, let's scrub through it here. Because the framing of me changed while I was drinking the water bottle, they didn't feel the need to change the framing of the trashcan as much because there was so much happening between me and drinking the water bottle. You can kind of play around with that, but I would think that they were pressed for time, they never thought about shooting for an edit before, now that they've done it, they would do it differently. You look at some of the shots and some of them are too similar and some of them aren't really compelling, but they get the job done. Again, I really, truly believe that if you focus your effort and your attention on doing things like this, it's going to really start to get the wheels going. Now, let's roll back to the first question I asked you guys or one of the first questions, is let's think about a sequence. We talked about getting ready for work. You said eating popcorn or making popcorn. Now we have something very simple, making popcorn. Is it microwaveable or stove top? Stove top. Oh, you're a pro. (students laugh) You're like a pro. Okay, so we're making stove top popcorn, not the cheap microwave stuff. There's the act of getting the pan on the stove, there's the act of agitating it, there's the popping as it comes up fills up that foil. I'm like old school, so does it still pop up in foil? Yeah. Then there's like the breaking out where the steam comes out, pouring it into a bowl, tossing some salt into it. This is what you do; you break apart the sequence in your brain and go, "What matters to you?" What part of the sequence matters enough to you to actually want to capture? You write that stuff down and then you vet it, then you vet it and go, "Well, this would look to similar to that." And you distill it down to like five or six shots, five or six mini little things that you're going to have to catch. Then you go, "Okay, where can I change my perspective? "And where can I really, really "shake things up a little bit?" Distill that down some more. The first shot that I got in my brain was as you're salting it, the camera is in the bowl, you pile the popcorn around the camera lens so it's looking up and there's popcorn and you pour salt on it. That's a great shot. You have the person like being silly. Even before you pick a camera up, even before you start recording, you sit down and you just let your brain wander because that's the fun part of it. That's the part where you go, "All right, maybe it's a kid; "maybe it's not an adult making popcorn." Your kid comes up and the countertop is this tall and they're this tall, and so they're doing this to agitate the popcorn. Then you start to actually, what do you do? Raise the stakes. You raise the stakes. You start to think like a filmmaker, you start to think in stories, you start to think in sequences. Then the camerawork doesn't become so hard because you've already visualized everything. Victor. I'm thinking all of Victor's lenses are covered in peanut butter, and salt, and oil. (students laugh) I was experimenting for this workshop with some things and I actually am still clearing sugar out of one of my lenses. That was bad. (students laugh) That was really, really bad and I don't use a filter because I'm weird like that, so I didn't use a UV, so I'm sitting there going whoo, whoo, whoo, whoo. The thing is, guys, let's take another one. I think one was like walking the dog. I love concepts that involve walking around a block. Walking in a neighborhood, walking in a cul-de-sac, it doesn't matter. Scenes that involve walking are really neat because it's an innate beginning, middle, and end. They start and they're going to end up right back where they started. It's their interaction with the things that happen to them as they walk that makes that scene or concept interesting. Theoretically, as you're walking the dog, you have two choices to make. Is the movie about the dog or is it about the owner? If it's about the owner, you're going to pick different lens choices, you're going to pick different framing options. If it's about the dog, then you're completely at liberty to do whatever the heck you want. What's the perspective of a dog? Right? Everything is going to be low, everything is going to be wide and goofy looking. It opens up your brain. When you think about everyday mundane things, now that I've given you the two options: perspective of the owner, perspective of the dog, which would be more fun? Not that would be better. What's more fun? Dog. The dog. I'm a firm believer in doing what's fun because if you do what's fun, that fun is going to motivate you through the course of that project when it really starts to get boring, when it really starts to get tedious, when it really starts just to suck. Because you're doing the same shot 50 times and you can't get it because either the dog's not cooperating, or your battery ran out, or the card was full and you thought you got it, but you didn't. If it's fun, you're still going to keep doing it because that's what keeps people going. I don't believe in better or best when it comes to content, I believe in fun. If the perspective of the human is going to be fun for you because you've got a weird quirky brain and think differently, do it. Don't take my word for it, just do it. If you guys felt that this segment was really good, stick around because we're just going to keep rolling and the next segment and the segment after that, we're going to have a lot of fun here. If you have any comments, questions, concerns you can ask my wonderful hosts and they'll get you to me. Before I move on, any questions, comments? Yeah, we definitely have questions. We've got a good one to start to end this segment. Coby asked: "Doesn't the number of shots "and their length depend on the mood of the video?" Thinking about the Bourne movies versus The Notebook, definitely different number of shots versus length of shots in the same scene. Here's your homework assignment: watch the Notebook, watch The Bourne Identity, turn the sound off and count between the amount of cuts. Count between the amount of cuts. You'll be very surprised because the speed at which dialogue is cut in a movie like The Notebook versus the speed at which action is cut are very similar. Very similar. Turn the sound of when you watch movies, guys, you're going to be very, very surprised. We get inundated with this idea that it's action so it's got to be fast, and it's dialogue so it's got to be slow, no, no. There are things called long takes, like Gravity is all about the long take, and Children of Men is all about the long take. There are movies that are specifically designed to be long take movies, but the zeitgeist right now in terms of what we watch, the zeitgeist of what we watch is handheld, or handheld-like, it's very quick cut, so it's like one person talking, another person talking, back to that person talking, back to what they're looking at, back to their talking, and it's cutting back and forth and it's because of basically my generation's fault. We can't watch a music video without turning it off (finger snap), so MTV had to quick cut stuff. That's why we don't watch full videos on MTV anymore. It's purely because our attention spans are lower. The thing is if you really, really dive in and watch episodic television and narrative film, you will notice that the amount of time between cuts is very, very short and it's very similar, regardless of the genre. This is a very general statement. There will be outliers, Gravity is one of them, but the general statement is this is very true. Another question. Question from Lasers who would like to know: "What do you think about shots "that aren't necessarily related to the act itself? "Like there could be one shot of the person taking a break "from cooking the popcorn and having some other snack "while they're waiting for it to be ready." Here's the thing is I love extra footage, but the purpose of doing something simple is to really get you engrossed into the action. The extra footage, we'll call that B-roll. It's B-roll because it's stuff that doesn't really pertain to the overall story. It's always great to have B-roll; it's always great to have that stuff, but if we're going to start thinking in stories, and thinking in filmmaking terms, and thinking like filmmakers, we really want to just look at a simple action and focus all of our attention on that simple action because what it will do is allow us and train us to identify an action, record that action, and move on from that action. As we get a few of those under our belt, then we start tossing in B-roll, then we start spicing things up with different camera movement and all that kind of good stuff. I'm starting to see light bulbs go off in my room here. (students laugh) That's really, really great for me. I hope the guys at home and the folks at home, you guys have an opportunity to have that ah-ha moment and I really want you to really share that with us so that we can continue rolling along the same lines and I can continue to edify and provide you guys more information that's going to be quality content for you.
Class Materials
Victors White Board Notes - High Resolution
Ratings and Reviews
This course was quite a treat! I had been learning piecemeal about DSLR Filmmaking but never had the opportunity to follow a course that ties it all together. And my namesake Victor is ex-cel-lent!!! Fundamentals of DSLR Filmmaking is a very very clear (I would almost say, lucid!), carefully, comprehensively tied together course teaching all you need and wanted to know about DSLR Filmmaking. Massive PLUS is that the course is first and before all NOT about the nitty-gritty technical details and numbers, but all about the basics of what filmmaking REALLY is all about. And yes, technique and gear are part of that but not for their own sake. And Victor shares that it's all about fun, and telling your story your way in the way that you like. I truly admire Victor's carefully planned and laid out path, in my opinion he planned the course exactly and meticulously like he would a full-blown movie production. And he is very open and honest and not belittling at all. He is really passionate, compassionate and 'infectious' with his happy happy mood :-)! I HIGHLY recommend this course for anyone wanting to properly and thoroughly learn the ins and outs of filmmaking, with a strong focus on using a DSLR.
This is a very well constructed course by Victor Ha, who is very easy to watch, and very knowledgeable about using the DSLR for more than just taking pictures. For a Wedding Photographer like me, who wants to add some moving images into a slideshow for my client, this course was perfect. Victor shows us that, with the equipment you already own as a working professional photographer, you can get started into video RIGHT NOW, with baby steps. This is not a course on video editing, so if you need that tuition look elsewhere, BUT, Victor shows us how to set our cameras up for success right from the start, so that when we are at the editing stage, the footage is in the perfect state possible to produce excellently exposed, perfectly colour balanced material. He goes over the use of a light meter for capturing video, and how essential it is to get the exposure right 'in camera', so this is certainly a Fundamental DSLR Filmmaking course, for anyone who is already using their DSLR for stills, but who is interested in adding something else to their skill set. Victor is so enthusiastic in his teaching style, and this is a course I will keep coming back to time after time.
Excellent overview on how to think as a storyteller with DSLR video. Great breakdown and really accessible examples- fun video on the making of a peanut butter sandwich- which inspire and make it feel like the video beast can be conquered. This course is packed with great ideas on not only figuring out to how to make the switch from still to motion, but also creative inspiration on how to begin thinking cinematically. Well worth the price. Great course!
Student Work