Fundamentals of Mixing Rock and EDM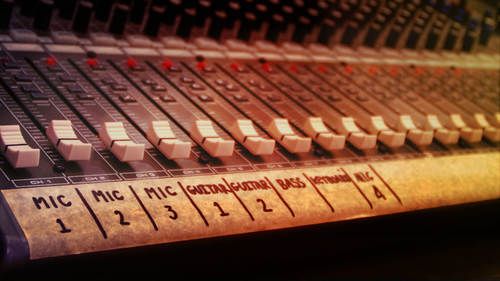 Lesson Info
Sampling Rates and Distortion
While it's easy to get distracted by the latest and greatest gear, plugins, and flashy tricks, the real key to a great mix is mastering the fundamentals. In this online class, veteran producer/engineer/mixer Jesse Cannon (The Cure, Animal Collective, Senses Fail) shows you all the essentials of mixing rock and electronic music.
In this 3-day class, you'll learn how to set up a session the RIGHT way — including routing, gain structure, listening techniques, and other best practices. He'll show you how to mix vocals, bass, drums, guitars, and synths. You'll also learn how to use compression, reverb and EQ to make your mix come together, while achieving the punch and separation that takes it from good to great. The class is taught with Pro Tools, but the concepts easily translate to any DAW.
Whether you're new to mixing, or are a seasoned pro looking for a refresher on the basics, this class will teach you how to seamlessly merge individual sounds into polished, cohesive tracks.
Reviews
The course started off so well, (I'm not going to hold anything back here since this is the only way the next course will be as good or better) comparing against people like Dave Pensado, until it gets out of hand and Jesse starts using nothing but Waves plugins that most people can't afford. After watching this for hours, it turns into link dropping, name dropping, advertisements that honestly, don't matter. I can't imagine anyone that is watching the tutorial honestly relates or cares about how amazing or wonderful this producer is or how many tracks they are doing for the Kardashians. This information is irrelevant to the point of what you are trying to achieve. I can appreciate the concepts, but the lamen would get completely and totally lost talking about compression/expansion and sure enough someone got confused with no clear explanation of what is actually happening and why. Things like that go on and on, out of context especially when he A/B's and plays the ENTIRE mix back, blasting all of these saturated tracks at your face at once. There comes a point where those 15+ vocal tracks have to be muted so as to hear everything even vaguely in context with the example provided. All I hear in Jesse's EDM track is Saturn saturation trying to compete with everything else out there today that is practically void of dynamics via Sausage Fattener. This is pretty far from Porter Robinson since this isn't a Complextro track nevertheless. Much of this could have been condensed into about 4 hours of usable material, and I can understand how 15 hours can sound like a value 10 years ago, but these days people want it short, and people want it now, simple and stupid. There are excellent concepts mentioned for EQing tracks but they are absolutely beat to death. I'm not attacking this by any means, I believe it was done in good preparation and good taste. My immediate concern is being less opinionated, just get to the point and not go into some story about this one time at band camp because Jesse begins to sound like "that guy" telling engineering war stories. All this relating to the EDM part of the course. After all there is no real definition for EDM since people can be so picky about what sounds good and bad since the genre has 1000 sub-genres and literally changes every week. I actually feel Jesse was brave to even take this on, but staying relevant with EDM tutorials because of how much it changes needs to be SUPER condensed. He could have literally said "Hi-pass EVERYTHING at " " then apply saturation & compress. The sad part is...all that is Youtube common knowledge. Here's where Jesse can use his expertise in my opinion (and I got really excited when he mentioned super current acts i.e Skrillex/Porter Robinson but is mixing a song that is total radio) but didn't follow though by explaining the "actual" concepts of WHY the Bangarang EP sounded as massive as it did. This was directly related to someone like Skrillex with background in mixing Rock with EDM (hence me being so excited with the tutorial) I don't want an opinion on those sounds because I already have one. I want engineering concepts on how to make a track sound as gigantic as those, i.e adding noise/transient analysis. Show us something we don't already watch all the time using your engineering expertise. It is valuable and I can appreciate it. I hope this wasn't too personal, but there can be no improvement otherwise and I hope anyone would do the same for me. :)
I just want to say I have watched a lot of the tutorials on the creative live site, all dealing with audio. And I was so impressed with the knowledge and professionalism of Jesse. This guy walks the walk and talks the talk. Anyone who is an engineer or who wants to become and engineer this is a treasure chest of knowledge.I went to an audio school and we had seminars all the time. A workshop like this will really advance you. And I mean that from an engineers point of view but also that of a consumer because I watched the course for free and a couple of days later I bought the course. You may be thinking to yourself I just can't afford it. You can't afford not to invest in yourself and education. Creative live is a great site and a wealth of knowledge. Thank you very much to Jesse Cannon. Great workshop. You guys at creative live need to bring him back again.
Excelent class! Suitable for all levels of mixers & musicians. Jesse is real pro, and knowledge what he gives cost much more than 149$! CrativeLive, please make recording & producing tutorial from Jesse, i'll praise you!