Advanced Color Edits
David Grover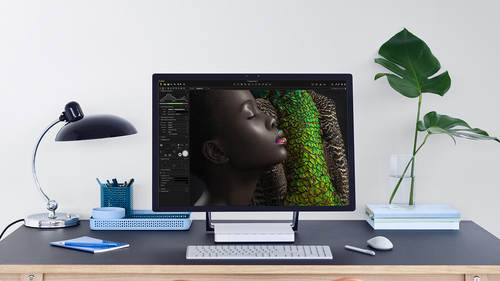 Advanced Color Edits
David Grover
Lesson Info
18. Advanced Color Edits
Head back into the color editor tool and build in advanced techniques. Learn how to select and adjust specific color ranges, including helpful shortcuts.
Lesson Info
Advanced Color Edits
So you had a little teaser earlier of hell The color editor works. Now we're really gonna dig deeper into it now on DSI all the potential and possibilities how really to use it in a clever way and also again combining it with layers so you can really get the full potential. So we're starting with the big, scary color target image that you can see because this really gives you a good visual way to understand how the advanced tab is working in the color editor. So, like you saw earlier, I'm gonna make this larger so we can see what's going on. So we're skipping right past the basic tub. Now we're going just straight to advance because honestly, even though basic is kind of precept for you, generally I think advanced is really in some way easier to use more powerful, less frustrating and just does the job better. So we're going to use this color shell so you can see exactly how it works. So once again, I'm gonna pick this picker and let's just go over here and click somewhere around here ...
So straight away we get a suggestion as it is only a suggestion of the color range that we're going to start editing now, the small dot in the center, just above my cursor. That's the exact color tone that we clicked on. Now it's very hard to visualize what this range actually is, which is why, as you saw earlier, we have this view selected color range. So as soon as I turn that on, you can see exactly which color range we're gonna edit. So in this direction, it's about color range. So if we open up or which you'll see that coloring start to creep to the right in this direction, and if we open up that way, it's gonna creep to the left. So that's the range. That's whether you're going to include yellows, reds, blues, greens and so on will keep it very narrow. Now, in this plane, from the center of the circle to the edge, that saturation. So if we go all the way from here to the edge, you can see it drops down to the bottom of my color image here, as you can see, So right now you can see the range itself has this kind of fuzzy edge to it and Also, the selection has the fuzzy edge to it. So this is really on that range. How do we handle the role off into nearby colors? So by default, smoothness is set to this value around 20 and that's generally pretty good. 99% of the time. You'll see what happens if we take smoothness all the way to zero. Let's just soon mean a little bit. Where is it? You can see that the edge gets really hard. If we bring the smoothness up, then you see it gets softer, so that just really bleeds off nicely into those surrounding areas. And then, once you're happy with the arrange, let's just make this one a bit more like. So once you're happy with the range, then you can begin your color editing process. So, for example, if we would grab lightness, we could make this block darker or lighter, and we could make it more saturated or less saturated. That's really all there is to it, so it might look intimidating at first, but it's a very easy tool to use. There's a couple of little ticks just on the edge here. That's also another way of just changing the boundary, as you can see like so So just moving the boundary on the centre one means you can just walk this zone wherever you want around the circle, like so and then the three adjustment sliders as you saw hue, saturation and lightness as well. So if we pull the hue quite a lot, that's gonna move this point to the left or to the right by 30 degrees. That's simply all it's doing, so it's designed for color tweaks. It's not designed for changing read too blue or something like that. So the primary mission of the color editor is just to make those small tweaks underneath. Down here, you can see before and after. So this is how the color looked when I picked it. And after we've done our edit, this is how the color looks now, and you've got some new miracle values as well. There's a couple of handy little shortcut icons down here, so this one on the right hand side will automatically span the entire saturation range. So if we just pick again, so let's pick here. So if you want to span the entire saturation range of your picked color. If we click on this, it's now spread from the lowest saturated to the highest saturated. So it's just a quick short cut to snap out that range all the way to the edge, and then this one here. But zoom out a bit. What this one does is invert, so it will take your selection and, if you like, protect that and make the edits happen on all the other colors. So if we click on invert now, then you see I've selected everything, but my picked a color. So now if I change the edits, you can see how it's working again. That's really all there is to it. Super simple to use. You just have to get into practice off modifying the range, using the view selective color range to see how it works.
Class Materials
Windows Keyboard Shortcuts
Ratings and Reviews
This is a superb course. David is an excellent teacher. I'm coming to the end of it and have learnt so much. I've been using the software for a year, self-learning as I went along. I had watched the odd David Grover video on YouTube, but never got much further in my understanding of the software. Capture One is brilliant software and to do it justice you need to learn it properly from an expert. Highly recommend this course if you want to produce professional results.
Excellent course and a very engaging speaker. If you are starting with Capture One 12, this is the best class to take. The lessons are presented and explained in an organized way that it shortens the learning curve. Thank you, David. Cheers!
One of the best course I've purchased. Very helpful and I learned so much more with this course and in a short period of time, than all the official Capture One You Tube videos put together! Anyways David Grover is the same guy who does the Phase One C1 official YouTube videos, so there's no better person to conduct this course than him! Truly excellent and if you think you know all about C1 Pro 12 interface, wait till you watch this course.
Student Work