Combining Color Selections with Layers
David Grover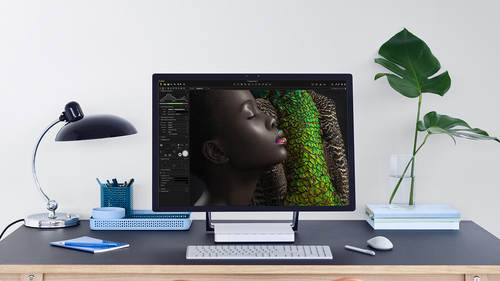 Combining Color Selections with Layers
David Grover
Lesson Info
22. Combining Color Selections with Layers
What if you have an image with two objects that have identical color, but you only want to adjust one of them? Fine-tune your color adjustments using layers to adjust only a single area of color.
Lesson Info
Combining Color Selections with Layers
So you saw there We needed to use a layer with the color editor with the skin tone color editor because no matter how good we are with shaping our coloring selection, we're always going to affect lips. Or maybe clothing or something like that, which we don't want is part of our adjustment. So it's really super easy to do it on the layer. So that's the same as general color. Edits Aziz. Well, so some cases you're fine, no matter how critical you are with the color editor, there's, you know there's nothing you can do about it. So if we go Teoh this image that we looked at earlier on today to open our color editor back up, Let's zoom in a little bit. So we've got grapefruit and tomatoes. Go back to advanced, click on let's say, the grapefruit here, turn on view, selected color, range and no matter what I do, even if I duel the tricks that I know like making the range smaller, playing around with saturation range, there's nothing I can do to completely eliminate the tomatoes from that equa...
tion. So for whatever reason, if I wantedto change the color of object A. It's always gonna have an effect on object. Be so, of course, the easy thing to do is just drop a quick layer. So let's reset what we did here and go to ladies. Let's make a new layer and cool this grapefruit attempt to call it great fruit. There we go. Grab a brush and I don't really have to do this with much level of accuracy because we're gonna pick within it. So if I just do a quick brush like that like so go back to my colored it up picking here. I don't even have to worry about changing this because now hopes That's interesting. That should, in theory, only be on that plan that we just check. If I didn't do anything silly, let's do that again. Call this grapefruit, Grab my brush. You should only be on this one. Let's look at the color and it's, uh, pick mine. Grapefruit. That's why a few selected color range, good teachable moment here view selected color range respects the whole image. It ignores the layer. So that's why when I had it on and I was missing around, he was happening to everything. So if I turned view. Select to color. Range off, then you see now it's only affecting where my layers. So it's a slight curiosity with view selected coloring that in theory, if I turn this on, you think it should only reflect the mast area, but it reflects the whole image. So I'd love to say I made that mistake on purpose, but I didn't. But that's just a good indication to know. So view. Selected color range. Even if you have a layer on your image, it respects the whole image. But now you can see let's just hide my mosque. I'm free to do any adjustment like so, and it's only affecting what's going on in the layers. So now if I started brushing over here, then it's going to bring that same it across, because that's also part of that color range. So if we find any other red stuff, here we go and I brush in, then that color it. It is gonna happen on that as well. Neat little trick also on this one. So the same principle. Let's say the color of this rug. It's not correct. The manufacturers complained for whatever reason, so we could click on here, turn click on the rug like so and same principle. If I just it. It's going to affect this vase to we don't the vast manufacturer complaining as well. So this is something we could do in the layer. But what I would probably do is I would do a quick new land. Let's just call this. What is it? A blanket, I suppose. Grab a brush and I would actually mosque this and then simply right click on the land and say involved. So now I'm going to affect everything except for this little bars here said. Now, if I pick on the rug slash blanket and then we can change the color appearance of it, maybe we need to tweak the huge slightly. Then we can do so without affecting this. Just a quick, speedy trick was probably faster than tryingto brush anywhere, which had this'll rock. So layer plus color editor, much more powerful give you another example. So nice shot of Ah, watch here. Now this is already has got tons of layers on it, so let's grab a fresh virgin one like so. So if we pick what I want to brighten up the mental block, not dial hands, hands on the clock face. Then, first of all, we would pick this. Go to the hands. Now, if I change this, you can also see. Of course, that strap, unfortunately, is changing as well. When the numbers around the outside So once again we can do a quick, simple, quick and dirty mosque doesn't have to be particularly accurate. Oh, by the way, good thing to mention if you don't have a layer created if you start brushing, one will get created automatically. So the 1st 1 always gets created automatically, if you wish. So if I do a quick, quick and dirty mask like that, grab my picker, click on the hands. And then now I'm free to mess around with the color of this without affecting anything else. Like so even with a quick, rough mosque like that. Okay, so if you need more accuracy than it's simply a case of combining those two together, so a layer plus you color it it. And really, if you're using layers, you don't have to spend any time kind of messing around with the range too much because you've already restricted it with a quick and simple layer as well. One more example and then we move on. So let's say off, Sir, Flight were not very happy with the color of how the wetsuit looks. If you're editing red, there's always a chance you're going to pick up on the skin tone. So if we choose it here and then we start playing with it, say we're probably always going to affect the skin tone to some extent. So what I would do rather than sort of masking like all the panels that I would see I would do. What we did with the balls is think about. I want to protect this. So this is the no go zone. We don't have any color editing going on here and then flip it by right clicking and saying, Invert mosque like so So this is now the safe zone. So if I go back to my color editor, click on the red once more now we can manipulate that. No problem. It'll it's all working nicely. Oh, and I need a few more safe zones here, so if I grab my raised brush, we can take out skin tone here is well, for example, what? That and down here as well again don't have to be super accurate because there's nothing that's close to read, like there's no red in the sea or anything like this. So now we've done a nice at it on the wet suit, like so but without affecting anything else. Your happy surf life is happy and so on, so a couple of tricks like that could work quite nicely. Sometimes it's easier to not mask the things you want to edit. Like to mask all the panels would have taken me a while. It's just easier to knock out the things you don't want and then inverted likes him.
Class Materials
Windows Keyboard Shortcuts
Ratings and Reviews
This is a superb course. David is an excellent teacher. I'm coming to the end of it and have learnt so much. I've been using the software for a year, self-learning as I went along. I had watched the odd David Grover video on YouTube, but never got much further in my understanding of the software. Capture One is brilliant software and to do it justice you need to learn it properly from an expert. Highly recommend this course if you want to produce professional results.
Excellent course and a very engaging speaker. If you are starting with Capture One 12, this is the best class to take. The lessons are presented and explained in an organized way that it shortens the learning curve. Thank you, David. Cheers!
One of the best course I've purchased. Very helpful and I learned so much more with this course and in a short period of time, than all the official Capture One You Tube videos put together! Anyways David Grover is the same guy who does the Phase One C1 official YouTube videos, so there's no better person to conduct this course than him! Truly excellent and if you think you know all about C1 Pro 12 interface, wait till you watch this course.
Student Work