Controlling the Camera
David Grover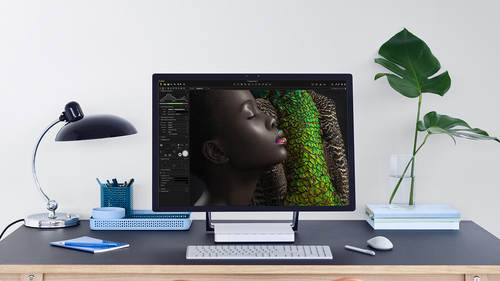 Controlling the Camera
David Grover
Lesson Info
29. Controlling the Camera
Adjust camera options directly inside Capture One Pro. Here, David shows how to customize the tethered workspace, how to connect the camera, and how to remotely adjust camera settings.
Lesson Info
Controlling the Camera
now interface wise. Um, what we might want to do is add a couple of things that help us when we're shooting tethered. So if you remembered earlier, I got rid of the capture tool tab because we weren't using it. So we were using my workspace, David's workspace, and that did not have the capture tool tub. So remember, if you want to add a told her back, I can right click and say, had to tub and bring back the capture talk tab, and we complacent it wherever we like. Like so also for shooting tethered something else that you can add to the toolbar that might help you. Right click customers, too. Well, is, uh, this one, if I can find it battery status, so that shows me the status of the battery in the camera Right now. That's a really thing. Just always up there on the toolbar, which you can keep an eye on. And even if I click on it, it shows me the percentage. So we're 100%. We remember to charge it up, so that's great. And then you're see, like the level of the battery moved down as well ...
as you go through the shoe. So even if you're not looking at the camera tool, which we get to in a second, you've always got a visual representation of how much juice is left in the battery. So I'm going to say that workspace because you never know. I want to reset and we call that. Tell it like so. So I can always recall this workspace with my battery indicator and my capture told him. All right, so when connecting the camera, make sure haven't missed anything. Okay, so I'm just going to disconnect the camera so we can hot plug it. No problem. It'll you don't have to turn the camera on first or turn launch, capture one first and then connect the camera or vice versa. It really doesn't matter. So USB whips Excuse me? USB cable in like so and then very quickly. You'll see the camera becomes detected on pops up like so. So anything that is lit up in this interface means that you can change it remotely from capture one. So, for example, if I want to change the air, so then I can click on it and use a different higher. So for example, same goes in this case for shutter speed and aperture, and so on. Something like off metering mode on this particular camera, the Canon five D. That's a mechanical adjustment, so I can't change it from capture one. But if I was to go over to the camera and we just flick this, too, aptitude priority is looking it very good. Look like so then you can see No, I just lost the camera and there we go. You can see that it's now switched to happy to your priority. So this to always synchronizes back and forth. So I just put that back on my new so and you can see also a few options for the default white balance. So daylight, tungsten, etcetera and also whether we're shooting raw and the myriad of other options that available in camera as well. Now each manufacturer does things a little bit differently. So, for example, if you're shooting with Sony to pull out an example, if you were to click on the shutter speed, you can't see this full list of different shutter speeds so you can only see this at the top, which is the plus minus so you can only tell the Sony camera to go up or down in terms of shutter speed or aperture, so that's just a limitation of the communication back and forth with the camera. So if your view of the camera tool looks a little bit different, that's why, unfortunately, no to manufacturers have the same standards. So it varies to some extent what capture one is capable off. And finally, down here, we can see things like metering or sorry. This is the capture rate, so single or continuous metering and so on and so forth. Now, if you want to dig into Maura adjustments, that's dropped this one back. There's also the camera's settings to, so this will vary in its length and detail, depending on the camera manufacturer. But this also digs in deeper to the menu system of the camera, and sometimes it's actually easier to find the functionality in capture one that it is trying to hunt through the menu system on the camera. So if I wanted to change something about auto focus, if I type in F in the search bar, then you can see the various different options pop up like so So if you're trying to find that elusive setting the camera, sometimes you could just find it with a quick search in the camera settings to.
Class Materials
Windows Keyboard Shortcuts
Ratings and Reviews
This is a superb course. David is an excellent teacher. I'm coming to the end of it and have learnt so much. I've been using the software for a year, self-learning as I went along. I had watched the odd David Grover video on YouTube, but never got much further in my understanding of the software. Capture One is brilliant software and to do it justice you need to learn it properly from an expert. Highly recommend this course if you want to produce professional results.
Excellent course and a very engaging speaker. If you are starting with Capture One 12, this is the best class to take. The lessons are presented and explained in an organized way that it shortens the learning curve. Thank you, David. Cheers!
One of the best course I've purchased. Very helpful and I learned so much more with this course and in a short period of time, than all the official Capture One You Tube videos put together! Anyways David Grover is the same guy who does the Phase One C1 official YouTube videos, so there's no better person to conduct this course than him! Truly excellent and if you think you know all about C1 Pro 12 interface, wait till you watch this course.
Student Work