Get The Most Out of Your Photos With Capture One Pro 12
Setting Up Simple Sessions and Setting Naming Conventions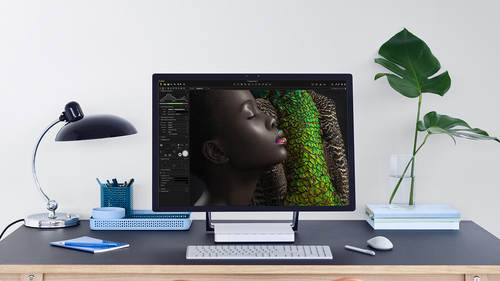 Get The Most Out of Your Photos With Capture One Pro 12
Setting Up Simple Sessions and Setting Naming Conventions
Lesson Info
Setting Up Simple Sessions and Setting Naming Conventions
we're gonna set up a session specifically for what we're going to do today. So let's say file new session and we call this CEO for creative lives and we're shooting a parfait today. Apparently, I didn't know it was called that and I'm gonna leave. Everything else is default on was say OK, so that gives us our new session. And if we go into the finder and we can see what we've made Pictures CEO parfait like some and again, I have the standard session folders, capture, outputs, selects and trash. But very often one capture folder isn't enough. So we might be doing a group of headshots, say four or five people, corporate headshots, we might be doing fashion looks a bunch of different looks. We could be doing some beauty work and so on, and we need to categorize those pictures into different folders. Otherwise, we end up with one capture folder with a lot of images in it, and it makes it a little bit harder to manage. So what you can do in your session is that we can adds additional folder...
s, so I'm gonna make a few. I'm gonna make 1st 1 called lighting test. Or you could call it set up just a foldaway you can shoot into which are not the actual final images. Just when you're messing around with the set, getting your lighting correct and so on so you can shoot into that without cluttering up your other folders. So that's the 1st 1 And then we're gonna make another photo called Shot one. And then another folder cooled shot to, and then a final one called. You guessed it show three. Like some now currently capture. One is no aware that I've made these additional folders, so it's only watching capture, outputs, elects and trash. So capture One has no idea that these folders exist. So if I, for example, dropped images in there, then they wouldn't shopping capture one. I don't really have any way to access it here either. So this is where session favorites come in, where I can add additional folders to the session to make sure capture one is aware. So on the Mac, we can simply select these folders and drag them over to session favorites like So. So now capture. One is aware that these folders exist Now if you're on a PC. You can't do a dragon drop. You have to go in and hit the plus button and then go and find the folder. So I would go over here and then pick the folder up. First of all, if you're thinking well, this seems a lot of set up I have to do. We're only have to do this once, because everything that we're going to see if you like in the next you know ah, section of the course weaken, save as a template. So this is a one time set up hit that you've got to do, and then we save it as a template. And then the next time you come back to a shoot, you could load up the template and everything is set up and ready to go. Okay, so we've got our session favorites over here showing the different folders that we have. If I was Teoh, take a shot. Now it'll go straight to the capture folder because the capture folder is the one by default that's designated to take the the images if we don't change it. But if I go to lighting test and right click, you'll see down here. We've got an option that says Set as captured folder. So I want to make lighting test my capture folder. So if I click on this and you'll see a dialogue that pops up that says, Do you want to remember the previous capture folder is a favorite so it can add the capture folder here. I'm not going to use it, so I'm going to say no. So straight away we see lighting test and next to it, just highlighted there. That's a small icon that looks like a camera. So this is telling me, Okay, when you take a shot, it's going to go into this lighting test border now, before we get too excited and start taking pictures. One thing that's really important before we do that is to set up good naming convention on the way we're going to set this up is to essentially automated as much as possible to take out the human error part, which is me, in this case, forgetting to update the naming when we switch to different shots and so on. So the idea is as we move through our different capture folders, the naming keeps up for us automatically, so I don't have to even think about naming. The only thing I'm gonna have to do is to switch to a different folder. So if we go into our capture tool tab, so that's the second tour tab. Uh, this one here. This contains all the options that are needed for tethered capture. So it contains everything about naming adjustments, camera control and so on. So let's get a good smart naming convention in so that we don't even have to think about it as we go through the chute. So the second tool that you'll see is called next capture. Naming, funnily enough on this is where we build again. Using tokens that you've seen earlier in the course, Teoh automatically complete the naming for us now by default. If I just float this tour a second, it will use the name of the session loaded in here, and it will use accounts are coming from the camera. But we can do much better than that, as I said, an automated in a better way. So if I click on this box, this will open up the naming format dialogue, which looks very similar to like the output naming dialogue that you've seen earlier and so on and again it uses tokens to build our naming convention. So in the former window, I'm going to delete what we already have, and we're gonna pull out a couple of tokens to build the naming. So the 1st 1 I'm gonna build our Sorry, the 1st 1 I'm going to choose is called document name. So if I drag this into the former menu, this will pick up the name of the session. So in capture one glossary terms, we call the currently open session or catalogue a document so much like a word document or, you know, a document in any other application, that's what we call it. So the document name that's the name of the session. So it's gonna BCL part next. I want to be able to automatically designate the name based on the folder that I'm shooting into. There's a few options here, but I typically use the one called free Scroll up a bit collection name. So the collection is my fold of having gonna shoot into lighting test shot one shot, two shot three and in the sample attached already added lighting test, so I know how it's going to look. And then third and finally we have caused needs some kind of counter because we're gonna have shot one shot, two shot, three shot four said The very first token on the list is our one digit counter. Now one digit is probably not enough. That's when you gonna give us nine shots. We're probably gonna shoot Warden that. So next to the the digit counter token, there's a little arrow. If we click on that, we can go anywhere between 1 to 6 digits. So I don't think we're going to shoot thousands today. But let's go for four digits anyway. So now are naming convention is basically set to CEO Paul fight. So the name of the session, the folder that we're gonna shoot into, and then an arbitrary counter from one to whatever now it looks a bit clumsy or kind of bunched up together like that. So what we do is we go in between each token and we put in a minus like so that would just split it up a little bit nicer, so it's easier to read. So now if we say OK, we've now got are naming set up. So if you look to see what happens as soon as I switch folded folders when we shoot into this one, I'm going to switch to this folder and straight away you see the next capture naming updates, so that means it's completely automatic in that respect. So now that my naming is set up, I can forget about it. Now. There's one thing you can choose that you may or may not want to do, which is with regards to the counter. So at any point you can reset the counter back toe one. So the next capture naming. If we look in the sub menu, you'll see reset capture counter, set the capture counter and also set the capture counter increment so reset will take it back toe one. So you might find when you're moving between your different capture folders that you want to reset back to one. Personally, I don't bother, because it's the one thing which you have to do manually, and that's something I tend to forget. So I just let the counter role. It doesn't really matter, should it way started. One. Maybe. I mean it looks prettier, I guess when you see all your shop folders and everything starts from from one. But to be honest, if you let the counter role, then it's one less thing to worry about. But you can reset the capture counter. Any point on you could also set the capture counter to a specific number. So if you've made a mess of your numbering, you can just pick it up. From a certain point, the increment is how often accounts up. So does it count up in ones or twos or threes or force? And that might sound like a completely bizarre option tohave. But it's really handy if you're copying books, for example, because you tend to copy. I call the left hand side pages, so that would be 13579 Then you flip the book around and you do 24678 10. So there's a reason for it somewhere
Class Description
AFTER THIS CLASS YOU'LL BE ABLE TO:
Understand the interface and terminology in Capture One Pro 12
Setup your workspace and shortcuts to fit your habits
Build a workflow and editing strategy to save time and maximize results
Control the dynamics of color and texture with Capture One's RAW conversion engine
Tackle a wide variety of image problems with photo editing
Learn the new features inside Capture One Pro 12
Master advanced image editing techniques
Shoot tethered photos -- and edit as you shoot
ABOUT DAVID'S CLASS:
Capture One Pro 12 allows you to seamlessly capture, organize and edit your images all in one space. But the wide variety of tools and customization options in the photo editing program from Phase One can make the software a challenge for new users.
In this course, David Grover, a Capture One educator and expert, shows you how to overcome the initial hurdles of learning this program so you can hit the ground running. From basic techniques to advanced edits, you'll learn start-to-finish photo editing and asset management inside Capture One Pro 12.
Whether you are new to Capture One, are coming from an older version of the program, or are switching from another photo editor, you'll master everything from import to export. In this class, David shares everything from workflow to editing, exporting and even shooting tethered- all the while giving you helpful examples and visual aids to drive home each lesson. By the end of this intensive course, you'll be ready to manage and edit your photos in one streamlined process.
WHO THIS CLASS IS FOR:
Beginner and intermediate Capture One users
Photographers in need of a post-processing workflow that are working with one of the more than 500 compatible camera models
from Sony, Fujifilm, Nikon, Canon, Phase One, and others
Photographers who want to enhance RAW images and make them look extraordinary
Photographers incorporating tethered shooting into their process
Professional photographers switching from another editing program
SOFTWARE USED:
Capture One Pro 12
ABOUT YOUR INSTRUCTOR:
As a member of the software team behind Capture One, David Grover is an expert on the ins and outs of Capture One Pro 12. But with experience running weekly webinars on the photo editing software, David is also a respected educator in the industry. Shooting since the age of 16, David is both a photographer and a photo editor. He lives in the UK with his wife and two children.
Reviews
This is a superb course. David is an excellent teacher. I'm coming to the end of it and have learnt so much. I've been using the software for a year, self-learning as I went along. I had watched the odd David Grover video on YouTube, but never got much further in my understanding of the software. Capture One is brilliant software and to do it justice you need to learn it properly from an expert. Highly recommend this course if you want to produce professional results.
Excellent course and a very engaging speaker. If you are starting with Capture One 12, this is the best class to take. The lessons are presented and explained in an organized way that it shortens the learning curve. Thank you, David. Cheers!
One of the best course I've purchased. Very helpful and I learned so much more with this course and in a short period of time, than all the official Capture One You Tube videos put together! Anyways David Grover is the same guy who does the Phase One C1 official YouTube videos, so there's no better person to conduct this course than him! Truly excellent and if you think you know all about C1 Pro 12 interface, wait till you watch this course.