Sharpening Workflow
David Grover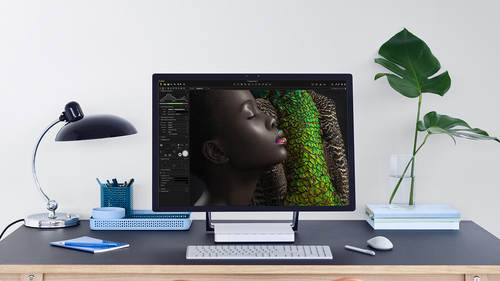 Sharpening Workflow
David Grover
Lesson Info
37. Sharpening Workflow
Sharpening can be adjusted in three different ways in Capture One. In this lesson, work with lens corrections to apply specific sharpening algorithms, sharpening sliders, and sharpening at the export.
Lesson Info
Sharpening Workflow
So, first of all, there is, um, three different sort of touch points where sharpening can be changed or added to the image capture one. So, first of all, if we look in the lens correction toe tool that we haven't looked yet, the lens correction tour essentially reads the metadata from the lens on applies a correction to it. To be honest, it's completely automatic, and it's very unlikely you'll have to do anything in this tool, depending on the kind of lens that's in use. You might find that the distortion, for example, is set to zero because the lens has so little distortion, it's not worth correcting, so you might see sometimes it zero, and sometimes it's set to 100 so it just depends on the lens. But generally I don't even bother looking at this tool 99% of the time. I don't need to, but when it comes to sharpening, there's an important check box here called diffraction correction. So this is the first touch point where we can influence the sharpness now diffraction correction treats...
images that have been shot with a very small aperture. So when you shoot with small apertures, the light passing through the lens can scatter. To some extent on, this reduces the sharpness of the image. So I've got the same image here, or almost the same image shot F 5.6, which you could just see down the bottom and also shot at F 22. So much tighter aperture. So if I tile these up side by side and hide my browser, we resumed them both to 100% with a shift click. And then we look it. Find something that's kind of got a bit of crunchy detail in it. So let's go over there so something like this. So on the left hand side there 5.6 on the right hand side F 22 and you could just see the F 22 shop. It's a little bit softer because the light passing through that small aptitude get scattered and it ruins the quality. So what we can do is weaken, turn on diffraction correction. So if I put this check box on, then the sharpness gets improved a little bit. So looking at the metadata, the lens we know Okay, F 22 we have to apply a certain amount off a specific sharpening, very specific opening to correct for that. So that's the first place where you can improve that. Now. You could argue. Why don't I just leave it ticked on all the time? Well, first of all, at wider apertures, it's not gonna make any difference whatsoever. And secondly, there's a time penalty for diffraction correction. It takes longer to process Thean Mages. So with diffraction correction on, you're gonna add 2030% to your processing time. So don't check it on a matter of default. Just only put it on if you feel a need for it, especially it's more rapid jizz, so that's the first point. So second point is Thean Midge itself. So if we look at it just any of these images, let's open up this one. This Ah, nice, super sharp image. As you can see, this is shot at F 13 probably unlikely to need diffraction correction. Let's turn it on and have a look that possibly maybe improves it a little bit. It's gonna be lens dependent as well. So my best advice. If you want to see if it's worth using this function, go outside, take a ramp of shots from fully open to fully closed, whatever that might be. And then you can tell from your lens where diffraction corrections start sneaking in. So probably around F 16. Something like that is when you're gonna start to see a benefit. Less than that, it's probably unlikely. But on this shot, just ever such a tiny improvement as you can see on the rocks. So the next point port of court for sharpening is, not surprisingly, the sharpening to like so, uh, sharpening tool has a standard default setting. But interest in the in capture one. The default will very based on the camera you're using. So if we cycle through a few different cameras so this is a cannon shell. So I think, and then this is Sony and then we've got a nick on, and then you see the values change slightly. If we go to a Fuji camera, then the values have changed once more. So the default in capture one for sharpening are based on the camera model. So depending what you shoot, you're going to see a difference there. Now, Personally, I think the defaults are pretty good and they're kind of hard to beat. So the values that we have for this camera, which I believe is a Sony No, no, this is a Canon Eos five D Mark three, for example, I think is pretty spot on. Um, I haven't felt the need to change the defaults. Sometimes I've bumped up the sharpening a little bit if I think the image can take it. But if you have a softest if soft ish image, no amount of sharpening, you know, can can really help it. So I personally think the defaults are pretty good. If you remember way back at the start of the course, we could say we could change the defaults. So if you feel you always want to have a little bit more than we can push that up and save those defaults. So obviously we can govern the strength by pushing up the amount slider. And don't forget we have the halo suppression slider, which, if we are pushing the sharpening a little bit harder, so if we go to 200% so we can see when we push the sharpening harder, we get that sort of black white halo on the edges on the halo suppression will do quite nicely in taking that away as well. So the second touch point, the sharpening tool and also, if we're looking at kind of high frequency detail like this structure in the clarity tool will also add some shortening to it as well, so we could bump up a couple of points here. Now, those sharpening that we've deployed this is all based on the image being at 100% if you like its maximum magnification, because when we look at an image, we're looking at it here. We're adjusting our sharpening. We're optimizing the sharpness specifically for this image at full screen. But when we reduce an image, say, take it down to 1000 pixels across or we enlarge an image, then that has a negative impact on the sharpening. It will actually make the image look softer, so I think it's pretty common knowledge that if you upscale an image, you kind of lose some quality. But the same can be said for when you downscale an image as well. Now, camera pixel counts of getting higher and higher, so quite often for Web and so on and so forth. We compress the images down, and that's going to soften them up. So when we're uploading to social media or our websites and so on, quite often we're not compensating for that. And that loses out on our image quality. So the good thing is, is that in capture one, you don't have to keep messing around with sharpening when you're doing different outputs. So what we should be looking at is the first stage is optimizing the sharpness for when the images at its full scale. So in this case, 100%. So I've adjusted my sharpening. I've adjusted the structure. I'm pretty happy with how this image is looking. Now when I come to export it, we're gonna build process recipes that will adjust the sharpening based on the output medium that it's going to
Class Materials
Windows Keyboard Shortcuts
Ratings and Reviews
This is a superb course. David is an excellent teacher. I'm coming to the end of it and have learnt so much. I've been using the software for a year, self-learning as I went along. I had watched the odd David Grover video on YouTube, but never got much further in my understanding of the software. Capture One is brilliant software and to do it justice you need to learn it properly from an expert. Highly recommend this course if you want to produce professional results.
Excellent course and a very engaging speaker. If you are starting with Capture One 12, this is the best class to take. The lessons are presented and explained in an organized way that it shortens the learning curve. Thank you, David. Cheers!
One of the best course I've purchased. Very helpful and I learned so much more with this course and in a short period of time, than all the official Capture One You Tube videos put together! Anyways David Grover is the same guy who does the Phase One C1 official YouTube videos, so there's no better person to conduct this course than him! Truly excellent and if you think you know all about C1 Pro 12 interface, wait till you watch this course.
Student Work