Accent Lighting the Subject
Erik Valind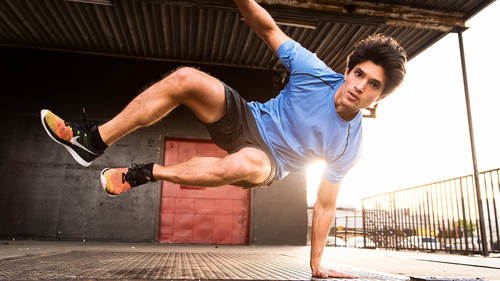 Accent Lighting the Subject
Erik Valind
Lesson Info
5. Accent Lighting the Subject
Lesson Info
Accent Lighting the Subject
Let's go ahead and jump into the next section, right here which is gonna be actually starting to take some photographs and balancing the scene with the ambient light that we have in the room so can we roll over the big guy? Let's bring that out. So remember, like I was saying, the softer the light, or the larger the light, the softer it's gonna get so this is where you're usually gonna start as a off-camera lightning photographer because the softbox very manageable, very affordable but I wanna show you some examples of where you can go with light so we're just gonna supersize it a little bit and this right here, I have the Broncolor five foot Octa which is one of my favorite lights, I actually call this a cheater light because five foot of light is so soft and beautiful, you can hit anyone with it and it's gonna look good, it's cheating, like you can't make someone look bad if you hit 'em with a five foot Octa full of soft light so let's go ahead and turn that off and roll that outta h...
ere and we're gonna bring this guy in and this is gonna be the light we're working with now, so again the bigger it is, the softer it is, it's gonna allow me to bring it in really nice and close and light stands are important and we've got this on a rolling stand, you don't have to have rolling stands, this would work on a C-stand as well but you see, if you're on a location where you have a hard floor, rolling stands are really nice and convenient. I'm gonna keep harping on this 'cause again I'm self-taught, I didn't work in photo studios when I was learning so I looked at C-stands as like this really expensive, heavy thing that I wasn't gonna own anytime soon in my career and I wish I would have bought 'em earlier, a C-stand, a good one's gonna cost you just over a 100 bucks which is cheaper than a softbox and it really gives you incredible support, makes things a lot more stable and safe and they have arms on them so you can boom lights and get of an interesting places so trust me, go buy yourself a C-stand, Kupo make some incredible ones and they have little notched ends so your lights don't spin around so definitely check that out. So how do we go ahead, we've got our light placement, right, we've figured out how to modify it, we know how to set our camera, how do we actually set our camera in practice? Alright, so that's the next thing we're gonna cover so let's go ahead and jump right here so let's go ahead and jump into our tethering software, camera on and if you guys wanna switch over, oh you're already there, amazing, so here's our camera settings coming up on the screen and I'll call 'em out to your tube 'cause these are gonna change so before I even turn on my flash, I'm always gonna go and set my manual camera settings first so I'm taking off my wireless trigger, the strobe is turned off and now I just have my camera and my lens so I'm working on the Nikon D and I've got a 70-200 on here 'cause it looks professional when you're on Creative Live, also because it's a great portrait lens for compressing your subject, I can zoom in on the face and a telephoto lens is really gonna compress the facial features and be flattering where if I had a wide angle, it would make people look heavier so I love the 70-200 'cause it allows me to zoom in, this particular one is the Tamron, the 2.8, so let me go ahead and kinda get my composition, alright, I like that, good, now I'm gonna start working through my camera settings, I'm gonna start at about ISO 200 just because at 200 I can go to a lower ISO or I can go to a higher ISO, I don't like putting myself against a wall, I don't wanna start at the very lowest setting so that I can't go any lower if I wanna change my mind so 200 is a very non-committal place to start, I'm also gonna go ahead and for my f-stop, I'm gonna go to maybe let's go to f so I can go to 2.8 or I can go to 5.6 if I want and my shutter speed, that's important because I have to think about going over my maximum shutter speed so I don't wanna start at 1/200th and then not be able to go any faster so let's start at around 180th of a second and let's go ahead and take a shot, now I'm not using a light meter, I'm just guessing, I'm looking at the light and camera actually and when this comes up, I think we're gonna have to go a little brighter, actually that's not bad, you'd think we've done this once or twice before, alright, I like it, cool, so let's start working around angles here, alright, let me hide this light first, I'm just gonna hide that right over there for a second and I wanna work some different angles so right now I'm not even thinking about strobe lighting 'cause again I don't come out and be like, strobe, use it, I come out and I'm like okay how can I leverage the beautiful environment I'm in in the natural light that I have kinda thing so what I'm gonna do is just come right over here, alright, perfect. (camera clicks) And I'm gonna start working with my natural light as if I don't own a strobe light at this point because you guys are gonna take this class and you're gonna learn strobe lighting but it doesn't mean you're gonna run out immediately and be like I'm gonna use a strobe whenever I shoot so we've got that set up, alright, I like this shot, I like the window light and honestly, I think our camera settings are working for us, what do you guys think, right, we're not overexposing anything, she's got some highlights in her hair and a lighter colored top and I'm making sure that we're to losing any detail in that, that's important, on digital files, it's really difficult to get highlights back if you overexpose so as a personal rule of thumb, I like to slightly underexpose my photographs and then I can raise them later with through curves or exposure but it's easier to raise and brighten the image than it is to try to recover a blown highlight so I look at this, I like the location, we've got a beautiful model, my exposure and camera's good, now let's start nitpicking, how's the quality of light on her face? Not very good, right? This is like the first photo I showed you with the girl with the leaves back lit, right, cool location, great model, eh not so flattering on the face so this is where I'm gonna look and be like okay what can I do, I can bring in a reflector. Ken, can you hold this tiny reflector for me? We all have these, I've got the white side of my reflector and how reflectors work, especially the white side, the closer you bring it, the more light it's gonna bounce in, okay, so let's just go ahead and bring this fairly close and bounce a good deal of light into her face, perfect, and I'll have you back up just a little bit for me, oh you're good, yup excellent. (camera clicks) so this is gonna bring in another potential problem, that helped a little bit so I'll have you pull out, can you do a side by side between that and the one without the reflector? He's doing that with one hand by the way, hit command T, oh you're good, (laughs) of course, I'm putting him on the spot, there we go, so you can see the before and after, so we've got the one of the left with nothing, just our camera settings, the one on the right, the white reflector's bringing in some light, that's the direction I wanna go, I wanna start filling in those shadows, we wanna control the shadows and control the highlights to flatter our subject's face but it's not giving me enough and like I said a second ago, it is introducing our other problem, when you're dealing with just natural light, the closer the reflector, the brighter the reflection, the farther away, the less reflection I'm getting. Now if I wanted really bright here in the shadow area, he has to be so far in, he's in my photograph, so I'm running into a problem here so I exhaust all my options with natural light first and then I start thinking okay I've got a problem, I can't get the reflector any closer, I love the location, I love the composition, now I'm gonna start adding light 'cause I need to flatter my subject and I don't wanna have to sacrifice any of the other good things going for me so now let's go ahead and roll in our big light here so wireless trigger, this is the RFS or Radio Frequency System, just gonna pop it on, and we're gonna turn our light on there, someone's firing, oh, can we turn our flash off outside? We're good. Mmhmm, alright, so I'm gonna walk you through this right here, great thing about studio strobes is while our mono lights or things like that is that they have a modeling light so it's interesting 'cause it allows you to, it's kind of the what you see is what you get approach to photography, when you're dealing with ambient light, what I see is what's gonna appear in the photograph, when I deal with strobe photography, I don't know what it's gonna look like until I fire the strobe but strobes also have a modeling light which is a dimmer light bulb that constantly goes on, it allows you to envision what the lighting pattern is gonna look like beforehand so it's independent, this will stay very dim just so I can visualize and then it'll go ahead and get out of the way and the big strobe is gonna fire and overpower it when I actually use my transmitter right over here. So let's go ahead and dial this in, again, placement matters, so I'm just not gonna keep it low and hit her in the hip and expect this to be beautiful portrait lighting, right? So what I'm gonna do is I'm just gonna raise this up again so the light is gonna be, bottom of my lighting modifier is gonna be just about eye level, I can have it a little lower here 'cause this is such a big modifier, alright, and I'm also gonna work it not straight to the side but I'm gonna bring it a little bit forward so it's almost off at about 45 degrees and I'm gonna feather it a little bit so that way I'm getting all the benefit of this big five foot spread of light so I wanna use all five feet. What's the point of getting a five foot modifier and then only using the front foot or two of it, I could have bought a much cheaper, smaller modifier so five foot box, five foot of light, that's what I'm going for, look at my placement here, I think this is gonna be pretty beautiful, I don't know, we're gonna see. So let's go ahead and take our shot, now again you haven't see the light meter, this is the beauty of digital, we're gonna chimp, alright, if I had a client on set, I'd probably use a light meter just to dial it in before they even showed up, but then fun of live is seeing how many mistakes you can make live, alright, let's do it, alright, so very next shot (camera clicks) see how it comes up, too bright, alright, can you go ahead and pull up the histogram for us actually, exposure evaluation should be our top left over there, so we're using Capture One, this is version 11, Capture One is by far the most stable tethering software that you can find, it's what I'm gonna use on set if I have clients, it's what I'm gonna use if I'm shooting product photography at home, it's just the only thing I use and it's great because it supports all kinds of cameras so I'm in here shooting my Nikon system because I want super high-res files, I also shoot on the Fuji system which just started getting supported by Capture One last week so no matter what camera I'm on, the same tethering software is gonna work, I get the reliability, I get comfortable using it, so I can be pretty quick there so it's too bright, let's go ahead and turn down one stop, the C-rows are really cool because I get a lot of control here, I can do 1/10th stop increments so I can really fine tune it, in this case, I wanna go a full stop down so I just give it a quick swipe, it lowers the power one stop, make sure that it's all bled out and let's go ahead and take this photograph again. (camera clicks) Nice. There we go, pretty good guess on the exposure, let's compare that to our very first photograph. So that right there is why we use strobes, very quickly and easily, I was able to get a beautiful subject in a beautiful location and not have to compromise anything, I'm not having to change my composition to fit a reflector in there, alright, I'm not trying to walk away with a bad photograph and very unflattering and it's gonna save me a lot of Photoshop time because I have these beautiful highlights on her cheeks, I have beautiful catch light in her eyes, there's no work to do here, all I have to do is export as JPEG and email it and I'm good to go so this is right here, this is my plan of attack when it comes to accenting my subject, this is where I go ahead and I attack a scene and I take it all in and I try to get my photograph and I just bring in light to flatter my subject, that's all it's doing and that's what I do 99% of the time, is just gonna bring in the light to make my subject or the product look its best. Now the next thing we're gonna look into is starting to change things up a little bit. Now we've balanced out with the scene, we've used the ambient light to get most of our exposure here, the next setup we're gonna go ahead and overpower the scene so what if I walk in and I don't have beautiful window light, again on a northern exposure so it's indirect and soft, like what if I don't walk into the most perfectly planned photo studio on the planet, you know. (audience laughs) what if I walk in a room and they've got the fluorescent lights on and it just all looks bad, it's like I can't use any of this, what do we do, okay, well we're gonna start overpowering the scene in this case, we're gonna use our camera settings to completely shut down and override all of the bad light in the room and then add strobes to give you a more dramatic focus kind of lighting look so let's go ahead and switch gears here, we're gonna go from our big soft light to something a little more focused, we're gonna switch over to, I'll grab this softbox over here, we're gonna switch over to our two and a half foot Octa, thank you sir, which is half the size of our five footer but at two and half feet, it's gonna give us nice, soft light just like our two foot by three foot softbox did for our portrait demonstration earlier, at the same time, you're gonna notice I've added something here, I've added an egg crate grid, this is 40 degree grid and what this is gonna do instead of spreading light like a 120 degrees, it's gonna focus it in a 40 degree beam so we're gonna use our camera settings to control the scene and overpower, we're gonna use the power of our strobe to overpower the scene and we're also gonna use our softbox and grid to focus the light and only illuminate what we want, and we're gonna employ this beautiful industrial wall we have over here to do that so if there's a question or two, I can field those and we're gonna switch over so let's, I'll give you this, we're gonna set that up and we're gonna shoot over against that wall right there, alright. Questions in studio. Yes. Over there, I was just wondering how you were setting your white balance? White balance, really good question, so let me go ahead and pull up our computer screen right here, you can see I'm at a sunny white balance over there, the sunny preset and the flash preset are gonna be pretty similar, about 55, 5600 Kelvin and it's gonna give me a good starting point, now you're keeping me honest here, normally I would use a color checker so I can grab one of those as we're transitioning, I'll show you what that does, a color checker has gray card swatches on it and it also has a bunch of color swatches and I can take a picture of that and then I can use that to reference what my true white balance should be and then I can also run it through software and that makes sure that all my colors match, so blues really look blue or red really looks red and now when I'm shooting for a clothing company, I would do that every shot 'cause I need to make sure the clothes look and go to the web and get delivered the exact same color, for portraits, I don't usually worry too much about a specific custom color profile, normally I just either know I'm working with kind of white light and like there's no jells or anything and I'll just eyeball it and post but if it's for a product and I know I need true color fidelity then I'll use the color checker every single time so yeah, a great question. Alright, so I have the color checker, we're just gonna do a quick example, I've kinda moved the light around a little bit but I just wanna show you what these look like and then if you switch this, this has our color swatches, we're doing a couple things here, this is what I would look at to, I'll zoom in on the screen, this is what I would look at if I'm just getting accurate color, this is for creative white balance for portraits and then if I just want your standard gray card, I have that in here as well so I'll have you go ahead and hold that, and when you use the color checker, just make sure your subjects are careful not to touch it 'cause oils from your skin will change the color on here and then it will no longer be a super accurate reference so I'll let you hang on to that for a second if you wanna close it up actually and I'll move this out of the way so you can roll the light and start setting up the next shot, and let's go to the computer screen here, alright, and here's our photograph, I'm gonna go and just go into our color over here, you'll see white balance, our white balance currently is set to as shot so I had my camera set to daylight so I was getting the daylight white balance but I can do my eye drop tool and come over here and set a custom one based off the gray card and you see it kinda cooled it off a little bit so we were pretty close to good but if I wanna make sure I have perfectly accurate color, I'll go ahead and use a gray card like that, now if I move back over to this one, this is interesting because I'll zoom in here. And I can start playing around with these different swatches, now this is made by X-Rite ColorChecker and these are creative white balances, what they're gonna do is as I select them, it'll warm up the image or it'll cool down the image a little bit so my color isn't gonna shift but the temperature will shift, this would be as if I were using the Kelvin scale and being like go to 6000 Kelvin or go to 4000 Kelvin so it's just giving me creative references to cool it down or pick it up but what I would normally do is just go over here, just use the regular gray card or if I were photographing and I wanted a perfect color fidelity, I would use this portion down here and run it through the make a custom D and G profile so that's a whole another class, but great question 'cause you can be very simple with just a gray card or you can go really, really in depth with it. So let's roll our flash over to the other side and we're gonna transition, we're gonna flip flop now and we're gonna be shooting against this side over here. Alright. Oh no, we can just turn this one off completely. And we can take one more question too 'cause we have a minute. Got one back there. Hey, not too sure, this question's more about the color card, why gray and not white because when I do it, I usually just look for the white thing and that's how I thought it had to be so I see you're using grays, why gray? Why gray, they pick a neutral gray, it's initially what film I think was supposed to be dialed in for, and nowadays I mean, we just had a great class earlier about being more inclusive in stock photography and the neutral gray, I think came about because you were shooting all people with this skin tone, that was about a neutral gray so now you can get away honestly with taking a white balance from a white piece of paper or you can have a dark gray or almost something black that's not over or underexposed so that it's not 100% pure black so you're correct, you can get away with a whole spread in there but gray is easy because it's a neutral color, it's usually a representation of where the exposure of your skin is gonna be close to so it's, if we go ahead and look at like the spike here if I just photographed a gray card and I had it properly exposed, my histogram would spike right there in the middle so it would also help us get exposure, sometimes you see cards that have a black, white and a gray and you take a picture of those and you see a spike here for the black, a spike here for the gray and a spike here for the white so it helps you with exposure, it's close to getting what your skin tone is so there's a couple of reasons for it but, it also doesn't overexpose or underexpose as much, so with a white card, if it was too bright, it would go pure white and there would be no value there at all so then it'd be difficult to get a color reading off of that because there's no value whatsoever so gray is one of those middle grounds where doesn't over, doesn't underexpose, close to skin and it's neutral and it should give you a nice spike there if you're using it as a exposure read as well so there's a couple reasons for it, it's antiquated but it still works.
Ratings and Reviews
this is a super express class, fantastic... within very little time the guy explains what other need hours and hours to explain. clear explanations supported by practical examples how to sue light and what happens. this i avery basic but if you need to refresh your basic knowledge it is highly recommended to listen to this guy, he is good he is also fun
Worth every penny! I'm a natural light photographer looking to have more control in less than ideal lighting situations and this class was perfect! Erik covers so much great information in an efficient and effective way. He automatically answered all my questions just as they came to mind throughout the class! Love that he covered both creating dramatic and natural-looking lighting no matter the environment you're in! Thanks Erik!
Erik is concise, approachable and effective with his teaching style. This class had the perfect tempo yet covered some of the most important concepts and things that people usually struggle with (aka me) which is mixing ambient light with flash. Superb class, superb teacher.
Student Work