Seeing Light and Why We Add Strobes
Erik Valind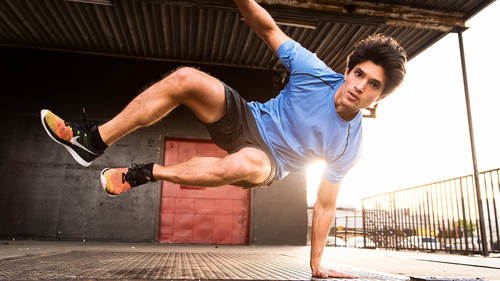 Seeing Light and Why We Add Strobes
Erik Valind
Lesson Info
2. Seeing Light and Why We Add Strobes
Lesson Info
Seeing Light and Why We Add Strobes
Let's go ahead and jump in and start actually talking about the light and then we'll get into how to set up your off-camera light. So, seeing light. Good light verse bad light. This is one of those instinctual things. We can just look at a photo, I feel and know that we're dealing with bad light here. So, identifying bad light. What makes it bad? Let's look at this photo. Good or bad? Bad, right? Okay, it's pretty flat lighting, so what I like to do is try to put words to our feelings and our gut reactions to when we see imagery. So, this is bad because it's flat. There's not a lot of detail on her face, not a lot of shadow and she's squinting. So, that's bad light. At the same time, this is on-camera bad light, very flat. This is a snapshot, right? That's like if you have a pop-up flash on your camera, this is what it looks like. Again, bad lighting and that's because it's very flat lighting. We are not making our subject look three-dimensional here. Now we've got some shadow, but it ...
still not doing any favors. Now we can see she's 3D, but she's still squinting and it's not very flattering light. Same thing with this. This is with a strobe. Again, not very flattering, so, it doesn't matter if you are working with the sun or with a small flash or the strobe, if you don't know how to modify and direct the light it's gonna be bad. So, let's go ahead and jump in. This is when we started modifying the light slightly and you can see how instantly we have a much better photograph. So, we get some detail and depth here and then using a little modification we're able to come in and improve the light a little bit. So, I'm gonna teach you how to do that transition. So, controlling the light, we basically control two things when it comes to placing our light out there. We have the direction of it, which is how we control contrast and we also have the quality of it, which is the definition in those shadows or how gradually we transition from highlight to shadow area. So, as photographers with strobes we have a lot of benefit 'cause we can physically place our lighting. When we're an ambient-light photographer you can't really move the sun too much. So, that's another reason I love teaching strobe photography is 'cause it gives us more control. So, direction of light. If I can have my subject come up here for just a second. We've got our model coming up. The direction of light. Basically, the farther off-camera access you place your light the more contrast we're gonna get. Yeah, come on up. So, here's a quick example. I have my flash directly behind my camera here. This is considered on-camera access lighting and then as I move my light around, you'll see how we're introducing more shadow. It's doing two things, by getting more shadow we're creating depth to our subject, we're making them look 3D and we're also popping and bringing more shadow to add more contrast. So, we're doing two things, we're adding contrast and we're getting more three-dimensionality there. And as I move the light even farther off camera, you can see that now we get really contrasting lighting 'cause now we're showing mostly shade or shadow to the face. So, let me just back up. That's simply marching the light around. And it doesn't really show to all easily in the photo. So, I got my model here and I'm just grabbing my ice light, just my little LED and you guys in the audience are gonna be my camera, okay? So, you've got the camera. Cameras up. Alright. The flash is on the camera and you're gonna see right here I have very flat lighting. This would be like a snapshot lighting. Now, all I do is move my flash slightly and look at how we're starting to introduce shadow over to that side of the face and she looks more 3D. And I can go all the way around. So, this is what I'm talking about, the farther off camera access you bring your light, the more detail we get. So, when we set up our strobes, we are not gonna set up our strobes right here. And we are not gonna set 'em up down here, 'cause that's not very good lighting. Alright? We're not gonna go up here like at high noon, with the shadows coming down. We're just gonna bring them off camera just slightly, slightly up, slightly over. So, thank you very much. So, that's one thing we control is we control the direction of our light. The next thing we control over here is... There you go, farther off camera, the more contrast. So, it's really cool 'cause you can go quickly from a flat, very open, very low contrast photograph to a very, kind of a cool portrait profile shot very quickly by just moving your light or stepping over from your camera position. The next thing we control is the quality of light. So, hard light versus soft light. We're all looking at that transition, that gradual transition from highlight to shadow in the face. That's what we look at when we're trying to define what's the difference between hard or soft light. So, this right here on the left is hard light and on the right is soft light. And this transition is what I'm talking about right there. Look at the shadow the nose is casting. So, right there we've got a model here with porcelain skin and our model right here on the studio today has great skin. But if you are photographing someone that maybe has a wrinkle or is stressed out and has a pimple on the tip of their nose, it might not be too obvious when the light hits it, but when a hard shadow hits that, it draws all the attention to any kind of blemishes or pimples or anything you're trying to hide. So, as portrait photographers, when we take our light off camera, we're going to want to soften it and lean more towards that soft light over there and I'll explain how to do that with some strobes here shortly. Hard light isn't always bad though. I just want to throw that out there. Hard and soft is kind of like a different flavor. It's a preference. Good and bad is pretty obvious. We agree on bad light. But here's an example of using hard light. You kinda get some film-noir kind of look. So, don't be scared of hard light, just understand what you're doing and how you place it. That's all, I wanna put a disclaimer out there for that. This right here is super soft light. So, how do we create soft light? The larger the light source and the closer you get it, the softer the light. So, when we look at soft boxes, they have diffusion on the front, but the biggest thing a soft box gives you is size. The soft box creates a much larger light source than just the tiny strobe you might be using. And the ability to bring the soft box in close and the fact that it's bigger is what gives us that soft light. So, that's why we're going to be employing two or three different kind of soft boxes here shortly.
Ratings and Reviews
this is a super express class, fantastic... within very little time the guy explains what other need hours and hours to explain. clear explanations supported by practical examples how to sue light and what happens. this i avery basic but if you need to refresh your basic knowledge it is highly recommended to listen to this guy, he is good he is also fun
Worth every penny! I'm a natural light photographer looking to have more control in less than ideal lighting situations and this class was perfect! Erik covers so much great information in an efficient and effective way. He automatically answered all my questions just as they came to mind throughout the class! Love that he covered both creating dramatic and natural-looking lighting no matter the environment you're in! Thanks Erik!
Erik is concise, approachable and effective with his teaching style. This class had the perfect tempo yet covered some of the most important concepts and things that people usually struggle with (aka me) which is mixing ambient light with flash. Superb class, superb teacher.
Student Work