Why Compositing?
Ben Shirk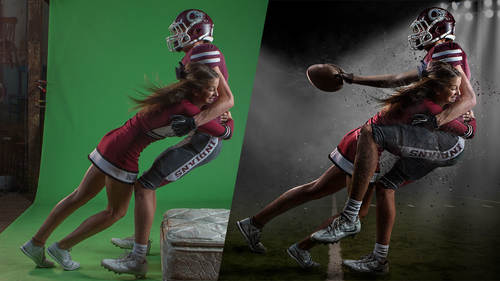 Why Compositing?
Ben Shirk
Lesson Info
2. Why Compositing?
Lesson Info
Why Compositing?
Some reasons why I use this green screen and why I do composites is I have so many location limitations. I cannot take my athletes and stuff to a big stadium to photography in. I am from a small rural town in Iowa. We don't even have big stadiums in Iowa. There's not even a professional sports team in Iowa. So I can't take that and get them to that location. Obviously you'd have to have restrictions on how you could get people there, and you could photograph on those locations. Time limitations. I have some really cool backgrounds as far as I bought some scoreboards that I can take 'em to, some actual scoreboards. Have them stored at a vacant lot a couple of miles away. But it takes time to pack up all of my equipment in my truck, go to that location, unpack it, set it up, get the lights perfect, get the scoreboards ready, and then photograph the athlete. Tear it all down, pack it in my truck, get back to the studio. That's a lot of time investment. Instead I can just have them photogr...
aphed on green screen, slide that background in front of 'em and go on to the next scene. So it's very simple and it speeds up my time a lot for that. Obviously weather limitations. Every time I try to schedule a Little League session it seems like it rains. It will always rain if I try to schedule it outside. So instead I have them come to my studio and I photograph 'em on green screen. But if you didn't have a studio you could easily do it at the school gym, you could do it, bring a tent along with you. One of those tents that a lot of live photographers use. You can do it in a park overhang, a verandah type area. So there's lots of different locations you can photograph in. You can photograph anywhere with a green screen, on location too. Control is a big issue for a green screen. I can completely control the lighting on green screen for a team. Instead of having to deal with the issues of somebody on the left being too hot and someone on the right having too many shadows on them I can photograph them in small groups, or even individually, perfectly control the lighting on each individual, make sure their pose and their expression is great, and go on to the next person. So I have perfect control over all that. And value. Believe it or no, if you market it right, composites and green screen photography have a higher potential value than a lot of my kind of just on location takin' a picture of a senior in field or something like that. I have an extra fee I charge for my artwork, for my extra composites and stuff, for the time I put into this. And clients can more easily see and understand the value of the time I had to put into it, like materials, like my software, and just they know that I'm gonna have to invest more time than that shot just outside that I took of that senior there, so they're more willing to pay a little more for that.
Class Materials
Discount Code for Extraction Action
Discount Code for Locker Room Photoshop Template
Ratings and Reviews
In this class I teach the first and most important thing when it comes to making good composites - lighting (both subject and green screen). This is not a photoshop class although I do give a quick demo at the end to illustrate my purpose of using green screen and the ease of adding a subject to a scene if they are lit correctly. The main purpose of using a green screen is because there are actions and plug-ins that make extracting super fast and easy. If you enjoy spending time manually extracting your subject then you can ignore the green screen part and shoot on any background as long as you remember the tips I give you for lighting your subject properly. Hope you enjoy!
Ben is an amazing photographer that is highly creative. Not sure this course fully reflects what his images convey to his clients. The course seemed rushed but did get to key basics for green screening. While typically I don't like when instructors promote their products, his extraction action is solid. Definitely worth the discount if you want to be able to systematically process volume. I think if you are beginning in composite photography that Joel Grimes and Ben Shirk can definitely give you the knowledge needed to be successful.
Ben Shirk is for me the best in his field, a source of inspiration for years besides for 2 years I come to the WPPI to see it A mentor for me and these techniques are just magical and bluffing! Many thanks to him and creatrivelive for this course I had already buy his action PS for a few years :) and fully satisfied, this course is perfect to understand and master the technique
Student Work