Demo: 5DMII vs. Video Camera
Gale Tattersall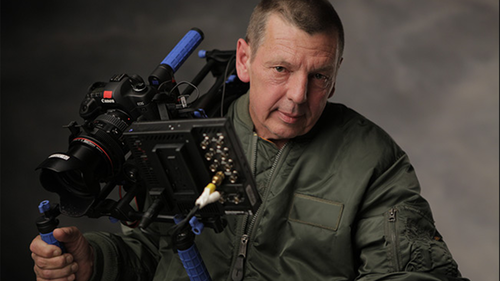 Demo: 5DMII vs. Video Camera
Gale Tattersall
Lesson Info
11. Demo: 5DMII vs. Video Camera
Lesson Info
Demo: 5DMII vs. Video Camera
This is ah demo that I do in my own workshops and, um basically come what kind of camera is this that we're looking at it just sony yet one yanks eggs one twenty eight u one I mean, until a few years ago if you had a camcorder this is the kind of image that you'd expect I mean, even fairly wide open I'm not sure what stop you're on there but it's probably relatively wide open I mean, making his wide open as you can buy even throwing an nd in I'm judy it's set up for you if you didn't get them tio what was it one nine one six by throwing in an nd yeah that's wide open okay, all right, I mean that's wide open on this lens at one nine and we basically got a comm barris and going on here we've got a shot that's on the sony e x one camcorder, which is basically until about four years ago, something like that. This is what most people would and be able to afford to shoot if you're going to make a low budget movie on you couldn't afford sixteen millimeter or thirty five millimeter film I mean...
, you shooting on the cameras such as this you have a pen around to the camera just I mean just it's just basically a regular but very high quality camcorder does anybody know the cost of these that probably about six grand or so yeah, they're about six when they came out. Yeah, but about six grand I mean, even even now, I mean a lot of the captain's orders around now sort of eight thousand dollars at the the cannon next thirty five three or five eggs every three or five sorry, I'm really bad with numbers or having you knew they that's about eight thousand dollars and this is the kind of image that you get. What immediately apparent to me is a filmmaker is that I'm even wide open this's set on a thirty five millimetre prime on the five d which will show you a minute in a minute but what what you'll notice about this image is that almost everything is in focus so you have lost the ability to kind of directly I'd do anything in particular because everything is of equal importance. We have focus it's very slightly off down here but right the way through to the bank around the blinds are in focus. The bookshelf is in focus. The plant is just slightly out of focus but not to the point of any great noticeable difference and let some switch over now to the cannon if we may not a half enough just go to a full frame if you can wait, so look at the incredible difference well, he said me now in the cannon way match the shots of his closest we can so I think they're very close but that's the candidate no, nothing is on a one two or one for four but me suddenly we've got a very cinematic effect on a on a on a camera that costs half the price effectively on we've created an image that is much more cinematic to look at in fact even shooting on thirty five millimeter you can't achieve this step the fields this lack of depth of relations say just be only because the sensor on the canon five years so much bigger the language is a very fast in there there are one two lenses that you can get the regular thirty five but it's all to do with sensor size and if you're shooting television sixteen by nine on three per half your shooting on an area a real estate, which is I don't know what abortion is exactly but it's somewhere about half half the real estate that you're shooting on when you shoot on the five day, which is why I love the five day I'm jane steve's human ranking to the background there if there we go so now we wrecked focused too was just like the officers come coming back a little bit you know someone like that so you you congee this really absolutely beautiful ability to kind of shift the plane of interest from one area to the other. And it is a fantastic demonstration as to what you can achieve on a five d and, to some extent, to seventy, and certainly on one team out for, or any dslr camera that basically shoots a fairly look. Large format will records video will give you this kind of a fact, which is much more cinematic than any, any other camcorder on the market. Things are changing slightly now, huh? With the new sony of three that has come out, the sense is a bit bigger, but there's still nothing. That compares to the five d and invent that's. Why I love the five the on house, because there is no other way of achieving this kind of effect.
Ratings and Reviews
Watch this AWESOME behind the scenes video of the Gale Tatersall workshop from in-person student Jenny May Finn on YouTube: http://youtu.be/3WbR4VC1id8 Thank you Jenny May for sharing how fabulous it is to be part of the studio audience!
It is a very good class, with a lot of information and exercises. It´s better to watch more than a couple of times.
Student Work