Find Your Voice
Tony Corbell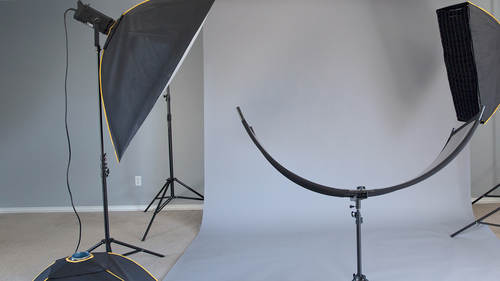 Find Your Voice
Tony Corbell
Lesson Info
2. Find Your Voice
Lesson Info
Find Your Voice
but I think that this is that this is a fun thing to do and I think that we uh creatively we all know that we all have our own voice and I learned from there is a fine art photographer that I'm a big big fan of john paul captain negro and john paul who his close friends call him j p said one time you know he said you've got to find your own voice and photography and let clients find you and seek you out for that work as opposed to trying to be all things to all people if you try to be all things to all people you're gonna have a short lived career because you're just gonna burn out you just gonna be tired of working as a producer of what somebody else wants you to do so whatever it is that you do in your home studio whether it's fashion whether it's boudoir whether it's black and white whether it's product or traditional portrait headshots whatever you do find your voice and do the stuff that you most want to do and what what's very odd about how all of it works is the things that you ...
most want to do are the things that you automatically get better at because they matter to you more so you study harder on those things and you try harder on those things and all of a sudden magically you're better at those things you know I spent a year photographing airplanes at night what a dumb thing it just came out of nowhere and I did a couple of airplanes at night where we painted we were on the runway at night we had a water truck out there hosing down the runway so it's all wet and shiny we brought out the planes and then I did a very very long you know our long exposure to ours exposure of painting with light with portable strokes this with the lens open f twenty two and then and literally painting my little flash sounds a backup on we've painted the exposure on the entire plane we've painted the hangar in the background we did all this and one private aircraft pilot then showed it to another private aircraft who flipped over the picture and then he called me and then he told some friends and then they called me and so for like a year it's like really I'm the airplane guy now and all of a sudden I started doing a lot of them and I got really good at it and I got to where I could almost do it in my sleep and I could almost be absolutely sure that the first exposure was usually my keeper because I knew what I knew all the pitfalls I knew all that had worked out all the problems and all the details that's what happens with anything that you do a lot of and you're always going to do the most of the things that you like the best and that's what what the stuff that you're doing you're really good at it because you love it and you've studied hard to learn it and same with all of you you all have studied hard tto learn the one thing that you want to do the most so I encourage people to keep learning this stuff this is not easy photography is not easy to learn I don't know what all nobody knows it all there is a it's a it's a big big big field with a lot of things uh I know so little about infrared I know so little about so many things uh but the stuff that I do know I know pretty well and those of the directions that I want to go so find your voice that's the first step when you decide to step into the studio into your home you have a lot of choices to make the choices are on equipment the the the field or the style or the tone in your persona in your branding if you were going to do a traditional portrait world styled work don't have a contemporary business card make every single thing that you do match everything that you do and we're going to dig into that a little bit further later but I just want to throw that out that make sure that you are doing the things that you want to do in the way that you want to do him and make sure that the business that you're creating follows that path does that make sense okay um let's talk about several things first third thing I want to talk about is um you got you got to get yourself in a sort of ah mental preparation for what you're about to do you have to be prepared for uh honestly kind of disrupting your home life because you will as you know some of you have already worked and your studios in your home and you know that it does disrupt your life and so you have to really spend lots of time sort of getting mentally prepared and I think that there's a part of that is the physical aspects of the studio environment uh and the equipment environment but I think also a part of that is you've got to get everybody around you prepared as well and we talked about this a little bit earlier but I want to make sure that we this is something that you can't you can't go into this and put the effort into this if you don't have support for it the people around you better buy into it with you and say you bet mom we're with you as opposed to honey don't do this is a bad idea you just need to know you need to know that this is the right thing because it's gonna invade your space so it is a space invader ah I love that I love it when a plan comes together
Class Materials
Essential Home Studio Gear Guide.pdf
Ratings and Reviews
Another great course by Tony Corbell. I loved this course. Tony is a great teacher, great photographer and great business man. He's enjoyable to listen to and a great teacher. He holds nothing back and shows how to shoot great pictures even in small shooting environments or on a low budget. I would buy again Tony's courses.
Wow! Tony is fantastic! So many hints and tips, crammed into this great course. I shoot portraits out of a small converted garage, about 9 ft high, 9 feet wide, and about 19 feet long. Tony has shown me so many ways to make this small space work for me, for which I am eternally grateful. What this course highlights is that whatever small space you have, there are ways of making it work. You need to buy this course and watch it over and over because, every time I watch it, I gain more and more info that I missed the first time around. Brilliant!
Absolutely wonderful, I cannot praise the content enough. I value Tony's stories as much as the information he is giving away, because it puts the data in the perspective and practical context of the actions we take. Thank you for this class!
Student Work