Final Thoughts & A Note On Obsession
Isaac Johnston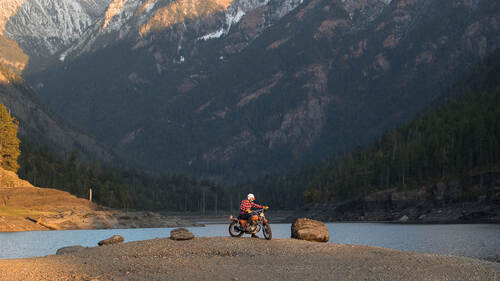 Final Thoughts & A Note On Obsession
Isaac Johnston
Lesson Info
19. Final Thoughts & A Note On Obsession
Isaac recaps his final notes from the workshop and shares a few tidbits on obsession.
Lesson Info
Final Thoughts & A Note On Obsession
I wanna end this whole workshop by saying thank you for joining and thank you for purchasing this. It really means a lot to me. When Alex and I started talking about me doing a workshop, I didn't really know what I was gonna teach. And Alex suggested that I could teach how to remove barriers. And when I started thinking about that, I was like, yeah, maybe that's the thing that you guys would find most valuable that I could teach because I have done that in my own life a lot. I've removed the barriers of I don't have enough resources. I've removed the barriers of I'm too old, I'm fully committed to a different career, I don't wanna shift directions because I have my family. I found that just by making sure that I was a good husband and that I communicated well, I could continue to push forward into an area where maybe there was some financial instability. I found that I could be adventurous and I could make adventure my career. And I'm pretty confident that you guys can do that too. I t...
hink that if you have patience with your craft, that you create value, and that you share that value, that you're gonna be able to make connections in this creative industry and that you're going to be successful. So my final note, I wanna say that obsession and curiosity are the wind in your sales. So don't let anybody tell you that you shouldn't lean into your curiosity or that you shouldn't get up at 1:00 AM in the morning to research a project, that you should just mellow out. For me, that's always been the driving force and the difference between just doing this as a hobby and doing it as a profession is that I just always want to do it. So you can't fake it. If you don't have it, you won't be able to just all of a sudden have obsession and curiosity. But if you have it, don't let anybody tell you that you can't lean into it. So get out there and create, learn, lean into your creative obsession, and yeah, I hope this was helpful. Thanks for joining.
Class Materials
How To Build A Proposal - Pitch Deck Example
Story Creation Sheet Template
Ratings and Reviews
Practical yet fun Great workshop and worth the time/money. Isaac is an easy to watch presenter and the various modules were each concise and practical. Time well spent!
honest advice from an adventure photographer who went through career transition I think a lot of us are mulling over the idea of transitioning to become a photographer. It's not easy. There are lots of fears and hesitations. It's a change that could affect our life. I'm at this decision branch for the second time in my life, and I still fear. Isaac shares with us how he overcame those very same hurdles and fears. He is genuine, practical and proves that you don't need expensive gear to start or even continue to become good enough. The pitch deck example, the starting up a conversation with a prospective client, the way to deal with blockers, all are real. I cannot wait to put them in place and start my first pitch. Thanks Isaac for sharing your journey!
Well worth the time and investment... Even as someone who has been using photography as my primary income source for the last several years, and prior to that being a full-time graphic designer hiring commercial photographers I've already got a good grasp on things such as workflow and approaching a given photoshoot. But there are still aspects of being a freelancer such as selling yourself and your unique approach to clients, as well as continually creating work and avoiding burnout to allow yourself to go after the work you want to be doing. And of course, the ever-present fear of failure. This workshop covers all of those topics in an extremely approachable and more importantly actionable manner.
Student Work