Getting Work and the Post Covid Goldrush
Isaac Johnston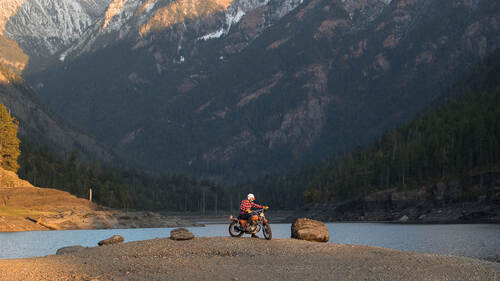 Getting Work and the Post Covid Goldrush
Isaac Johnston
Lesson Info
20. Getting Work and the Post Covid Goldrush
Isaac talks pitching, negotiating rates, and sealing deals while on a a walk with Cara Gibbs, a freelance design + lifestyle writer. Their back and forth style conversation gives insight into how brands are thinking in this post-covid world.
Lesson Info
Getting Work and the Post Covid Goldrush
(intro music) Hi guys, and welcome to another episode of the "How To Become a Freelancer" workshop. I'm Isaac Johnston, and I'm here with my co-host today, Kara Gibbs. She is a freelance writer for The Wall Street Journal, for Architectural Digest, and a ton of other clients. So we're gonna be talking today about how the world is reopening. You know it's post COVID, a lot of brands have been withholding their budgets and they're coming back they want to do more and bigger budget type projects, and we wanna make sure that you guys understand what's going on behind the scenes who to contact and basically how to get that money. I'm just gonna kick right in with some questions. Yeah. I think the most important question that everybody has that's going into freelancing, how do you even get clients? Where do you start? What do you do? Who do you reach out to? Yeah, I think that's a really great idea. So, obviously, and I've covered this in my full workshop, the baseline is you have ...
to have good work like you write well, I take photos really well, that's the baseline so you have to have work and you have to show your work. So whether it's Instagram, or a website, or a blog, or wherever you can put your creative work. You need to have a good baseline. So put yourself out there. So once you've got that, and we are assuming that you guys have that, 'cause you're watching this and we know you wanna grow. Once you've got a really good collection of your work, you need to start reaching out to people, you need to start asking. 'Cause nobody, there's a ton of people that make really good work, but the difference between getting paid for that work and not getting paid for that work is asking. At least for me. So build up your portfolio of work, and then start asking Yeah. I think that's the scariest part, how do you start asking? So it is the scariest part, and I think one of the best ways to ask is in the place where you live so for instance, for me I always ask on Instagram DMs. Because I have a lot of my work is posted there so people can see it instantly in the DM. That has a side benefit and this is jumping ahead a little bit I think here but that also has a side benefit of if your reaching out to the marketing department, you might not get them if you reach an email. Or you might get the marketing department of a company but they have an agency. But if you reach out on Instagram, the agency usually runs that Instagram. So I like to do that because- So it's probably the best person you should be talking to. I think so. I think so is Instagram DMs but now let's say you're a writer. As opposed to just going to their website and doing info@somebody. That's not gonna work. Or that's gonna go in a bucket that some intern checks and then they pass it on to their boss but the boss doesn't read any of the intern's emails 'cause uh they just don't so- When I was starting out, that's all I did. It might work right. Never worked. (both laughing) It might, but the thing is that what we're expecting is to hear no. So when we reach out, we're expecting to hear no but we're hoping for that yes. And all we're trying to do, is not take it personally when we hear that no. We're trying to increase the amount of yeses we get, and decrease the amount of noes, and that's where the strategy comes in. But you still have to ask. Yeah, of course. It doesn't matter if you're asking wrong, it matters that you're asking. Do you think it never matters if you ask wrong? It does matter 'cause you're gonna have way more noes so I always use this as a case. I had, when I first started out doing this, I came from a business where we had a sales team and I ran a sales team so I understood like I needed to find what my metrics were, I needed to find out how many sales calls I was gonna make before I actually made a certain amount of money, you know got one job. And I think I can't remember the exact numbers anymore, but I'm pretty sure it was like 280 emails I made or reach outs and before we got enough calls, which I believe that was like 30, 40 calls and then got one. That's pretty good return. Yeah, I got one yes you would think that's a pretty good return, right? I guess one yes, yeah. A lot of people are thinking like, oh, I sent out five emails today and not one person responded to me or everybody said no. And then they're like, my work must suck. That's not true. Your work most likely doesn't suck, it's probably just the wrong timing. It's all about turning over stones. Yes. And I think that that's another thing that a lot of times I used to forget and that a lot of people new to this industry forget that people don't buy your content, or your work, marketing services, or your writing services based on like how cool your stuff is. Like, they're like, "Well, this guy's so cool "we have to work with him right now." They buy according to their schedule. So is it the right time for them to be purchasing a outdoor specific photographer to make Instagram promotion or to make content for their website Do they need you? Essentially. Do they need that? Are they in that marketing cycle? Are the photos that they used to have are those old? So you need to just ask and ask and ask and hopefully you're gonna get somebody in that right timing. But you don't need to be offended if they don't, it doesn't mean that your work sucks it just means that it's not right now. Well I have a question because you know you said you got 30 responses I mean, isn't even just having that open door and that relationship, that's a big part of I think freelancing and just starting the conversation maybe it doesn't pay off for five years but at least you kind of started it. Did you find that and with your reaching out? Yes. Yeah, absolutely, so I try to, when I reach out to people, I try to figure out a little bit about them, get to know them, hopefully they get to know me a little bit and that's where a lot of people will try to copy paste their Instagram DM or their email and it's just as like, "Hey, this is what I do, "I'd love to work together blah, blah, blah." Not so personal. No. So you need to actually if you can, through some Google-foo or like through some other knowledge- There's no reason why you can't today. All right so I'll give a quick example here. I reached out to, this was several years ago, 13 different mountain bike companies, to just do work in exchange for a mountain bike like I wasn't even asked to get paid, should have been easy, right? Yeah. You would think but, it was not easy and I didn't get any responses until I actually like one company researched who was basically the CMO, that's the chief marketing officer, found out that he had a really cool story he had had an aneurysm in like just below his skull that had caused him to go temporarily paralyzed. Oh my God! Had to like dial 911 with his nose. (Kara exclaims) It was like this really cool story of like overcoming, he like crawled with his chin. This is wild! Dialed 911 with his nose and then had this incredible recovery journey. Wow! And then started this nonprofit for people who wanted to like come back and cycle and do all this stuff. So I thought that was cool, I thought it was so cool that I was like, I don't even wanna like ask this guy for anything I just wanna reach out to him and be like, hey I'm a photographer, my intent was to reach out with you or reach out and do work with you. But I found, after doing a little research, I found your story, I thought was really cool and inspirational. If at any time in the future you wanna talk about work, cool, if not, I just wanna let you know that you really inspired me. Well guess which company actually ended up working with me? Of course! That company, because I engaged with their story I got to know him, I told him what I thought, that he was inspiring and I genuinely meant it. So that's the most effective, right? If you can do one email that takes two hours to craft, then that's way worth doing a hundred emails that take two hours to craft but none of them come through. And I love that because, I think ultimately why people wanna be freelancers is because they wanna work with people that inspire them, that they love that brands that are doing something great in the world and I think, that's the unicorn we're all chasing if we're freelancers. Yeah, is to work with basically people that are doing cool stuff. Yeah, that's inspiring to you, whatever that is. All right, so now we've gotten our craft together, we've reached out to people, we've got the right person, all right how do we talk about money? Because, I get nervous talking about money. I've been doing this a long time I still I'm like, I don't know, what do you wanna pay me? It's being creative, I just think it's so hard to quantify your worth. How do you talk about that? So, I feel like money is a taboo subject, but you gotta keep in mind that these people, But it shouldn't be. They're not spending their money so it's much less taboo for them than it is for you. This $5,000 project or $1,500 project for you, it means the world, like it's gonna pay your rent, it's gonna make sure that you can go on that trip. It's your big break. Yeah it's your big break. To them it's just another Wednesday. So they actually just want it to fall within what their budget is. I never know what that budget is 'cause I don't work at that company, whatever that company is. I don't work at Nike so I don't know what their budgets are for people like me. So I'm always asking, always, always asking. First, going back, I guess if we had to put it in steps, the first question is when you reach out on Instagram DM is who do I talk to about working together? I'm always asking, who's the right person to talk to? And then they gimme that right person and then when I talk to that right person, I go, "What's your budget?" You broach budget right away? Right away. Just get it outta the way. I'm like, hey, what are the deliverables you guys are looking for? Deliverables is the term in the industry for photos or social media promotion or video or writing or whatever. What are the deliverables you guys are looking for? And then what's your budget? And they'll usually tell you something that is lower than what they can actually do 'cause they wanna leave a little room and their boss would be stoked if they got you for a deal. Now what are your thoughts on instead of leaving, putting the ball in their court, just coming out and since you did reach out, being like, this is generally where I start, this is the rate that I start at, let me know if that works in your budget. What do you think about that? I like that. I like that for very simple projects. However, what I found is that I end up leaving money on the table. That sometimes they go, "Oh, well I had $40,000 for this project "and this guy just wants to do a $5,000 piece of it. "Maybe he's not the guy to do the whole project." So I'm always asking what they want for deliverables and what they want for projects. Because you never know, like I'm telling you, there's been projects where I'm like, oh, they want video too and they want this and that and this and that. And I end up doing, social media promotion and photos and a video and I end up doing a lot of work in these projects kind of balloon, just by asking. We don't wanna get into too many specifics but like how do you put together a project fee? Like what does that entail? What does it look like? How do we do it? Assuming they've already told you, they don't wanna tell you their budget let's put it that way. Yeah. But they're asking for 10 photos, and they want social media, but they're not doing paid placement, which is they're not doing any ads or anything like that, they're not gonna do billboards or anything like that. Those are all, by the way those are really good ways to amp up what you can charge for something like you should be adding thousand to $5, for if somebody's putting money behind it 'cause as soon as they're starting to put money behind it, they're making money on your images. So I've heard of cases where somebody will sell a company, a couple of photos for 500 bucks, not talk about rights or anything, just give them rights in perpetuity, all the rights. These people will take those images, they'll put 'em on a social media ad budget on Instagram and Facebook and they'll make 200 to 250 grand off of these photos. So it's not greedy to make sure that if they're doing paid placement you ask for another a thousand to $5,000. Like it's just a small percentage of what they're gonna make off that product. So protecting your work is important. Should you talk to an attorney about that? Or should you like how, what are some ways? I have an agent which is nice to talk to, you can talk to an attorney, but really until you start to get going, nobody's want to gonna give you the time of day. So my agent takes a cut of my work, agents are generally between 15 and 30%, depending on who they are and they take a cut of your work. But going back to giving you a good baseline to get the ball rolling and make sure that you can make some money, I'd say, if you were doing depending on what level of photographer you are, and what kind of yeses you're getting you'll know, as soon as they say, "Oh, that's too much money for us "or we can't afford you." And they don't wanna talk anymore you know you're reaching too far but 10 photos, social media, only two year license, which expires after two years. What that means is that after two years they don't get to use your photos anymore. I think something like that should be between and $10,000, depending on what level of photographer you are. So that kind of gives you a wide range. Okay so that seems like a great place to start with budget. But what about, people that just wanna send you product? I think we both come up against this a lot and people wanna send you great stuff, I think your inclination is to always say yes. But I don't know, should you always say yes? What do you do? Well, first off, cool projects you want to do them, right? Yes! So your instinct is like, I'll just take whatever, 'cause I wanna go shoot, I wanna be a freelance photographer, I wanna do this for a living. But that's where you kind of the mismatch happens is you can't take product for a living and not only that, but you can't do cool projects sustainably. If you take product, you just can't like, so no matter how awesome stuff is- So, you're saying product in lieu of payment. In lieu of payment. Okay. Yeah no, product to me always comes because they're sending me product anyway to shoot. So product is that is part of their cost of doing the job, it is not part of my compensation. Unless we're talking big ticket items. Now, if there is a project that I'm doing, then my only caveat to that is that if there's a project we're doing that, like I might have sponsors for, or it's a personal project for me. Let's say for instance I wanna ride a motorcycle from Canada to Mexico, I'm gonna reach out to say Honda and say, "Look, send me a motorcycle "I'll send you all these deliverables." But I'm reaching out with the intent to do that to make this project happen. And it's a big ticket item. I'm not gonna do that for a pair of shoes to walk from Canada to Mexico. Like I could just go buy a pair of shoes. So the stretch is not gonna be the value that the company is going to get is gonna far exceed the value of the item. So that's my only caveat but in general, no, no, no, I'm not taking product because I need to be able to have money in the bank to be able to grow my portfolio, to be able to pay for my personal work, to be able to pay for my office time, to be able to pay for my utilities, for my family, for my wellbeing in retirement. You can't do any of that on product and I don't ever think that it's rude for companies to ask that. That's the other thing too, it's not rude for them to ask that. Yeah, everybody's in a different financial situation so... And I know that they're asking like companies are just trying to keep their marketing costs down. And I'm not trying to like raise their marketing costs, but I am trying to make sure that I'm getting fairly compensated and I can't become the world's foremost expert at my niche of photography or filmmaking if I have not enough resources to pay the rent. Product don't pay the bills. No. The takeaway there. No and as much as you want it, it doesn't but you know the thing, and I wanna just hammer this home. If you ask for budget, when they say product and they don't wanna work with you, fine, but oftentimes you'll ask for budget and they might give it to you and a lot of times, if you guys are just talking budget, they're gonna send you product anyway. So if you lust after that company's product, put together a budget first and then, Be valuable to them. Yeah, it's just a given, they're gonna give you the product. Of course they want you to be intimately involved their product. Let's say they're already spending $5,000 on the project they're gonna send you the thousand dollars of product and they're not gonna ask for it back. In most cases. So, I think we all are all finding ourselves in a new kind of career landscape, post COVID, as things start kind of opening up like what do you, you've kind of said before that it's sort of the COVID gold rush, can you dive into that? Like what does that mean? How do we like get in on this? Yeah so I think, as I said before, it's a lot of people have spent 2020 just shutting down not knowing exactly what's gonna happen and it was actually a lot, I think for a lot of companies, it was a really good business year, a lot of companies, it was hard, you know the restaurant industry's not gonna bounce back for a while, but, like hospitality had to kind of clamp down but I don't think it was as bad as they thought it was gonna be and so now everybody's looking around going, look, if we don't start advertising right now, our competitors are gonna do it, and they're gonna take a market share because we're too timid to do that. So basically everybody's looking around going, we haven't done anything for a year, let's do something. And what that means is that, there's a myriad of people who work at a company. They're gonna be saying like the chief marketing officer is gonna say, "Okay well, the CEO told me we have, "$300,000 to spend okay on marketing." So that doesn't mean photography, that means that all sorts of advertisements from print to billboard, to social media, Words over here. Yeah, to writing to, there's a myriad of strategies and photographers, filmmakers and writers fill very specific niches of that. But if a company has $300,000 to spend, they probably have five grand to spend on writing or maybe they have 15 grand and they wanna spend it $5,000 each writer, or they wanna spend $5,000 each photographer. So whereas like last year you would reach out to them and they'd be like, yeah, COVID, and they're like, we're just not spending. Right now they have all of these new categories that they they're like, let's try something new. They're ready to try new things. So I think like to your point, I think last year people were getting great people at a rock bottom price 'cause nobody really knew what was gonna happen. And now you're saying the ties are shifting and it's okay to come back and be like, hey, these are, I'm worth this and I'm feeling confident that they probably have it. Yes. I think you can ask for higher rates than you would have before. So if you are a photographer who normally does a job and your last job was $500, you should be asking two grand to start. Or if it was, your last job was $1,500, you should be asking five grand. You should be upping the ask right now because the chances that somebody's going to pay that is gonna be, not only that, but if you live in the United States, you will have noticed that everything has gone up in price. Totally. Everything. So that means that you've gotta go from price too, so that you can stay in the market. Right, team player. So what I'm saying is people are not gonna be surprised by you for asking for 'more than your worth' because it's not more than your worth anymore. It is what you're worth that is. It's just adjusting to that now. Yes. Really quickly, I wanted to go back to your techniques for reaching out for people 'cause I know for me it can be emotionally taxing. So how do you kind of keep the energy when you reach out to people to ask to do work and what's your strategies and some of the things you do in your world to ask if you can do work with people? Well, I'm similar to you I definitely reach out to people on Instagram, I try to go after brands that really mean something to me too that have some sort of connection with. And what do you mean by connection? Like you just like their product or you feel like their lifestyle is similar to your lifestyle? Yeah well, I mean maybe a little bit of both. I'm really, I mean the type of writing that I do is a lot of profile writing, I'm really more in like the design and architecture space so something that's maybe artisanal, that's really kind of about crafts people and artisans really draws me in. So if I find a brand that's, I don't know, supporting that or doing that in some way, I'm definitely hungry to get to know them. And always, so I do reaching out but I will say it is very depressing when they don't get back to you. Yes. So it is emotionally taxing. Yeah, it is. And I don't know how to combat that. Well, so I'm glad you brought that up 'cause one of the strategies that I use is I call it, "Batching my nose." So like- You keep saying this, I don't know this. Yeah so I want to like batch my work and most of your reach outs are either noes, no answer or not right now or whatever, I just don't know 'cause they're just not yeses. So that's like, it's emotionally taxing, it's not so fun to hear, and it takes some energy to do that so I don't do it every day. So about once a week I go and that's when I do my reach out. Once a week? Yeah and I spend time doing it once a week, I reach out to 10, 15 different companies, maybe less if I don't have that many to reach out to. But I spend my time reaching out, not just now, it's not just new companies. It's companies I've worked with in the past, and I touch base with them and be like, hey. Just last week during my session of batching my nose, I reached out to a motorcycle company that I do a lot of work with and they like me and I like them, the timing just hasn't worked out right. And I didn't get another yes. But it's very, very hard to consistently wake up in the morning and go, I'm gonna get sales. Hit the ground running. That's not what we got into this business for. Yeah. We didn't. We got in this business to do the work, the filming and the photography. Okay, but here's what I have to ask, 'cause I'm sure like you, like me, I'm always finding inspired things, I'm inspired by so many things so do you just like, save those for your one week of batching your nose? If I'm really inspired, I'll do it right there. I use that motivation, but look, the inspiration comes few and far between for me to reach out and say hi. And like, hey this is me. So when it does, I use it, but I don't just wait for the inspiration to happen. I just pick a day, usually Tuesdays, I don't do Mondays, I don't do Fridays. Nobody's gonna answer your shit on those days. Tuesdays has been the best for me. And you just go and do a bunch of Instagram DMs, emails, phone calls and the goal here with reaching out and we didn't touch on this before, you need to figure out where you're good. And by that I mean where people respond to you positively. For me it's always face to face. But, sometimes you can't get face to face especially back in COVID days. So, telephone is the next best thing for me so I'm always asking, hey, who can I speak to about doing this project? I'm doing that on Instagram DM, I'm doing that on email, and oftentimes Instagram DM they're giving me that person's email. Then I do the same thing, hey, thanks for connecting they said I should reach out to you about this, is this week or next week a good time to chat on the phone short chat about this project I'm really excited to tell you about. I get them on the phone, meet them, ask them, I'm always asking, what's your budget, if we're to that point but otherwise I'm like, hey what do you guys need? How can I help? This is what I do. And they say, "Actually yeah that'd be great! "Let's get back to you about that." Or maybe sometimes they're like ready to jump and I go, what's your budget? What's your deliverables? And we kind of move on from there. So you're going in with a lot of confidence and pretty much ready to close the deal. I am like, if they want close a deal now, fine, I'm compressing this for the sake of this conversation. Usually that step from Instagram and email and then talking to them on the phone is about a week and a half process, if it goes well. So I'm compressing it for the sake of conversation. I feel like the confidence, you hit on like confidence. Well, I think being a freelancer innately, you have to have is sort of a confidence to be able to put yourself out there a lot and know that you're gonna get no more than you're gonna get yes but I don't know, that's kind of the nature of the beast a little. Look like here's the deal, here's the real brass tax about this. What we get to do for a living is more fun than what most people get to do for a living. Very true. A lot of the things that I do for a living people pay to do. So if I want to do those things, I've gotta work really hard to make sure they're valuable and I've gotta work really hard to convince people that it's valuable to hire me to do things that people pay to do. So, I can't get pretty about thinking like, oh I deserve this 'cause I don't deserve any of it. I only deserve what I can prove is valuable. So it's not, for me it's not so much about confidence, it's about me wanting this life where I get to do these cool and fun things and needing to fund them. Being driven by it. Yeah me being driven by it and really figuring out a way to make it valuable for these people. And look, I feel like this is also like the beginner's freelancers dilemma is like, do people who need my photos? Do people even need my social promotion? Do people even need- There's so many writers out there, there's so many photographers already out there, but there's not you. There's not you and they need good photos, they need good social media promotion, they need good filming, they need all of those things at a higher quality. They need, desperately they need. People need people to tell their story and if you're good at that, whether through film, photos, writing, whatever your craft is, if you're good at that, you are extremely valuable. So you have to believe that first and then work really hard to convey that value to your potential client. But that's maybe one of the hardest parts of the job. It's not actually the craft, the craft is a whole different, real hard thing, but it's generally the part that you have passion for. This part, you have to cultivate the passion. But it's not a confidence, It takes practice. I don't want you to think just because you are an introvert and you're a very quiet type of artist person that this is not for you. That's why I'm saying batch your nose. And like anybody can pretend to be excited about this for one half day, for a morning on Tuesday right? You can really steal yourself and get it done. But I don't want you to think that you have to have this some sort of bravado or confidence that you think I have. 'Cause like, to be honest, while I can talk in front of the camera, I don't actually really dig making sales calls. It's not my jam, it's not fun. That's a special kind of gift I have to say. I give sales people a lot of credit because it's easy to get me down by that. Super easy, like it's a challenge. So if I had encouragement for people in this time, it's that right now it's gonna be easier than it ever has been. So if you've been knocked down trying this in the past, if you've tried 10 clients and got no responses to your emails, your DMs or anything, please try again. Keep going. Yeah 'cause right now is gonna be the time where you can get out there, you can get funding for that project you've always wanted to do or maybe it's not the project you've always wanna do, but it is a photography project that will further your career and you can just go make it happen so right now, get out there and do it. Now's the time. All right, I like that. I mean, you're inspiring me. I'm gonna keep making it happen. Exactly, you're gonna find that next client. And I honestly, I think we've both been in this industry for a long time, but I don't think you ever lose that sense of hunger for wanting to get the next client, wanting to do a really great job, work with great people. So, I think that's a lifelong thing when you're a freelancer. It is. So I think that's a good place to probably stop this video. Really appreciate you guys watching this, I think honestly that you need to try, you need to get out there and that now is the time it is what I'm calling the Post COVID gold rush and I think if you're not trying, you're missing out on a huge opportunity. So get out there and get it. Let's do it.
Class Materials
How To Build A Proposal - Pitch Deck Example
Story Creation Sheet Template
Ratings and Reviews
A great course/workshop, one of the best I've seen with CreativeLive. While at 71 I'm not looking at starting a full new carrier in freelance photography or video work, doing the work helps keep me off the street. It has given me inspiration to do a stoty about what I am going through now as a full time caretaker for my wife, who has been suffering the declining pains of Alzheimer's for a few years now. No one with Alzheimer's travels that final journey alone. In a sence it is an adventure, mostly for those close to the one with the disease. While it's not like the travels I did 50 years ago when what today is called "adventure" (canyoneering, something we used to simply call a hike in the desert...). I spent a lot of my life running rivers and working as a wilderness wanderer and guide/instructor. Now my travels are pretty well limited to long walk with the dog and occasional fishing outings with my wife who used to be a guide herself. Maybe thats not all that interesting or exciting as say going over a cliff with a bike and a parachute, but for many older folks it is the new story, the new adventure as their later years unfold. This in itself will be an adventure, at least for me.
Practical yet fun Great workshop and worth the time/money. Isaac is an easy to watch presenter and the various modules were each concise and practical. Time well spent!
honest advice from an adventure photographer who went through career transition I think a lot of us are mulling over the idea of transitioning to become a photographer. It's not easy. There are lots of fears and hesitations. It's a change that could affect our life. I'm at this decision branch for the second time in my life, and I still fear. Isaac shares with us how he overcame those very same hurdles and fears. He is genuine, practical and proves that you don't need expensive gear to start or even continue to become good enough. The pitch deck example, the starting up a conversation with a prospective client, the way to deal with blockers, all are real. I cannot wait to put them in place and start my first pitch. Thanks Isaac for sharing your journey!
Student Work