Meet Isaac Johnston
Isaac Johnston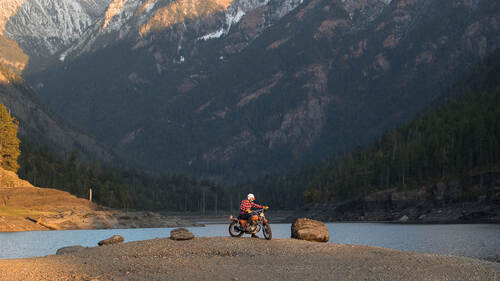 Meet Isaac Johnston
Isaac Johnston
Lesson Info
1. Meet Isaac Johnston
Meet Isaac: a full-time freelance photographer who specializes in adventure photography. He quit his job a couple years ago to pursue his dream, and hasn't looked back since.
Lesson Info
Meet Isaac Johnston
Welcome to my workshop. I'm Isaac Johnston and I wanna give you a little overview of what you can expect. I'm gonna deal with the problems that you'll encounter when becoming a freelancer. And if you're already a freelancer some of the problems that you've encountered and maybe haven't gotten over. I'm gonna cover my gear, the gear that I choose to get outta the way so I can get on to creating. I'm gonna talk about my workflow process, all about simplicity. I'm gonna talk about how to find your creative community, your own unique voice. And I, I want to touch a little bit on how to deal with the mental game of being a professional creator. How to find specific techniques that will amplify your work without a huge social media following and how I make my stories and videos. I'm gonna touch on all that. So, I'm really excited you're here and let's jump into it. All right. So, if you don't know my story, my story shapes me a lot. So I'm, I'm gonna just give you a little rundown. I am four...
th generation from Montana, which is very lucky. I grew up here in the Flat Valley near Glacier National Park. And from a very young age, started working for an outfitter at 10 years old. At 13 years old, I was driving a stock truck loaded with horses into the Great Bear Wilderness. Didn't have my license yet. We don't need to tell anybody that, but I kind of had this Wild West growing up and it was so full of adventure that when you're a kid, you just don't know that other things might come along like a 40 hour work week and things that are called responsibilities. I didn't live in a spot where I thought that was gonna happen to me. I just thought, for sure, I'm gonna have all the money I need and I'm gonna do all the adventures I want to do. Um and then that doesn't quite happen. You turn into your twenties and responsibility hit me pretty hard. I had a, a lot of time in my twenties trying to sort out who I was, what I wanted to do. And I, I had some processes, which I'll cover later in the workshop, that helped me during that time. But what I wanna jump into is probably what you guys know me about is my freelance work as a photographer and a filmmaker. In 2015, I was working for a vacation rental company, loved my job. I kind of thought I figured out what I wanna do with the rest of my life and entered Alex Stroll. He came as a guest, stayed at one of our cabins in exchange for some of his photos and we kind of hit it off. So I started helping him find locations and go on adventures. And we became friends and Alex had some big projects at the time and needed somebody to help with logistics. And at, at that time, because I had all the resources in the area, I was very helpful in that way. And he asked if I wanted to quit my job and go help him do logistics and insinuated that I could be a freelancer to cover the difference. I was super, super, super skeptical, (laugh) and it was not an easy choice for me. So, eventually, my wife and I had some conversations and that's how I started in the freelance world. As we said yes to Alex, started traveling with him. I did that for a year and then jumped right into what I'm doing now, photos and videos. It was a very rough transition for me. I had, when I left the job, a very steady income, a family, two girls, two and four when I left. It was not an ideal situation. I wasn't like in college with a bunch of free time and no responsibilities. Uh, but what I found out is through trial and error that giving people value all the time- and by that, I mean, doing whatever I can to be helpful, being pleasant to be around if I could, you know try to be as pleasant as I could, and really just making my work as best I could at the same time that I was giving value to other people was really an asset. So, those are some of the touchstones that we'll we'll talk about in this workshop ways that I learned through that struggle through a lot of weight being on me. Through basically, if you fail, it feels like the end of the world. We're gonna talk about that. And yeah, that was my journey. And, and I'm excited to kind of tell you what I've learned so far.
Class Materials
How To Build A Proposal - Pitch Deck Example
Story Creation Sheet Template
Ratings and Reviews
Practical yet fun Great workshop and worth the time/money. Isaac is an easy to watch presenter and the various modules were each concise and practical. Time well spent!
honest advice from an adventure photographer who went through career transition I think a lot of us are mulling over the idea of transitioning to become a photographer. It's not easy. There are lots of fears and hesitations. It's a change that could affect our life. I'm at this decision branch for the second time in my life, and I still fear. Isaac shares with us how he overcame those very same hurdles and fears. He is genuine, practical and proves that you don't need expensive gear to start or even continue to become good enough. The pitch deck example, the starting up a conversation with a prospective client, the way to deal with blockers, all are real. I cannot wait to put them in place and start my first pitch. Thanks Isaac for sharing your journey!
Well worth the time and investment... Even as someone who has been using photography as my primary income source for the last several years, and prior to that being a full-time graphic designer hiring commercial photographers I've already got a good grasp on things such as workflow and approaching a given photoshoot. But there are still aspects of being a freelancer such as selling yourself and your unique approach to clients, as well as continually creating work and avoiding burnout to allow yourself to go after the work you want to be doing. And of course, the ever-present fear of failure. This workshop covers all of those topics in an extremely approachable and more importantly actionable manner.
Student Work