Writing Videos For The Internet
Isaac Johnston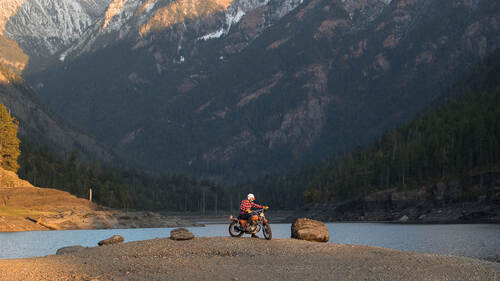 Writing Videos For The Internet
Isaac Johnston
Lesson Info
17. Writing Videos For The Internet
Crafting a video to tell a story is no easy feat. Isaac shares some of the things he learned along the way learning how to make YouTube videos.
Lesson Info
Writing Videos For The Internet
In this episode, I wanna walk you how I write videos for the internet. I think if you've ever tried to make a YouTube video, you were probably underwhelmed with the first result. You probably went out and shot a bunch of really cool looking footage and had like 10 minutes or 15 minutes of just really cool looking footage, but no story. That's what happened to me on probably my first three to five, to maybe ten movies. They were all just pretty footage kind of mashed together. So what I found was translating my story to video was really hard, that I get distracted when I went out. I'd have an idea of the story I wanted to shoot, but then something cool would happen or something pretty would go by, and I end up filming that. And then when I got back to the studio, I would load it all on my computer and I would look and I'd be like there's not enough pieces here to have a good story. So I'd get pretty frustrated, and I often I wouldn't finish the story because there's just no story there.
It would just be a collection of pretty footage. So to make sure that didn't happen, I wrote a bunch of questions down and then now I go through and I fill out all these questions and I write a little bit to make sure that when I'm out in the field and I get distracted, I can look back and go, does that fit? No. Then maybe I don't shoot that. What happens now is I get back to the studio and I have a full movie. So let's walk through just the questions that I have here. It's very simple. I use the notes app on my phone and on my computer to write these questions down. I just copy and paste em over and over again. It's not fancy. I just ask these certain questions. So let's walk through. The first thing I always ask is what is the premise of this movie? Like, what's it about? The premise to me is like a synopsis off of IMDB. If you just google, IMDB top 250 movies, they're gonna have synopses for the top popular movies. And we were just talking offscreen about "Shawshank Redemption" and the synopsis for that is about two imprisoned men find solace and common decency or something like that. Basically it describes a little bit about like the core of the story. Not the whole story, but the core. So my premise is, do you really need an expensive snowmobile and back country touring setup to snowboard off the resort in the winter? So that was what this film was about. Do you need it? Central question. When I ask that question, then I know that if I'm out there and there's like a really sweet cliff to jump and nobody really wants to do it, but it would look really cool. Well, that's not the premise. The premise of the movie is not about jumping cliffs so we can skip that. We don't need to grab that shot. So if I have that in my brain, I know that already. All right, so then I jump right into the title because making a film I'm assuming that you want to share it with people. Next up I have the title. It's not a question that I answer, but it is something that I like to fill out so that I know how I'm going to share this film, how I'm going to posture this film. And I'm gonna make this into as click bait as possible. I don't mean to be deceiving, but I want it to really snag people's attention. And if I can't mesh my premise and my title together, it's probably not gonna be an interesting film. So I try out several different versions and see what looks best. You can see that here, I've done, "$300 Winter Touring Setup," "Back Country Touring For $300." "Can I Back Country Snowboard For Under $300" and "The Cheapest Back Country Setup Ever." I can't tell you which one I went with, but I went with one of those. Next question up is what's at stake? All right, so nobody's gonna pay attention to your story if it doesn't have any gravity. And by that, I mean that if there's nothing gained and nothing to lose, then it's just faff. Like, nobody wants to hear what happened next. If you go tell somebody, "Boy, I went out swimming." And they're like, "Aha." And then you go, "And then you wouldn't believe what happened next." There's something at stake. And what's at stake is what happened next? So that's like super basic. So with this, I just wanna kind of put out ideas. I hadn't even been up there. This was more of a vlog style film. So I didn't know what was actually gonna happen but I had a few ideas of doubts in my mind. So that's what I put up there. Like, why wouldn't this work? These are the doubts. So what's at stake for me is the gear could break down, the skis could snap, my motorcycle could break down. I could crash on my motorcycle. It could be super sketchy and I crash. The studs that I put on my motorcycle could fly out. Watch the film. I put studs in my motorcycle. It could be dangerous. I could just not make it, it could be boring because I'm not making it. It could just be so much work that I don't even get close to making the powder turns. All right, next up is what is a victory? So I wanna know how's this film gonna have like a heck yeah ending? 'Cause that's what I like for my films. So I always ask what's the victory? So for me it was getting some sweet powder turns, that the setup works, even though it only costs $ and it's more fun and cheaper than a brand new snowmobile and brand new gear. So it kind of ties right into the premise and the central question that I'm asking, can you do it? Victory would be, yes, you can do it. All right, and then another thing is just a little... It's not a question but I write down, keeping people interested. And these are some shots that I think would be animated enough to keep people watching. I show the stud install, I show the install of my snowboard bindings, I show the route, I show some snow blasting, some struggle, talk about six snow or maybe abbey dancer story. So you don't actually need to write the story if you're doing like kind of a vlog style film or something short or easy. You know, this film that I made was certainly off the cuff but I wanted to process a story that could happen in my brain so I could notice it when it did happen and I could capture it in a way that was entertaining. So I actually went through and wrote this even though it was vlog and it probably didn't happen the exact same way that I was thinking. There were some touchstones that I wanted to hit. Some things that I wanted to say. And so it was helpful for me to just write them down first. I didn't bring this script with me, but I wrote this down. So it was in my head and that's how I process. I really process well if I write and I think most people do. If you write it down on the page it's a little more impactful than just thinking about it. So I'm not gonna through the whole story here but basically I wrote my intro sequence, you know some things to say some things I wanted to mention about the build up the build up the build up and then just some exciting things that I wanted to touch on when I was up there. If it went well. And if I was stuck, things like that. So I went through there. Finally, the last thing I write is a shot list. And again, I'm going to shoot more than is on the shot list but these are shots that I think would be sweet. So I, the mental practice of actually envisioning my film and what would be like, I'd just go, what if? What if I could get this shot? What if I could say this? What if this happened? I envision it. And I think about those so that when I'm up there again it just takes the cognitive load off of my brain when I have a camera in my hand. So I can just be focusing on the quality of the shot instead of the story as much. But if you don't write the story, first time you're gonna be trying to focus on both and both will suffer. So that's my basic story, making sheet for video. I kind of walk through all of these questions, write a quick story, write a shot list, and then away we go. Then we go out and shoot it. And I've noticed that the quality of my films and just the ease in which I make them has just gone way up. And the final benefit for this is that when you get back and you upload all this footage to your computer, you have a roadmap to lay out your edit. You have, this comes first, this comes next, this comes next, this comes next. And it's much easier to know where the pieces go. You can always mix and match and change it up later. But most times I put this together, I actually edit it the way that I've written this story. So it speeds up the time that you have to sit in front of your computer. And for me, I don't like to sit in front of the computer very much. So this is very helpful. I actually spend less time writing than I would equivalent time editing. So if I didn't write this and spend a half hour writing this then I would edit for probably two hours. So this is kind of the benefit of putting together this little question and answer sheet and writing out my shot list and my story. Hope that helps.
Class Materials
How To Build A Proposal - Pitch Deck Example
Story Creation Sheet Template
Ratings and Reviews
A great course/workshop, one of the best I've seen with CreativeLive. While at 71 I'm not looking at starting a full new carrier in freelance photography or video work, doing the work helps keep me off the street. It has given me inspiration to do a stoty about what I am going through now as a full time caretaker for my wife, who has been suffering the declining pains of Alzheimer's for a few years now. No one with Alzheimer's travels that final journey alone. In a sence it is an adventure, mostly for those close to the one with the disease. While it's not like the travels I did 50 years ago when what today is called "adventure" (canyoneering, something we used to simply call a hike in the desert...). I spent a lot of my life running rivers and working as a wilderness wanderer and guide/instructor. Now my travels are pretty well limited to long walk with the dog and occasional fishing outings with my wife who used to be a guide herself. Maybe thats not all that interesting or exciting as say going over a cliff with a bike and a parachute, but for many older folks it is the new story, the new adventure as their later years unfold. This in itself will be an adventure, at least for me.
Practical yet fun Great workshop and worth the time/money. Isaac is an easy to watch presenter and the various modules were each concise and practical. Time well spent!
honest advice from an adventure photographer who went through career transition I think a lot of us are mulling over the idea of transitioning to become a photographer. It's not easy. There are lots of fears and hesitations. It's a change that could affect our life. I'm at this decision branch for the second time in my life, and I still fear. Isaac shares with us how he overcame those very same hurdles and fears. He is genuine, practical and proves that you don't need expensive gear to start or even continue to become good enough. The pitch deck example, the starting up a conversation with a prospective client, the way to deal with blockers, all are real. I cannot wait to put them in place and start my first pitch. Thanks Isaac for sharing your journey!
Student Work