How to Make Photography Books and Magazines
Jared Platt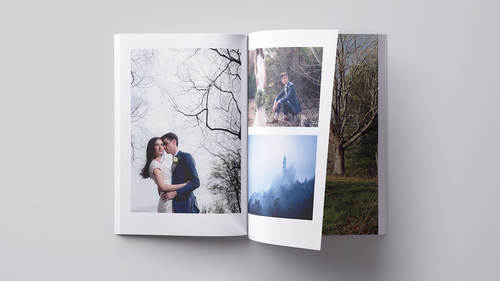 How to Make Photography Books and Magazines
Jared Platt
Class Description
AFTER THIS CLASS YOU'LL BE ABLE TO:
Create custom print and digital photography books and magazines
Tell a compelling visual story with your photographs
Captivate your clients and friends
ABOUT JARED'S CLASS:
Join Jared Platt and learn how to design beautiful custom books and magazines in Lightroom and InDesign. But of course, there is more to creating a great book than the technical how-to. In this class, you will not only learn how to create a book and magazine with your images, but you will also learn the thought process behind creating a solid book design with lessons on storytelling and real-world, practical ideas for your next book or magazine. With your new ideas and technical skills, you will be ready to create digital and physical books and magazines that will captivate and impress your followers and clients, helping you stand out for the digital noise.
In a digital world, with BILLIONS of images flooding the internet and crowding your audience's phones, the white noise is deafening and it is very hard to stand out. But with more and more digital shoot and burn based photographers, there is one way to really stand out. Beautifully printed images can make an impression, but even better than one photograph on the wall is a thoughtfully designed book full of imagery and text. Handing one of a kind book to your client will create a lasting impression and ensure your images have a place in their daily life, and not just in their private phones. Books and magazines can also be an incredibly effective marketing tool when building relationships with prospective clients, museums, art directors and the general public. And of course, there is no better way to enjoy your own personal work and share it with your friends, family, and fans than in a book or magazine form. Not only do tactile books stand out in a sterile digital world, but a book or a magazine (digital or physical), puts the photographer in control of the audiences' experience, allowing the photographer to present a true narrative and lead the viewer through a tightly controlled story.
WHO THIS CLASS IS FOR:
All levels of photographers
Photographers interested in creating print and digital books and magazines
SOFTWARE USED:
Adobe Photoshop CC 2019, Adobe InDesign CC 2019
ABOUT YOUR INSTRUCTOR:
Jared Platt is a professional wedding and lifestyle photographer from Phoenix, Arizona. Jared holds a Masters of Fine Arts in the Photographic Studies and a Bachelors of Fine Arts in Photography from Arizona State University and has been a professional photographer and college educator for the past 12 years and has been a speaking, debating and lecturing for the past 17 years. His attention to detail and craft make him a demanding photography instructor. Jared has lectured at major trade shows and photo conferences as well as at universities around the world on the subject of photography as well as workflow. Currently, Jared is traveling the United States and Canada teaching and lecturing on photography and workflow. Join him online for monthly "Office Hours" at www.jaredplattworkshops.com.
Ratings and Reviews
I thought I had my book printing processes all figured out, but now I'm going to have to rethink the products I offer to clients and the ones I use to market myself. Aside from introducing me to a print company I didn't know about, Jared walked through areas of Lightroom that I've never even ventured into before. It is insane how easy and approachable he made it seem to design and print with Lightroom and InDesign. I definitely recommend this class!
Student Work