How to Shoot and Composite Levitating Objects
Bret Malley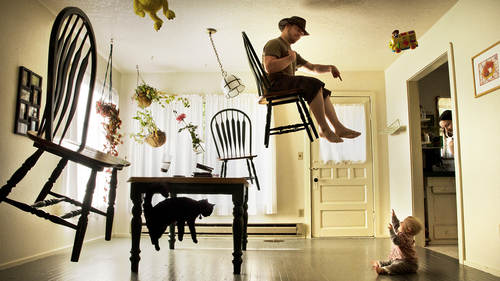 How to Shoot and Composite Levitating Objects
Bret Malley
Class Description
Create magic using Adobe® Photoshop® by compositing people, pets, and objects to appear as if they are defying gravity. In this class, Bret Malley will walk through techniques on capturing an image of the object you want to use and how to piece it together in Photoshop® so it appears realistic. He'll go through the entire process from start to finish so that you can create compositing magic using photography, Adobe Photoshop, and your own imagination.
Software Used: Adobe Photoshop CC 2017

Class Materials
Bret Malley - final image from How to Shoot and Composite Levitating Objects
Ratings and Reviews
I agree a bit with Eric Burke's review (which was a thumbs down), however, I feel like this is neither a thumbs up or thumbs down recommendation, more like a 3 to 3.5 star rating. :) That said, I agree that there was so much talking and not doing in the initial portion of the class sections. I feel like when there is a class offered for Compositing, much of the science people want to know is in the editing tips and tricks AND some of the shooting tips and tricks. Photography of the subjects is important to understand, but examples of live shooting should be kept fairly minimal. Aaron Nace still nails the science behind planning and shooting for composites and also rocks in the editing (in my opinion). Brooke Shaden is also a good example on the editing details. I feel like Bret had something different to bring to the table from the class preview with puppet warp and some of the cutting / masking tips... I agree that all the editing portions of this were super rushed and just touched on a lot of last comments of "oh isn't this neat" and no in-depth instruction on how that feature is used. I just felt like he really ran out of time. At the end he talked about re-shooting the dog, perhaps he could have gone in to puppet warp to change the lower legs and tail a bit as an effort to make it look more like his sketch? Bret seems likable, but does continuously talk about side stories and extra noise that seems could be more focused on the topic at hand. :) I still picked up some tips, but this would be more ideal bought on a sale rather than full price. :) I have a lot of photoshop knowledge and own some other composite classes on CL, so I don't feel too lacking, but this would not be for a very beginner of compositing. I wouldn't mind seeing Bret back with a more refined class structure focusing on the magic of puppet warp and other tricks to get the most out of compositing.
Had a good time with this course! Bret is a great instructor, you can really tell he enjoys his work and has a lot of fun engaging the audience. I've done some compositing in the past but with a much older version of PS. This course really helped me take advantage of the new features in PS CC and also helped streamline my workflow. It's a course that both experienced and beginner compositors alike can learn from. A big thanks to Bret Malley and CreativeLive for making this course!
Student Work