How to Use the Face-Aware Liquify Tool
Applying Face-Aware Liquify to a Single Face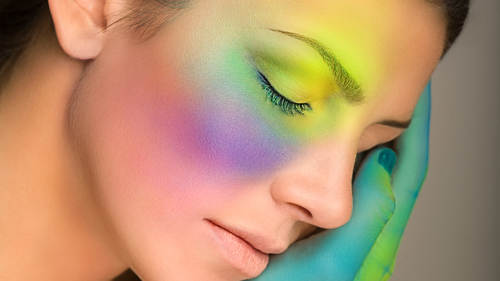 How to Use the Face-Aware Liquify Tool
Applying Face-Aware Liquify to a Single Face
Lesson Info
Applying Face-Aware Liquify to a Single Face
we're gonna use my own face because I'm gonna really more fit and make it look very, very strange. And I was like, I'd rather just choose my own face instead of morphing somebody else's face that I don't know. And then, you know, I would get in, get into issues. But so the So before we talk about our new face tool, I want to just slightly brush over the old way. We used to use liquefy. So you had a you you had a couple of tools, you had the forward warp tool. And then you also had the pucker tool, which would make things smaller and the blow tool which would make things bigger. So those were kind of the three, you know, top toe tools that you would use in liquefy who's used liquefy before and is familiar with the old the old way of liquefying. Okay, Did you ever feel like it was very easy to go overboard and very, very sensitive? Yeah, OK, so that's one really great thing about the technology that they did with the new face aware Liquefy is it's very light handed. Um, and there is a wo...
rk around if you feel like it's too light the changes, but But I'll get into that in a later in the later what, a later chapter. I don't want to call it a section. All right, so we've got our our face here. And so I don't know. What do you guys want to do? Let's make my smile just a little bit more Even so, I've got the forward warp tool here. We've got some. The size is around 300. I like to modify the size, using the bracket keys on my keyboard. And then always whenever I was using previously, whenever I was using liquefy, you know, having just a really low density and a low pressure was really going to help you to, you know, make this look just a little bit more realistic. Okay, so you can just pull out that smile and then if I wanted to, I could come down to show backdrop, which is going to show you the before and the after. Um, and that's one way that you could do it so that so that's kind of the old school way of doing liquefy. Now that we have this whole face aware liquefy section. It's really opened up. I want to say in new can of worms, but there's a lot in there. OK, so as you can see, you have the opportunity to modify the eyes. You have the opportunity to modify the nose. Well done. What? What? The nose. You have the opportunity to modify the mouth and to modify the face shape. Those are the four things that I taught you that I showed you before. And each one of those different sliders coincides with these little marks here. You've got your eyes right. You got your two eyes. You've got your nose, you've got your mouth. Okay. And then the face shape. Can you have more marks for more granularity? I do not think so. Yeah, not at this point. Um, so but that would be a good option for the future. Um, let's see. So, yes. So we've got our face tool. There are two ways to control, which I just showed you, right, So either on the image or, um over here on the sliders. Now, the two new things that were updated when they came out with 2017 is the fact that you can show and hide the face overlay because some people were getting, like, really frustrated and being like, Ah, this is really annoying. I wish I could turn that off. So where you can do that is actually down here in the view options, you have the option to show, face overlay or turn it off. Okay. So you can see the you can see the face overlay. Here, you can choose to show face over light or not. And then the other thing that's new, which is the really, really good thing that I'm happy about is this new option for because I'm a slider girl, right? Because I don't do a lot of touch stuff. You have the option to, um, modify one I larger or smaller, or you have the opportunity to link the two together. See that little chain link? If you have that chain link activated, you can choose to modify both eyes. Okay, I told you this is gonna be a fun glasses. Okay? To giggle. It's gonna be fun. OK, so those are gonna be the two new things. So if you haven't updated to 2017 just yet, you're gonna want to do that Because this is really this thing alone. The linking thing. The fact that you can unlinked the two eyes and modify them separately. Really, really important. All right, So, um, so if you are one of my touch people touch sensitive people out there, the square here is going to, um, change the overall size. I'm already at 100%. That would be why, I mean, take these back to zero. So if you've got your touch over here, you can choose to, um, click and drag the box and anywhere that you click and drag the box. It's going to do the the overall size so you can see how over here on I size our, um, camera. Right. I went all the way to 100. And then if we click and drag this down, it'll go to negative 100. Okay, so that's really nice that each one of these has a corresponding, um, corresponding thing. The only thing that does not have a corresponding slider is going to be if you come over here and you hover over until you see the four. Um, move knows. Did you see that? Do you see how the just moved the nose. Just let's just move it. Um, if you see the four arrows like that, that does not have a corresponding slider over here. And that's kind of smart, because I was like, Oh, they forgot that. And then I thought about a lot more, and I was like, Well, how would they do a slider that goes, you know, 360 degrees. You can't. It's not like linear, right? So you can click the anywhere that you see this thing, and you can actually just, like, move it around. Okay. Okay. You could do the same with the mouth here. Okay. And then, um so what? It's gonna be really body. So So I touched on this square. But now, if you're one of my touch sensitive people, um, if you want to use the circles, the circles are going to coincide with the I width and the eye height. Okay, so the I with and the eye height are going to be your circles. Okay, So thistle is looking really, really lovely. So if at any point you want to see the before in the after, you're just gonna hit the peaky for preview, and that's going to pre. That's gonna turn your preview on and off so that you can see the before in the after of what you're doing and you're gonna be like, This is great retouching. I am really on the right track with what I'm doing right now. Okay? So let's see, Maybe if we went back to the original way of doing things, let's see if we can screw up the software and be like, Listen, let's Ah, let's get back to zero in these, um, let's see if we can actually screw up the software to the point where it doesn't actually think that this is a face. Let's see if it works. Don't you love trying? Toe? Pull one over on Adobe. All right, Okay. Hopes I'm on the wrong tool. That's why it's not updating already. Let's get me back to normal here and cut. Go away. We look good, all right. So let's go to our forward warp tool, which is our old school way. And let's, uh, let's get rid of this and let's click and drag and let's see if we can actually, like, move this I we just what I'm trying to do is just make this not look like a face anymore to see if Adobe to see if the technology can actually still pick up that this is a face. Okay, so now let's go back into our face tool, and you can see that all of a sudden, yes, it's still active, and my eye does have does have things around it, even though it's not even anywhere close to the original I, um So let's see. Can we go in? And can we make this I bigger? Yep. And it knew exactly where it was. So even if you're trying to pull one over on them, okay, they're still smart enough to know that this is still an eye and it's still a face, which is really, which is really crazy. Multiple faces, groups, things of that nature. Does this software be ableto handle that absolutely. It can handle multiple faces in the same image, and I have a whole section moving forward on that. That's going Teoh that's going to touch on different faces. If you look up here, you can see that we've got a little fly out menu for face number one and That's just because there's one face in this image. But in the future, when I bring an image in that has multiple faces, you'll see. Um, you'll see Face number one, Number two, number three and it really I I don't know how it does that. I've actually been pretty blown away by the technology by Mona. Should I call her Mona? Um, at what she can Dio, especially with multiple faces in the shot.
Class Description
There's an extremely powerful hidden gem inside Adobe Photoshop CC - the Liquify filter! Face aware liquify allows you to use Adobe's powerful facial recognition software to make tweaks to any of your model's features. And when I say any, I mean ANY feature on your model's face! This incredibly smart technology will blow you out of the water and you'll be dying to use it in your next editing session!
Software Used: Adobe Photoshop CC 2017

Reviews
Kristina breaks down the use of the Face-Aware Liquify Tool in a way that makes it fun as well as practical. She included helpful hints on what to do if PS doesn't recognize the face, and provided numerous useful examples of simple changes to make faces more appealing. Making faces slimmer, minimizing double chins, opening squinty eyes, turning a frown into a smile - these are all "fixes" that clients ask for, and Kristina makes them look easy. I can't wait to load a few images and practice my new skills on my own!
Kristina is an incredible instructor. Not only are her explanations extremely clear, but she's super fun and engaging. In this class, she explains the newish face-aware liquify feature of Photoshop in depth. Highly recommended!