How to Use the Face-Aware Liquify Tool
Applying Face-Aware Liquify to Video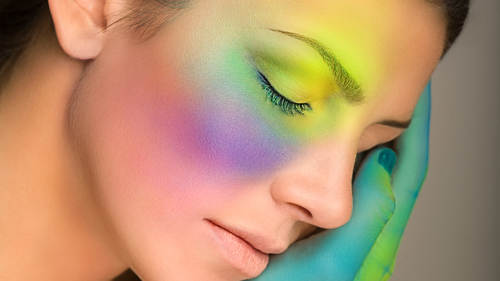 How to Use the Face-Aware Liquify Tool
Applying Face-Aware Liquify to Video
Lesson Info
Applying Face-Aware Liquify to Video
I'm going to bring in the video now so that we can talk about how this works on video as well. So go ahead and bring this into my photo shop, all right? And I want to make sure that my timeline box is oh is open as well. And, um, so the way that we're going to do this is to convert the video to a smart object first. And then once we do that, we can then take that smart object into liquefy, make our changes, and they render it to every frame of this video. Okay, that's crazy. Uh, it really is crazy. So the first thing that I'm going to do is come over to my layers palette and I'll double click on my layer here, and I want to choose Convert to smart object, which actually turns my video. I don't know if you guys saw that, but it turns my video from blue to purple in case anybody has any care in the world about the color of their video. So now that we've turned it into a smart object, actually, yeah, we can go ahead and do it this way. We're going to choose filter, and then we're going to...
choose liquefy And this poor girl. Actually, I didn't show you the video at the beginning. Should I show you the before? All right, there's the before video. Okay, so we'll come back in here and just this is a very silly example just to show you that that it works are eight this on the left eye. We're gonna make the left. I really, really large in every way. And we're gonna tilt it, Okay? And now this is something else. You know, you've got your eye distance here that you could dio and then the other eye We're just gonna make it really, really small and tilted the other way. OK, then we're going, going to go ahead and press, OK, And then so because I'm on a laptop and I'm not I'm not on a supercharged video editing computer at the moment, you can see how this is really scrubbing along, and it's it's trying to show Show us the video with the with the, um, effect applied to it. But what I did just to save time for this was actually, um, was actually go through and render this out previously, just so that you guys can see, um, the changes in action and not have to sit here while it's, like, not even not even working correctly. So let me switch over too quick time, so I'll show you the before again. Okay, the before and then the after. All right, once more before and the action or after. All right. It's pretty crazy, right? So my question would be Is there a limit on the duration that it will work through? Like, if you had a 15 minute clip, a video, what would that impact its performance? You know, I don't think so. I mean, it depends on if the face goes into into, like, profile. It may depend that may screw it up if the face goes in a profile. But if they're just sitting there talking constantly, I think it should work. Yeah, especially for, like, interviews or something like that. Or, you know, yeah, who knows? As I said, this is a new technology. So all of these things are good to know. And it's good for Adobe to know these things too, because this is so new.
Class Description
There's an extremely powerful hidden gem inside Adobe Photoshop CC - the Liquify filter! Face aware liquify allows you to use Adobe's powerful facial recognition software to make tweaks to any of your model's features. And when I say any, I mean ANY feature on your model's face! This incredibly smart technology will blow you out of the water and you'll be dying to use it in your next editing session!
Software Used: Adobe Photoshop CC 2017

Reviews
Kristina breaks down the use of the Face-Aware Liquify Tool in a way that makes it fun as well as practical. She included helpful hints on what to do if PS doesn't recognize the face, and provided numerous useful examples of simple changes to make faces more appealing. Making faces slimmer, minimizing double chins, opening squinty eyes, turning a frown into a smile - these are all "fixes" that clients ask for, and Kristina makes them look easy. I can't wait to load a few images and practice my new skills on my own!
Kristina is an incredible instructor. Not only are her explanations extremely clear, but she's super fun and engaging. In this class, she explains the newish face-aware liquify feature of Photoshop in depth. Highly recommended!