Identify the Logistics
Sue B. Zimmerman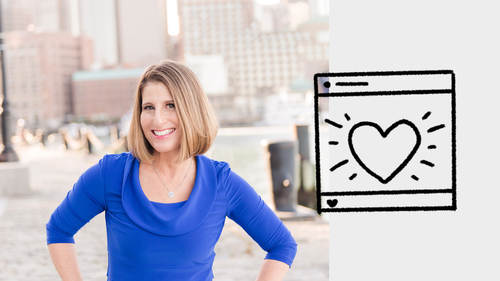 Identify the Logistics
Sue B. Zimmerman
Lesson Info
3. Identify the Logistics
Lesson Info
Identify the Logistics
Let's move into the second step, which is identifying your logistics. So, who is actually going to be managing your account throughout the launch? Most likely you if you're a solo-preneur, right? But you might be able to bring on a team member or hire an intern to help you, because this team member should not only be creative, but should have a true understanding of your brand's goals and the authenticity of your brand, and that task needs to be assigned to someone who can do content planning. So, if you're not clear on who's gonna be completing all of the things that you need to do for your launch, you need to think about this before your launch starts. So, the photo shoot and gathering all of the visuals for your launch, the writing descriptions for each of your posts and, you know, what you're gonna be doing in your stories, maybe in your Live, the content for your Live, also for your posts. And uploading and posting the content. And creating the Instagram stories to support that la...
unch. Okay, so these are all tasks that actually need to be assigned, and they take time. And, in addition, if you're gonna go live on Instagram Live, what's that gonna look like? Okay, so all of these tasks need to be written down before you start your launch. So, the next question is, how long is the launch gonna be? So, no launch is indefinite, right? You have to decide how long is it gonna be, beginning to end. Your launch needs to have an end date. When I was looking at the Arms Banks, and I was seeing the duration of the pre-launch, the launch, and the post-launch, it was a month for that whole launch to take place. For Creative Live, they've been promoting this actively this week, but a week ago, it was being teased, so you need to decide how long that is gonna be, because if you don't choose a start date, guess what? You might never start, right? You just have to put it in your calendar and commit to it. So, do yourself a favor and give yourself some structure for your work. Here are the benefits when you do schedule your launch. It really helps your team members work towards a common goal, and it builds excitement around this, both internally and externally. And it helps you stick to your deadlines, if you actually put them in your content calendar and you plan it out strategically. So, when you're choosing your launch date, these are the things that you need to consider: what time of year it is, because, you know, people during the holidays are so busy doing all the holiday things, so that may not be the best time of year, or knowing the best day of the week to post for your launch, where is it most active on Instagram. We're gonna look at some of those insights in a little bit. Other things that might be happening in your business. I know if my team, when we have a launch scheduled in our calendar, we need to have white space before that launch and after that launch, so we can go all-in mentally in what we are committing to doing. So, you have to make the space in your calendar to do that. You also need to think of the length of time that your audience needs to get comfortable with what you're launching. They literally need to know who you are and what you do before you start trying to launch a product or a service to them. Okay, and then your bandwidth, because let's be honest, a lot of you have kids and other responsibilities, and you have to know what you're capable of and what you can commit to. You wanna think about, also, how often you wanna be posting the content on social, okay? Specifically here on Instagram. How often are you gonna commit, because it's not just the post that matters, it's also sticking around for that engagement and commenting to all the questions that you're gonna be getting. And one of the best ways to ensure that your content is being seen by your ideal audience is by posting consistently. So, you wanna have a posting scheduled, and the more you post, remember what I said earlier, the more you show up, the more you stay top of mind. If you aren't consistent with your posting on Instagram prior to a launch, chances are people aren't gonna be warm enough to understand what you're doing, so you have to be really all-in prior to that. I like to, you know, the analogy that I use about Instagram, you guys, is that I say that Instagram is a village, okay? So, like I said when I first started teaching, there was 140 million people, Instagram Stories didn't exist, Instagram Live didn't exist, it was just the feed. But things have changed. The landscape has changed so much. So, I kind of look at Instagram as three different neighborhoods of Instagram. So, Instagram's a village, and now we're talking about neighborhoods, okay? So, the feed is one neighborhood, okay, the actual newsfeed, Stories is another neighborhood, because a lot more people are hanging out in Stories now than in the feed. So, all of you that are thinking that you're getting a lot less engagement in your feed can do with the fact that people just are really enjoying the Stories. Hands up in the audience, are you, okay, more in the feed, hands up, or more in the stories, hands up. Okay, that wasn't said really well. Let me say that again. If Stories is where you're spending most of your time, I wanna just see hands up. One, two, three, four, five, six, seven, eight, nine, so half of you, about, maybe less. And the feed? Okay, so in this room, more people are still in the feed, but that's really changing. You know, people are just in the Stories, so having a presence in the stories is really important when you're doing a launch. We're gonna get into that, like I said, in a little bit. And Instagram Live, has anyone in the room here gone live on Instagram? Okay, one, two, three, four, five, six. Good, okay, so that's a whole 'nother area where you can actually draw attention for your launch. Okay, so this is what I recommend time-wise for each one of these, if you're gonna be doing a launch. The first one is, in your feed, to be posting daily, okay, in your Stories to be posting daily, and Live, scheduling it weekly, 'cause going Live daily, I mean, that's a lot to commit to, right? So, this is what is healthy for a good launch, okay? You should be active in Instagram daily, especially during your launch. So, just commit to that, because your Instagram account content should always be directly about what you're promoting, but it shouldn't be directly about what you're promoting, but it should support your launch goals. Let me say that again: your Instagram content shouldn't always be directly about what you're promoting, but it should support your launch goals. So, when you're posting during your launch, you're not always talking about the thing that you're launching, but it should be supporting the thing that you're launching, and I'm gonna show you guys an example about that in a second. Okay, so here's actually that example. Let's go into, if you're a videographer, are there any videographers or photographers here? Oh, perfect! Two people, okay, listen up you guys, this is good. Okay, so if you're a videographer, here's what you can do: on Sunday, you can tease the documentary that's being released for the week, okay? Smiling, I like it, okay. On Monday, you can talk about your experience creating the documentary over the last year. Sound good? On Tuesday, you can announce that the documentary is released today, so you're actually announcing that it's being released today, and then on Wednesday, you can show a short clip to tease it, not the whole thing, of the documentary, 'cause in Instagram, in your feed, you have a minute clip right there. In Stories, the clips are 15 seconds, but you can continually do 'em. So, you can choose that tease in the feed, you could choose it in the Stories. Now, on Thursday, you can share a testimonial from someone who's watched the documentary, okay? So, actually, it's so much better, you guys, when other people talk about your business and you're not the one talking about it. So, getting those testimonials is a really good strategy. Friday, you can talk about where the inspiration for the documentary actually came from. Like, where'd you get that idea? What was the seed of that idea? Share that. And then on Saturday, you can share a quote from one of the characters in the documentary. So, it's not literally talking about the documentary all the time. It's all the elements of what it took to put into that.
Ratings and Reviews
Can I just say, "I LOVE Sue"! I took her three day course on CreativeLive back in January when I had finally decided that I didn't want to be the only photographer NOT on Instagram. I took that class knowing absolutely NOTHING about the platform and by the end of it, I was up and running. When I heard that she was doing a new class, I knew I had to see it. By the end of the day my head was exploding with information. There are so many new things on IG that I am already WAY behind the times and have so much work to do. Sue delivered the course in true Sue form - highly entertaining and energized. The examples of successful businesses that she uses are so inspirational and make you feel like, "Yes! It IS possible!!" I am sooooo glad I own the course, because there is no way I could get the full benefit from just watching it once. I will be going back to this class MANY times as I develop as an Instagrammer!
I love Sue's energy and her passion for her work is contagious. She is animated and articulate, making learning about Instagram not only fun, but inspiring. I found her tips to be very intuitive and easy to implement if you have the desire and drive to take your Instagram to the next level. I'm at a point where I've grown my Instagram to a respectable amount (13K), but I want to take it to the next level, so I'm doing a one-on-one consultation with her. I really appreciate all the work she's done into creating a program to uplevel your Instagram game.
Amazing class, super helpful for understanding how to make your Instagram work for your business. And Sue B is engaging and fun to listen to. But make sure you have a pen and paper ready, because there's so much important information you're going to want to write it down! I'm about to start again from the beginning and this time take notes!
Student Work