Video Settings: Profile & Style
Dirk Dallas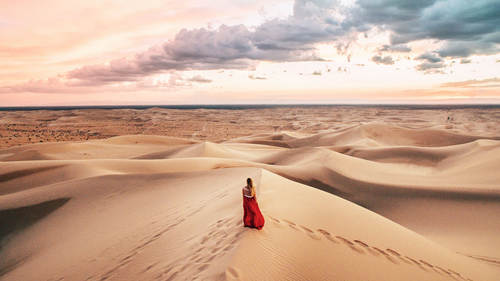 Video Settings: Profile & Style
Dirk Dallas
Lesson Info
2. Video Settings: Profile & Style
Lesson Info
Video Settings: Profile & Style
Before we get up in the air and start flying around, capturing those shots, I do want to go through the settings. But before I can go through the settings on the DJI GO app, I do need to put on my indie filter. And the indie filter basically acts as sunglasses over the lens. And that means that less light is entering into the camera. So, that is helpful because what we can do is we can now slow the camera's shutter down to something more cinematic. Like 24 frames per second, and having the shutter speed at say 1/50 of a second. And what that does is that gives us some nice motion-blur, so that we can emulate what we see in cinematic films. So, I'm gonna take my indie filter out... And because we're out here in Washington state, we have a lot of clouds, my assumption is that I'm gonna need an indie eight filter. But they come in indie four, indie 16, indie 32, indie 64, and so on. And these lenses, you can actually get them for the other drones as well. So, I have my drone off. And what...
I'm gonna do is I'm gonna pull out this indie eight filter. And because it's cloudy, I don't need to block much light from entering into the camera. So I'm gonna guess that an indie eight filter will work. I can use an app. There are apps out there that can help you figure this out. But basically what I'm gonna do is I'm going to put this on before I power up my drone. Just so that when I'm setting my settings for you guys they're gonna be right. So I'm screwing off the default UV filter. And you obviously want to make sure you wipe these lenses down before you put them on, and I've already done that. So I'm now gonna just screw this on. (loud scraping) And I just make it a little snug. You don't need to over-tighten that. And, I'm now now going to turn on the drone. (drone whirring) And while that's booting up, I do want to point out to you (machine blaring) that I have a special hook-up here. You do not need this. This just an output from the HDMI port so that you guys can see what I see on my screen. Alright so the Phantom is booted up. I now can enter into the settings in the DJI GO app. So, I'm going to first make sure that I switch it over to filming mode. Right there, above the shutter. And now I'm going to enter into my settings, right below that record button. And, you may already have your camera set to auto. If I go the next one over we have A. Because I have a Phantom, this means I can shoot aperture priority. Right next to it is S. So I could shoot shutter priority. So that just basically means I could set the aperture, and it'll figure everything else out, or I can set the shutter, and it'll figure everything else out. But I'm going to come over here to M. And that's fully manual mode. And the first thing I do is I always set my ISO, and I like to have my ISO really low to something like 100, opposed to something high, say 800, when possible. So I'm gonna make sure my ISO is set to 100. And then, the next thing I need to worry about is the shutter speed. And that is just because I want to emulate what we see in the film industry when they make movies. They're shooting 24 frames per second, and what that means is we then want to actually do the 180-rule, and double the frames per second to get our shutter speed. So what I'm gonna do is double 24 frames per second, cause that's what I'm gonna shoot at, which is 48. And the highest I could actually go, closest to that, is 1/50. So I'm gonna set my shutter to 50, and then from there I'm now gonna look at my aperture. And it's set at 7.1, which actually looks pretty good. And you can also look down there where it says M.M to get an idea of whether you're overexposed or underexposed. Depending on what drone you have, and what DJI version have, it may say EV. It's a similar setting. So I'm gonna leave that... right at 7.1. That looks good. So I've set my aperture, I've set my ISO, and I've set my shutter. I'm now gonna move on to this next tab. And this is where I'm gonna go into video size. So, this really depends on what type of computer system you have to do some editing. If you have a really powerful machine, go ahead and shoot 4K. It's gonna look awesome. But if you have a slower machine, you might wanna kick it down to something smaller. Like, 2.7 or 1080p. Because of this special situation where I'm shooting for the class, I'm actually gonna shoot at 1080p. Which is 1920x1080, and I'm gonna make sure this says 24 frames per second. Why am I choosing that? I'm choosing that because I want to emulate what we see in films, and the film industry shoots 24 frames per second. So if I'm trying to shoot, and get that cinematic look, I'm want to copy that exact setting. So once I do that, I can exit out. I'm now going to just skim past that. I shoot in the .mov format, and I'm based in the United States. So I'll leave it NTSC. And I definitely want to switch my white balance. If you don't switch this from what it's currently set to, by default: AWB, then you will actually get footage that shifts in color temperature as you're filming. And that's gonna actually ruin your image and make it harder to color correct. That's what I mean by ruin your image. Because you're gonna have such a hard time getting the shots to match. Because as the light changes and shifts, so will your color temperature. So I'm gonna set mine to cloudy because we have clouds out. And next I'm gonna go to style. Now, what I wanna say about this is you can look these settings up. Everyone has a different recipe. So my way may be different than what you like, and what other people like. But this is what I do for the Phantom. I go down to custom, and I have my sharpness, that first one there, set at -1. So how do you do that? You can just click on that, and you can push the plus or minus button. I have my contrast set at -1 as well. So you can click into there and push plus or minus. And then I have last one, my saturation, and I keep that at -1 as well. Now, I will say, for the Phantom, I do actually use a slightly different setting. The one setting being on sharpness. I do kick that up to a +1. So that's something different that I do when I'm shooting with my Mavic. But again, look these up. Really just try it yourself, see what settings work best for you. But, really what we wanna do is we don't want the DJI's camera to overdo the imagery. We want to try to shoot a flat profile. So that when we go in and we do a color grade, do some color correction, we have a little bit more to work with, and we're not relying on the software in the drone. So once that style is set I'm going to click outta that menu. And the next important setting that you wanna keep in mind is this color setting. And it may be set, by default, to none, but I actually like to shoot D-Cinelike. And again, this is a personal preference, so you can go do your own research, you can do your own test, check it out, but some people like to shoot D-Log. For me personally, I found unless you are really good and have a lot of experience, and time to color correct your imagery, the D-Log can be a little hard to work with. And also what I've found is for some of these drones, that obviously have smaller cameras, you're not getting as much latitude as you would in say the bigger cameras that they are shooting films with. So I'm gonna stick with the D-Cinelike. Alright, so next we're gonna go down to the encoding format. I have mine set to H.264. What you wanna do is research what setting you can use for the editing program that you're gonna edit with. Make sure you check that out first, and if your computer program does support the H.265 codec you might actually wanna do that setting instead, and get a little bit better compression. I'm gonna leave mine though at H.264 for now. The next tab I'm gonna switch over to is this gear icon. And a really helpful setting that I like to have on is this histogram. So I'm gonna switch that on, and basically what this does is I can move this anywhere I want. I usually put it down here in the corner. And this lets me know, with just a quick glance, what my exposure is looking like on the graph. So what I'm basically looking for is I want an exposure graph that's fairly even and in the middle. Not too heavy on the left side, not too heavy on the right side; nice and balanced. And this is a really helpful setting to have on, because if you're out flying and it's a bright day you may actually have trouble seeing your screen. So you can actually rely on that to help you set the exposure. And, next here you can see all the settings I already have on. I'm just gonna point out the AFC. That's the auto-focus continuous. I do have that on. My mechanical shutter's on. This is for the Phantom; that specific setting. I'm gonna go to my grid. I personally like to have the grid slash diagonal... on. And this is really just to help me with getting good framing, setting up for the rule of thirds, and I will keep that setting on. I will also turn on a center point. And I usually just go with the standard center point, and the reason why I do that is cause' it kinda acts like a target. So I can exactly point my camera right at the center of my subjects for instance. So I'm gonna put that on the standard center point. The next setting I wanna point out is the peak focus threshold setting. This is really helpful for helping you find out where your focus is. Again, when you're looking at your screen there could be a big glare, and you're having trouble seeing what is in focus. Well, if I turn this to high, standard, or low, these red lines are super-imposed on your image. They don't actually get recorded on the card, so don't worry about that. But they let you know what is in focus. So wherever you see more of these red lines, you can tell what's in focus. So I usually will have that on. I will put to high. For this class though, I'm going to turn mine off. Just so it's not too distracting when we're actually out filming. So I'm now going to click out of these video settings, and I'm gonna go to the top right-hand corner where you see those three dots. And I'm gonna go over to where my controller is. And I'm gonna make sure that my button customization is set. So I have a C1 custom button with the camera forward/down. What that does is it gives me a quick way to get my camera pointed down. So if push it, now you're seeing just the table. I click it again, and it quickly then shows me the wildflowers. The advantage of that is if you are just constantly riding the dial to quickly move your gimbal you're gonna be wasting a lot of time. Because, as I move my dial down you can see how long that takes. So I like to have mine set to camera forward/down. And for the C2 button, mine is currently set to center metering. Another helpful setting might be for you to have yours set to the AE lock. Or even the camera setting there at the top. So this is just gonna be personal preference. So I do recommend you set those to your personal preference. Now one of the things I want to stress to you guys is we talked about setting auto-white balance so that the color temperature isn't constantly shifting. Well, on that same note what I wanna do is I wanna make sure that you're thinking about your focus as well. So usually what I'll try to do is I'll try to focus on my subject, and then I will kick it over to the MF mode; right there at the top. And that locks the focus. So my focus isn't shifting while I'm filming. So that's something you wanna be mindful of. Setting your settings and then locking them. Alright so we've gone through all the settings. We're ready to get the drone up in the air! I'm gonna have my friend come out, we'll do some moves, and I'll show you how I might capture a scene just like this right behind me. Let's get started.
Ratings and Reviews
There was some good and helpful information here! However he stated that when shooting video he sets the camera focus on a stationary subject and then put it in manual mode so as to avoid the camera re-focusing on a different plane, but I would have liked to have heard his tips for camera focusing on his shots where the subject was moving toward or away from the camera.
Student Work