Cleaning and Caring for Stamps
Meagan Lewis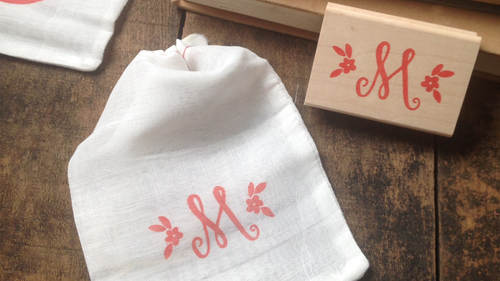 Cleaning and Caring for Stamps
Meagan Lewis
Lesson Info
1. Cleaning and Caring for Stamps
Lesson Info
Cleaning and Caring for Stamps
Now that you pretty much know how to carve a stamp, how to transfer the design, the next thing that kind of trips people up a little bit is text, you know, they're like, ok, I can carve a I can carve a fern, I can carve a square, I can carve a triangle. What about text? That just seems really, really hard. I don't know how you do it and that the best way that I can kind of just help you through this is to just not think of it as text, you know? Ah, the letter r the letter eyes just another shape. Um, and it's. Really? It's it's. Not too difficult, it's. A lot of fun. You can make your own message. You can like I was saying earlier. You can use your own handwriting, or you can use a font. Um, it's. Really up to you? Um, what I have done today is I used a font on that I thought was really cute. And I did a little like flower motif. S o I printed this up. Uh, some templates up from home and let's. See, I should probably clear a little bit of this way oh, one thing you mentioned, meghan, w...
as that you you wash these the stamps because that apply to all services I remember when I used to do line of cutting our art teacher I said no, don't wash the line no u s should just go over it with a new color, but does it does that apply to rubber? Right on? A lot of it depends on the ink that you're using. Teo, I know, like, if you are printing with linoleum, you might have been using oil based inks that's, right? Actually so on and that's so that's different. You know how you clean up with oil based stuff? I try not to use oil based inks, and I try to just use water based inks on day. Like I said, if if your stamp is on mounted, just wash it under the sink and I like to just pat it dry with, like a justice old like flour sack towel, something that's just soft and super absorbent. Um, a lot of times people ask me if they can use paper towels and, you know, sometimes like the lint gets stuck in the stamps, I don't really like paper tells a lot of times people ask me if they can use, like, wet wipes, same thing. Sometimes those leave a little bit of limits, so I try not to, um there are um other cleaning ways that you can clean your stamp there are, like cleaning pads. This is brand spanking new that's. Why? It looks so awesome. I don't use this, but I wanted to be able to show tio itza basically a stamp cleaning pad and you can get, like, water based cleaners. Or you could just even use water and you would basically saturate this it's tryingto figure out how I could describe what this is like. It's, like a really soft um, I don't even really know it's kind of, like, got a brush penis to it. But it's really, really soft on dso you basically you could just kind of, like, clean the ink off on to that. And then it would be it would be fine. Um, otherwise your stamp doesn't really need to be squeaky clean, you know, if you just wanted to stamp it off onto some scrap paper until most of the incas is, you know, offer there that's fine. You know, I mean, it's your preference I'm not gonna you know, tell you have to clean your stand perfectly. Whatever works for you. You know, my my stamp draw at home was pretty yankee and I try and keep it clean, but it's all good.
Class Materials
Stamped Muslin Bags Supply List
Ratings and Reviews
Meagan gives you some basics on how to make a negative and a positive stamp. She makes it look so easy. I can't wait to try it. I watched the free version. Thanks. I didn't hear or see what to use to connect the stamp to the wood. Did anyone hear this?
Student Work