Core Photo Ingredients: Context
Jay Goodrich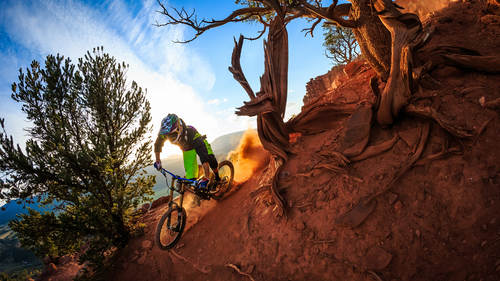 Core Photo Ingredients: Context
Jay Goodrich
Lesson Info
4. Core Photo Ingredients: Context
Photographs offer insights on our shared experiences. Learn how to shoot beautiful and communicative images.
Lesson Info
Core Photo Ingredients: Context
The parts of something clarify its meaning so further now all of a sudden I found the word clarity in the contextual element that I'm going to try and enforce in a photograph so parts of something clarify its meaning we've got the clarity to our original photographs that we just looked at now can we add context to those photographs? Can we give somebody something else that they may not see in their everyday occurrences right? Where are we way you can answer airport what made you say that? You know, fifty three, right? Okay, but what else is in this shot? You've got the airport cool on site I've given you context, right? But this is pretty abstract in the way you would look at a photograph, right? Why? Well, the gate number etcetera is all backwards, right? We don't read backwards then I've got lights that are the highlights of the frame, not random space dots equally spaced dots are our eye goes to highlights in a frame a lot of times but because they're equally spaced is kind of this ...
rhythmic poll for us to see the white but what else is going on in the photograph? It's sunrise okay, so then you start realizing o j is at an airport again at freaking five o'clock in the morning, which is like the hour I just really want to be sleeping you know I don't want to be up in five a m so I see it happening pull the iphone out of the pocket clique that's it ok so again here don't matter but context we're in an airport okay what we got here tools here work bench for what? The bike bike why had said you see you see the headset people here's the cool thing people who don't mount like even get this which is really awesome and the first thing they pull out is the disrupter or they say well there's a helmet there so all of a sudden I've got context I've got you engaged even if you don't mountain bike that's cool right so if I can go beyond just my main focus of marketing slash subject slash people that view my work and have other people answer questions like that then I'm being really truly successful with what I'm creating right making people think and that's what I really want to do where am I what's the activity of the day very good so this is my laundry room when I lived in look connor what is my focus? What is my clarified subject here people ski boots what else? Detergent detergent what happens when you ski in the pacific northwest on our very wet heavy snow day you need to do a lot of laundry right so this is all the gear laying out being laid out to dry overnight I chose to focus on the detergent you pick up this now the lens I shot it with was an f four lines so and it was really wide angle, so I I couldn't get this as out of focus is I truly wanted but I still shot it wide open and I focused on the detergent so kind of cool, right? Okay context you guys are getting it spring it's not a sprained ankle and if it were larger on the screen, I think you guys would see it it's my wife taking a photo of a gash on her leg with her iphone and this is after pretty crazy crash sequence and so what was cool to me was this kind of connection between our devices now and even the athletes right? She's like, oh, this is cool, I'm bleeding this is going out to facebook and I'm like, oh that's pretty cool this is going to the magazine, I stand over her with my camera taking of shot of her taking a shot you know, this kind of stuff then leads tio future ideas and projects because I start seeing this more. I don't know if you can see this of this subject because of the screen brightness but hoping you can okay, so you see the hikers right? It becomes about the trail meandering look at how steep the zone is this is here in washington as well but what's pretty crazy about the shot is something's going on here that doesn't happen here a lot and that's a huge wildfire this is really dry so that's all smoke and haze in the valley again using those kind of things that generate layers for me and the context becomes the mountain you may not know that it's the cascades but you know that it's the mountains you know that there's hikers there uh etcetera etcetera what we're doing here dr it's not my truck in the driveway but it is a truck it's the front bumper of a truck is that steven's pass yuri was with me when when I shot this and kind of just that's my bike laying on the ground with the reflection in this muddy bumper so how can I connect you to my activity my surroundings my environment in different ways than just showing you my bike on the ground right there's a cool reflection in the bumper of the money truck which they use they actually use this truck to shuttle us to the top okay what's going on here waiting for a train okay where my any idea where foreign transportation so soul good guess foreign trains strange station yes good guess I am in thailand and but so it was good because you saw the yeah the in john and if you if you understand what the thai language looks like written then you would be like oh it's thailand you'd get it from the billboard right but still you're getting there right getting you there now notice the guard at the end I'm leaning over the edge and they don't like that he's yelling at me and it's just a subtlety that I was like he's yelling at me I'm taking the photo man I don't care what you're saying to me I'll take it don't get back but just the way the light was cascading down this kind of card or to me and the train lines and the trip the rail and all this kind of stuff you know this is the train to downtown bangkok from the hotel of stena and it's just a cool different shooting environment you know these things kind of get me going you know if I have one of those trucks oh yeah I'm driving over stuff uh but good yes it is a bar in skagit and what was kind of crazy and interesting to me as I rode by on my bicycle was thiss the grill of the truck the overcast light just made this grill stand out like really silver and I pulled my iphone out took the shot and that's the way it came out so and I blur I did blur the barn itself background in post but that's really cool to me is that you know here's this like little expression of light of what's behind kind of the closed doors when? When we drive by and right by these things. Right? So again, just giving you the context. You don't need to know that. It's a barn. Where am I? I don't know the answers in there. It's it's here, it's in downtown seattle. It's up on. I want to say eleventh where they put all the posters up and that's aa friend of mine's wife. And she just has this create kind of energy and attitude towards her. But for me, the photograph could exist anywhere. It could be happening in an asian country, right? Because she kind of ads that context to it. But if you start looking at the billboards and stuff here, there are elements there that say, you know, at certain bar, whatever at this time, this is what's going down, so then you would figure it out further. But I like kind of using this technique of pattern. You know, the background of this is very, very jackson pollock and then throwing in that element of person, we automatically just go right to her, right? And then we start figuring out what's going on here.
Class Materials
Jay Goodrich - Lightroom Notes and Workflow.pdf
Jay Goodrich - Intro to Adventure Photography Discount Codes.pdf
Jay Goodrich - Intro to Adventure Sports Photography Syllabus.pdf
Jay Goodrich - Intro to Adventure Photography Gear Guide.pdf
Ratings and Reviews
While I'm new to the world of Creative Live and their excellent series of lecture presentations, I'm not so new to the world of photography. I'm an avid semi-pro nature photographer with aspirations toward expanding my portfolio to include more adventure sports-related imagery. I found Jay's presentation insightful, humorous and down to earth. His classes mixed the art and design of an image with the technical experience and athletic ability one would need to create the kind of image I'd like to be able to make, and he did it in a way that made my personal goal achievable. Jay's images are stunning, and he presents a lot of valuable information in a way that relates to photographers of all skill levels. I look forward to seeing more of what CL can provide to help me become a better photographer, and also to seeing what Jay will present next. I highly recommend this class!
Thank you so much for sharing this and for free. I learnt a LOT... and still gotta keep on learning!! I like and agree with most of your points of view, Jay! Love the no-rules approach, photographer's vision, controlling the shot and camera, and doing most of the job with the camera instead of lots of editing, like many do. I honestly didn't know you before this workshop but am now a new follower you've got. Keep it up! You're gonna kinda hate me for kind of pointing something out to you... you kind of say kind of and kinda kind of 'way too much' ;) Not saying it as negative criticism because it is not at all, but as a funny observation (followed HIMYM? You'll understand ;)). Best of luck. Respect. ps. Recommended watch.
Student Work