Ways to Use VR
Barry Pousman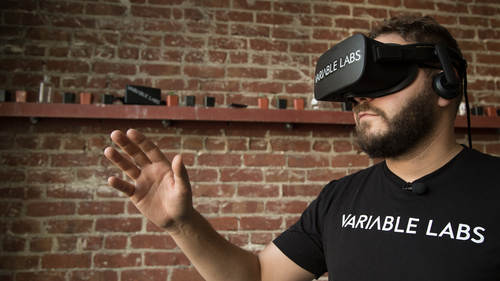 Ways to Use VR
Barry Pousman
Lesson Info
5. Ways to Use VR
Lesson Info
Ways to Use VR
what's we are good for? VR is good for empathy. One thing that Stanford has done a lot of research around. So Stanford has a virtual human interaction lab, and they've done a lot of research around, um, the effectiveness of virtual reality versus more traditional media, um, on people's brains, for empathy, for generating empathy, fostering empathy. And so what that means is, um, they they have a series of experience they've crafted with their grad students, and, um, and those experiences each have sort of a different angle, a different topic. Ones about homelessness ones about sort of the idea that if you embody a superhero, would you become more superhero like, um, another one is about deforestation. So they have this great experiment where some people go through and they're gonna learn about deforestation via an article. And we know the article takes about eight minutes to read itself full of facts and lets you know everything you need to know about deforestation. Some people go thro...
ugh the experiment and they watch a Web video, just a little documentary, and that video is eight minutes, lungs, a flat E and those who learn all about the forestation in those eight minutes through documentary. And then some people go through the experiment and they see this. They embody a person who's chopping down a tree with the chainsaw, and it takes about eight minutes. And while you're in there, you can really hear the tree coming apart, ripping apart. You kind of don't want to be there makes you feel like you don't really want to be in those shoes you don't chopping down a tree. And when the tree falls and the experiences over, each person goes and speaks with a facilitator. And every time there's always a glass of water and a roll of paper towels on the table and the people that read the article and the people that watch the documentary the Flat E they fluff 6 to 8 paper towels on average every time the facilitator knocks over the water glass. The people that did the VR, they pull off 1 to 2 paper towels each time. Okay, so that's a marked difference. We know that people change their behaviour because they had an immersive experience that experience where they felt first person. They didn't just read an article about something else that's happening over there. It didn't just watch a movie that's happening over there about someone else. They actually had an embodied, learned experience, right and embody the learning experience. That means they stepped in the shoes of someone else and they had an experience, and that helped them learn. And sometimes that's an experience in this case, and it's an experience that didn't go right. You felt like I must have done the wrong thing. I need to now take action when that cups, couple water spills minutes later, I'm gonna change my behavior because I don't feel like I want to be part of this problem. Or you can embody the right thing. Right? So, Maurin, that astronauts sense that aspirational Aiken do it, I'm going to get there. I've seen myself do it in a virtual experience. Now I can remember back to a time. Um, you know, now that here I am in the real world, I can remember where I was. You know, I feel like I've been here before. So, um so we know it's really effective in teaching people new things. We also know that the news is all over VR. The news loves 3 60 Video 3 60 video captures everything around the camera all simultaneously, so all of a sudden there's no more need for, ah, a camera man. You put the camera down, you press record and you leave the scene. And so there's an authentic experience that happens with the people on the ground. Could be the animals on the ground could be just the way nature works around the camera when there's no one watching, right. All of a sudden you get this authentic experience. And so we've seen tons and tons of news agencies jump on this bandwagon vice and ABC and NBC and having the Post New York Times. The list goes on. So, um, we know that we know that news is really a cool use case for VR. Um, pretty Interestingly, this is a picture of Bon Ki moon, who was former secretary general of the U. N. And he's watching a film called Clouds Over Sidra and Clouds of Procedure is a short documentary in VR, where you follow the life of a young Syrian refugee living in a refugee camp in Jordan, and you sort of see what a refugee camp is through the eyes of this young child. And Ban Ki moon watched it at this event, and it was a pretty powerful moment. He you know, this event was a donor conference. Okay, He's at a donor conference in this photo, and and at that donor conference, they expected to raise this 24 hour long conference. They expected to raise $2. billion. And all that money is gonna go to the lives and livelihoods of those that are refugees from the Syrian crisis. Okay, um, they expected $2.3 billion. Well, they added VR. They added this experience. It's only eight minute long film and people cried and people cared. And people changed how they talked about the cause and talked about the issue. All of a sudden it had a name and it had a face. And her name was Sidra. And so we followed this young girl around, and these men, these men and women that went to this event, they all got to follow this girl around. They all got to see the refugee camp through a child's eyes and at the end of the 24 hour event, instead of raising $2.3 billion. They raised $3.8 billion. So that's an extra 1,000,000,000 1/2 dollars. This its massive. You know, it's changed the lives of millions of people just that one day. Um, so we know that VR can be a very powerful tool. Imagine that those people had watched an eight minute documentary right on a flat screen. Do do we think that they would have had such effective results right where they have without have been as effective as an option? I would argue that VR is best suited for this sort of scenario. Now here's a behind the scenes video of Of Our Shoot in Gaza. We went on to do a few more of those with the U. N. And, um, it's been it's been really powerful. The U. N. Has has better now has better understood the power of storytelling, the power of taking on the perspective of others. And we don't try to make politicized content. We try to make content that really allows you into the life of another human right. It's not making a point. The point is, just there's no the point is that there is no us and them. The point is that we're all us. Some of us are just over there, so we're here. So this is a behind the scenes clip just two minutes long of of our shoot in Gaza, where we told another story. And that film is called my mother's wing. Thank you. Look so other use cases, right? We know that travel is a big opportunity for VR and take people places for the first time. Our media can actually visually take people places that they've never been before in a unique way in a way that imprints on their brain that they've done an experience. Just that they've read about it just that this all movie about it, but that they had an experience and people feel that way. And people talk about that way with your we'll talk about that way with 3 60 content. It's an experience you create 3 60 experiences for others, right? So this is Louis Coal famous youtuber. Um, he got very into 3 60 eso he's been around the world now with his 60 camera, and it's really, really cool stuff. You know, you could just get toe kind of step inside his shoes in a YouTube channel called Fun for Louis. And here is Discovery VR, right? Taking people underwater, sort of going on that adventure, right? What is adventure and science look like? Nvr. How do we dig deeper? Find out more about the world around us. Well, 3 allows us to do that. Um, in addition, we have all sorts of new ways we're looking at capturing content. So there's the traditional 3 60 linear video that we're gonna talk about in this class. But we're also, you know, the VR industry is moving in an area where we're about to do more and more photo realistic content, more and more polygons. Um, so you know, this is an evolving field, and it's changing fast, but we were definitely excited about kind of the potential of moving into a space where all content starts becoming composited. Um, you know, there's an opportunity to take a 1,000,000 photos of this studio even and then stitch them all together, put them in a room where you slide in those headsets. He'd slide into your HTC vibe. You get to walk all around the studio and adjust the lights and tweak the things and turn on the cameras. And you could make your own movie. Um, so that literally is coming. Just ah, you know, it's a few years away. Um, so other use cases for VR? I mean, you know, there's a big opportunity for training for people getting better at work at life. Um, of course, the military continues to train people. Of course, The D o D. That continues to train people. Um, you know, NASA continues to train people in VR, but there's a big opportunity. I think it enterprise training. There's a big opportunity and personal development. Nvr ah, lot of companies. Air chasing, sort of mindfulness and meditation in Vera. How do you help people find peace in their real world through a virtual experience?
Class Materials
Fabien Soudiere Making 360
Ratings and Reviews
Great content! Great overview on storytelling and an intro to 360.
Student Work