Introduction to Film Photography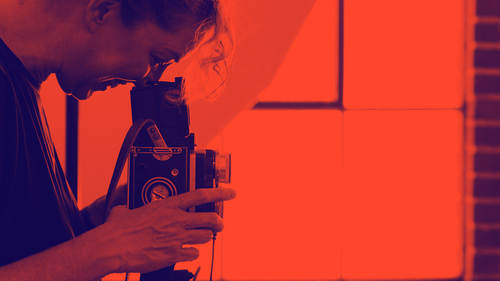 Introduction to Film Photography
Class Description
Stop with the excuses, grab your film camera and get out there and make amazing images! If you're comfortable with your DSLR and post processing, then learning to use your film camera is easier than you think! In this beginner course, Sandra Coan walks through how to shoot with film so that you feel comfortable, confident, and excited to take the best pictures! She'll talk about choosing your film and how to find and work with a lab to process your images.
This course will cover:
The differences and similarities between film and digital
How a camera meter works and how to meter for film
The different film options and how they affect your photo
How to find the right lab to process your images
Don't be intimidated by the idea of using film. Sandra will show you how to slow down during your photo shoot, focus on what you're trying to capture, and ultimately get a great image straight out of camera.
Reviews
Sandra is a gifted teacher!!! I've been following her work for years and know what an incredible photographer she is - but to be able to teach the way she does is truly a rare gift! I've been shooting film on and off for years and was amazed at how much I could still learn from Sandra's class. She presented the information in a way that was so easy to follow that you couldn't wait to get started. It's wonderful to learn from someone who is clearly passionate about their craft - but who is also excited for others to succeed at what they're teaching.
Amy could not have said it better in her review of this class! I am also a film shooter (have been shooting film personally for 8 years and professionally for 4) and even as someone who understands a lot of what Sandra was talking about, I STILL found this class to be incredibly helpful and learned a lot. Sandra is such a great teacher and an inspiration to so many film photographers. Great class! Thanks Sandra and Creative Live for putting this together for us.
Sandra is not only an insanely talented photographer but she's a gifted teacher. I've been shooting film for weddings and portraits for 5 years and even studied it in photography school so I'm not new to film by any means. But I've allowed myself to be so intimated to create portraits with film using strobes for far too long. But not anymore. I'll be 100% honest when I say that the information she teaches in this course, to a seasoned COMMERCIAL photographer mind you, may be insanely simple. But that's the beauty of it!!! There is no reason to over complicate shooting film with strobes. It's the simplicity and straight forward, clear as day information that Sandra teaches that's essential to rejuvenate today's overly 'tech obsessed' world. Film is alive and well! Sandra's course is gold when it comes to getting that appreciation for our craft back! I'm jazzed and ready to slow my roll down! Thank you, Sandra and CL! The value of this class is far more than that of the strobe kit I finally invested in (HOURS after the class!). : )
Explore More Free Classes
THE
CREATOR

PASS
Enjoy the free classes? Get 2000+ more Classes and watch it anytime, anywhere.
Get The Pass