Assignment: Footwear Brand
Theron Humphrey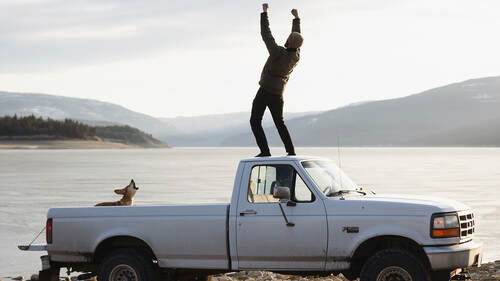 Assignment: Footwear Brand
Theron Humphrey
Lesson Info
4. Assignment: Footwear Brand
Lesson Info
Assignment: Footwear Brand
An assignment that I wanna give to you and we're gonna pretend like I am the client and I've hired you as an image maker, photographer that I love, and I want you to create images for my brand. So the charges, the assignment, and it's gonna be footwear focused, there's gonna be one part where we need product photos of the footwear on the model. And then we also want lifestyle images of them enjoying the product outdoors having a good time. And just to kind of hone it in and not make it overwhelming, you can use a partner or a friend or a neighbor. And the the brand of footwear doesn't matter. It's just that, it's like the guide for it. And part one is we want three photographs that are focused on the footwear, and those are images that we're gonna use on our website to tell the story of how the product actually looks on the human foot. So, much like on a website, the first few images are gonna be, we've already shot those as the client. They're gonna be on white, and when we swipe the ...
images because you wanna buy the footwear, the last images are gonna be on the model out in the world. And the second part of the assignment is we're gonna need images for our main landing website. So, when you load up the website it's the first image you see and we need to have those photographs have all the feeling of summertime, of enjoying life, and you get to choose the landscape and the setting that you're gonna shoot those images in. But the talent are gonna be wearing the footwear. And that's not gonna be the focus of the image 'cause you're gonna be much further away. And those are all about communicating the feelings of good times, enjoying life, exploring the world much wider in perspective. So, that's the two parts we want to honed in really tight focused on the product shots, model and the product, and then pull back wider perspective. And that's gonna be more lifestyle, free feeling, open, exploring the world, go out, go forth, buy our product, this is how it's gonna feel wearing it. So, the other part about this is you're gonna go out there, you're gonna create these images. Those two parts. Part one and two. And then I'm gonna review your images and I'm gonna give you feedback on them. And I really wanna show the value of getting that feedback and encourage you to create that in your own photo community. And that's the whole purpose of this assignment. To give you a reason to go to create, experience feedback, positive and places to improve, and then you can go shoot again. And that's the pathway to grow as a photographer. So, it's having your reason purpose to go shoot, to then go shoot, to edit, to have your images critiqued by your friend community, your photo community, and then to go shoot more.
Ratings and Reviews
A really enjoyable course! I really enjoyed getting an inside look at Theron's philosophy and approach to his photography work. I picked up so many good points to help me better define the work that I do and the direction I want to go with it. I did have to go back and watch a few things because Maddie was so happily distracting. I found myself watching her and missed what he said. Ha! I felt like this course was true to how it was advertised - approach and tips for getting commercial work. Next, I'd love to see a little more technical course from Theron that shares his how and why for gear, light capture, and angles for the outdoor shoots like those shared in this course. I'm really inspired by the simplicity of his production.
Student Work