Learn to Draw: Landscape
Amy Wynne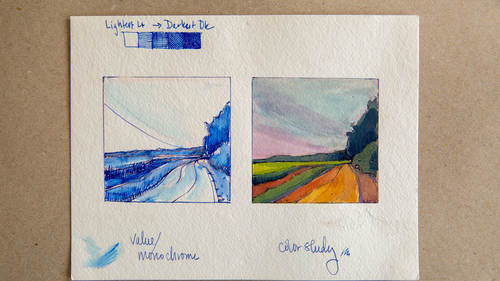 Learn to Draw: Landscape
Amy Wynne
Class Description
Join instructor and professional painter, Amy Wynne, as she teaches this introduction to drawing the landscape. She'll share how to use a fountain pen, brushes, water, a pencil and a viewfinder to go out and capture the space and environment around you.
In this class, Amy will cover:
Surveying the landscape: seascapes, countryside, and industrial
Composition: nature sketching as a sensory diary
Using a viewfinder
Choosing your sky to land ratio
Achieving depth in your drawings
Establishing atmosphere and shadows
Amy will end the course with a series of drawing challenges to get you outside and drawing more every day! She'll challenge you to draw the view from your car dashboard or your window at different times of day, keeping drawings in a field sketch journal.
Amy has been teaching painting and drawing for over 20 years at colleges across New England including the Rhode Island School of Design.
Ratings and Reviews
Amy is an excellent at teaching in a clear and concise way and getting exactly to the point. A good brief introduction to get you started in landscape drawing. I'm not sure it was exactly as I expected but the information presented is important for any beginner. Class was fairly brief but I still need to learn to put what I see down. My tree looks nothing like hers. This is where i need help next and was not really covered. I could easily take more of her classes if she had them.
I cannot understand the few people who were critical of this class. She gives dozens of excellent ideas for the beginning landscape artist. Especially helpful was the explanation and use of the viewfinder to focus your drawing. Five stars fom me to her. Thank you! Extremely helpful and inspirational.
Good tips on relaxing and enjoying the outdoors before you begin drawing. Great course.
Student Work