Learn to Draw: Still Life
Still Life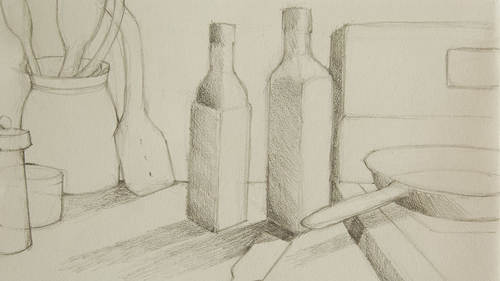 Learn to Draw: Still Life
Still Life
Lesson Info
Still Life
I'm Amy Wynne and we're here in my Pawtucket, Rhode Island studio where I'm gonna teach you about drawing still life. So, the still life is a really popular thing to draw with artists. Still life is basically the arrangement of objects, usually on a table. And sometimes people think, well, still life is just drawing objects, but there's so much more to it than that because a lot of times in the history of art, and contemporary art as well, the objects that you choose to draw can tell a story. The objects you choose to draw could even be a self-portrait without a mirror. So, significant objects, symbolic objects, these are things that first we're just gonna look at a couple of examples of that in terms of art history because it hopefully will inspire you to get past the idea of, oh I'm just drawing objects and maybe choose objects of significance. Choose objects that you're super inspired to draw. I'm gonna take a look at this Gauguin painting. Even though it's a painting, it's still an...
arrangement of objects and I want to talk just a little bit about this particular theme in still life imagery. A lot of times people will arrange fruit, vegetables, that's actually something easy to do at home. You can go to the market and you can buy a bunch of different kinds of colorful fruit and put it down in different arrangements. Artists have done that for centuries. But, when you do that you might ask yourself what will the arrangement be because there's so many scenarios even if you get six lemons and two tomatoes. You could arrange them in so many different ways. So one of the things I'm going to address in this course is how you make really inspiring choices about how you arrange objects, where to place things, where the eye moves around the picture, how you can really inspire the viewer to engage with your image. In this image by Gauguin, he's pulling our attention in a great extent to this mango here on this white platter. This mango is lit very brightly, it's surrounded by the negative shape of this platter. In many ways, he's directing our eye to the mango. That is, in a way, creating an emphasis, creating a focal point and these are things we'll also talk about in this course. The surrounding mangoes are maybe a little bit less bright, maybe a little bit less appealing. So one of the themes in terms of drawing fruit and vegetables is this idea of fertility and decay. And these are things that could imbue your work with more symbolism. This painting, another still life painting, is called a vanitas. And a vanitas is another theme in still life work. It often includes a skull and it really is symbolically a lamentation of the brevity of life. Often really symbolically talking about death, the temporary nature of things. When we look at the still life we can see, that this skull is illuminated very brightly here so our eye is immediately drawn to the skull's forehead so that in many ways is the focal point or the emphasis of the piece. The artist is creating crescendo, like a loud spot in the painting by making more contrast and also in terms of placement of the skull and we'll talk about how we can do that in our own work in a little bit. But also what's going on here, cuz I do want to talk a little bit about the symbolism of this piece as well, is that we have on the left side of the picture here, we have a candle that's just been snuffed out. And if you look carefully, you can see the smoke just wafting off the candlestick and that is a symbolism of something just being ended, right? We also have down in this part of the picture down here, is a timepiece. So a clock, a timepiece, a wristwatch, that all relates to the passing of time. This element here that's dangling off the table in the lower left corner, acts as a way an entry point into the picture but it's a key. So maybe we could about like key of knowledge or we could think about unlocking a secret or story that might be involved in this picture. Another thing that's evident in this picture symbolically there's a lot going on, is this wineglass that's been tipped over and is empty so an empty glass, an empty wineglass. There's nothing left, it's kind of a dark image in a way but it's a nice contrast to the Gauguin image which is filled with life, fertility and fruit and the tropics. This one sort of on the other end of the symbolism. Couple other things in this image, the skull has its lower jaw bone missing and so that speaks to decay. The book that it's resting on here, this book... There's a whole tradition in still life drawing and painting, where you use books and books are symbolic of knowledge but also a closed book, something that's been published, an old book like this, has to do with facts that may no longer be true or that may be in the past. That's another sense of the symbolism of time passing. So when you arrange your own still life setup, which we'll do a little bit further along in the lesson, I want you to think about your choice of objects. We'll talk about the spacial arrangement of them and how you can enhance the read of the picture but think about your choice of objects and think about the sorts of themes that you might want to evoke. And it doesn't have to be overtly symbolic but in some ways, for me anyways, I engage a little bit more strongly with my image making when they have a little bit more of a personal connection to the subject matter I'm working with.
Class Description
Join instructor and professional painter, Amy Wynne, as she teaches this introduction to still life. She'll share how to create symbolism and meaning in a still life. Amy will also  share the different genres in still life, such as fertility/decay, vanitas, self portrait with objects, and nature.
In this class, Amy will cover:
Still life Composition: working with the Rule of 3rds and strengthening negative space
Depth: varying scale
Value: transitioning color to monochrome and creating tonal gradient
Lighting: Mapping lights and darks and creating tonal rhythm
Amy will end the course with a series of drawing challenges to get you drawing more every day! She'll challenge you to draw of a motif, developing a creative habit.
Amy has been teaching painting and drawing for over 20 years at colleges across New England including the Rhode Island School of Design.
Reviews
Great class. Thank you Amy for your insight. The section on value was one of the best I've come upon. Now to start my challenge.