Develop Module Overview
Mark Wallace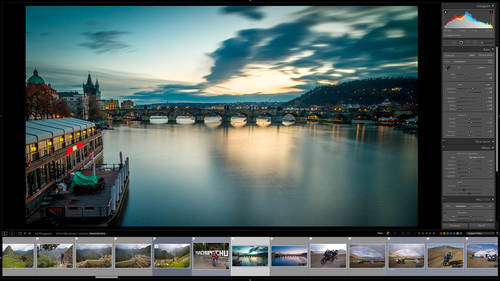 Develop Module Overview
Mark Wallace
Lesson Info
14. Develop Module Overview
We take a close look at the Develop Module to understand what it does, the behavior of each section of the interface, and learn about hidden tools.
Lesson Info
Develop Module Overview
now it's time to jump into the develop module. And so what I want to do is because there are so much to do and see in the develop module, we're going to do a similar thing that we did with the library module. We're gonna chop this up into smaller chunks. And so the first section, which is right now, what we're in right now, I want to give you an overview of what the develop module can do and sort of how it's set up. So I'm gonna really rapidly just show you the things that you can do in the develop module and then the next few segments, what we'll do is I'm going to slow it down and show you step by step how to do all this stuff that I'm gonna show you really rapidly in this segment and so really fast in this segment, and then we'll slow it down to show you how to do all this stuff. So let's go back into Light Room Classic, I'm in the library module right now. And so what I want to do is um I want to show you several different things as we're going forward. And this is a great example ...
of what the quick collection is made for. So, I am going to go to the library. Have already taken a few images, three images, and I've just thrown them into the quick collection and then I'm gonna take one additional one, throw it in the quick collection. That way we have a collection of images that I can really quickly pull things out of and I don't have to search for them. When I'm done, I'll clear out the quick collection. And that is exactly how you use the quick collection. It's just something distort images for a short amount of time. And then once you're done with them, clear it all out. So let's hop over here, we have these images of Carisa and these are the images that were imported at the very, very start. These are part of the class materials. They should be in your light room catalog. If they're not make sure that you zip over to the class materials, there's a folder called Carisa, import these images into your Light room catalog so that you can follow along as we're going through here. So I'm going to choose this central image. This is A DC- 0716, so that's the one I want to use. And so I'm going to hit B add that to the quick collection. If I go to the quick collection, you can see here are four files that I want to use to sort of start demonstrating the develop module. We're going to start by going to the develop module. And so I'm going to select this image of Carisa and then hit D and that will take me to the develop module. You can see that we're in the develop module because that is what is highlighted. Okay, so for this, I like to save a little bit of real estate, so I'm going to close the bottom and top panel so I can do that by hitting shift tab, kicks all of the panels out, and then I'm going to hit tab that brings the side panels in, and so I have essentially kicked the bottom and top panels away. The other thing to make sure that is turned on in this is this down here, this is our tool bar so that you can turn on and off by hitting T. So t hides the toolbar, t again shows the toolbar, so T T and so I like to have the toolbar hidden most of the time. But for this demo I'm going to keep it shone so that you can see what happens to this toolbar. Let's look at how this module is set up on the left hand side. Over here we have presets and snapshots and history and collections. Remember those collections that we set up earlier? Well, here they are. And so if I wanted to go and get on my motorcycle shots, I could just click on that. Or if I wanted to go and look at my smart collections, I can expand that and see all of these different things. And so in each module, outside of the library module, you'll see collections. And so that's an easy way to bring things into the film strip down here. Right now. We're working in the quick collection just to save some time, but you'll always find collections over here in the other modules. I'm gonna close this presets. So these guys up here, we're going to get into what presets, our in depth When we're working in the develop module. These are specifically called develop presets. So develop presets are things that you create to save a recipe for developing an image. So for example, let's say that you shot high contrast image of of of a model and your intended to convert all of those images to black and white. You have the lighting setup and everything set for black and white photography. Bring in the first image and do all of the labor intensive editing on that. Get all the tonal corrections set, do any kind of local corrections to all the stuff that you want to do. You can save all of those things that you've done as a preset, as a develop preset. And then for the other images, you can just say use this preset and bam all the stuff that you did to the first image will be applied to all the other images. And in addition to that, forever in the future, if you have an image and you're like, you know what, this would look great. Using that same formula that I use before you can just click on it and bam that will be applied to those images. Presets are pretty amazing. You can go online and find tens of thousands of presets that are available either for free or for sale. They come in packages. And so there's wedding photography, uh presets, Their scenic photography presets, there's film photography presets, there's all kinds of stuff. And so we're just gonna look at a few of those. So on the left hand side in light room, these presets, The way that they work is I'm just gonna go over here to the black and white presets. Again, I'm on the left hand side. If I hover over one, it will automatically give a preview of how the image is going to change. If you applied that preset, so you can very, very quickly see what it would look like if you applied one of these presets. If I go down here to Mark's presets, there's a preset that I've labelled Carisa and so I previously went in and retouched one of these images and so if I and I save that as a preset, so if I wanted to, I could just click on that and boom, my image is done but I'm not gonna do that, I'm gonna walk you through what it took to get from here to hear. It's pretty cool. And so that's on the left hand side. So we have presets and we'll learn a lot more about those later. We also have snapshots and history and we'll learn about that in the next session in the middle. This is the window that shows us what we're working on and we can do some comparisons and all kinds of things in this middle section and then over on the right hand side we have a few sections here. So we have panels, we have the basic panel, the tone curve and effects and a bunch of different things. You can click on these triangles to collapse them, you can click on the triangles to expand them, you can right click and you can say expand all and you can see every single thing over here that you can adjust and if that's overwhelming, you can right click and you can collapse all and it makes it nice and compact. You can then just expand the ones that you want. And there's another mode called solo mode. If you click on that, what happens is if you have the basic open and you want to open the effects, it will open the effects and close the basic or if you open color grading that opens but it closed. So only one of these at a time will open. So some people love to work that way. I don't so I'm going to so we can see everything. I'm gonna expand all by the way. This solo mode and expand and collapse all. Not only works for the develop module, it works on all the other modules as well. So you have that same exact functionality but I wanted to show you just one thing at a time. Okay, so once we have that we have also up here we have tools that apply to just specific areas of an image. These are called local changes and I'm going to explain those in the future session and then everything below that are global changes. They are applied to the entire image. So anything you do down here changes everything in an image. So very quickly let me show you some things you can do so I can go in here. I can click on this to set the white balance. It's a little bit too blue, but there we go. That's pretty close. I'm going to expand the exposure a little bit. I'm going to open up the shadows so you can see her hair. I think she's a little too orange. So I'm gonna take some of that orange out something like that. I'm going to go and I think one of the things I can do is I can sharpen up this image. I'm gonna change the profile of the lens and so that's good. I'm going to go in and put in a maybe a vignette to this image and I also can see that I've got some issues here on the background. I've got some um, some spots and so I'll remove that spot, I'll go over here, got a spot right there. I'll get rid of that. We've got some little skin spots that are actually dust and then we got some other little skin spots that can change those really, really quickly. I can see on this image that paris is neck is a little bit darker than I'd like. And so I can go in here, get a little brush and change that exposure. What's did it the wrong way. So I'll go the other way so I can just change this little section like that. Maybe do this, maybe take the saturation down just a hair, you can see I overdid it just a little bit, I can fix that anyway, so I can go in, I think I fixed it and unfixed it, but you get the idea, I can really quickly make changes and then I can also go in and if I want, I can see full screen what I've done, I can compare the before and after shot. So this is what we started with. This is what we ended with um go back in here. You can also see that we have not only before and after, but we have some comparison tools so we can have a reference in an active image. So I can say, I want to make sure that this uh color tone is matched by all these others, so I can use that for doing that. So it's a really, really fast and easy way to develop those things. So once that's done, I'm going to hit F. C. Full screen tab to bring these guys out anyway. So what you can see is in the develop module, I was able to in real time do some corrections to this image of Carisa and it took just a matter of minutes and it would even have taken less time if I use the preset that I made earlier. And once, you know, all of the different tools, you can work at that speed. Um And it's it's really quite amazing. So what we need to do next is we need to start understanding the workflow. What are the steps involved to be able to edit scenic photos and portraits and architectural photos? How do we do that? Well, that's what we're going to do next.
Class Materials
Tether Tools Pro Kit Discount
Tether Tools Starter Kit Discount
Ratings and Reviews
Great class - excellent content, excellent presentation. Thank you Mark, through this class, I finally understand the difference between Adobe Lightroom Classic, Lightroom and how they work together. And how excellent, there is so much more available to learn - photography essentials, lighting, Adobe products.
This is an excellent class to learn about Lightroom Classic. Since it's not the same as Photoshop, I found Lightroom Classic to be confusing and difficult to intuitively figure out. Mark Wallace is an expert and exceptional teacher for the program and I learned so much today in this free class presentation that I am planning to purchase the program so I can continue to have a solid understanding of Lightroom Classic basics. Thanks, Mark, for inspiring me to get back into computer photo editing with LR Classic!
Student Work