Challenge #2: Unusual Angles
Lindsay Adler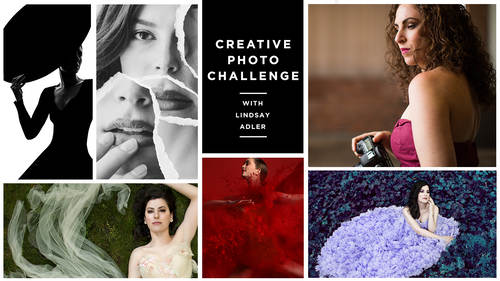 Challenge #2: Unusual Angles
Lindsay Adler
Lesson Info
2. Challenge #2: Unusual Angles
Lesson Info
Challenge #2: Unusual Angles
everybody, it's Lindsay Adler, and this creative photo challenge is to shoot from an unusual angle, get up really high, get down really low. The point is, dramatically change your perspective for this challenge. I'm going to shoot at a high angle, and I've actually selected this beautiful tulle dress that I know when I put it out around her, it's gonna create this beautiful flow that will look amazing from above. How to do this? I'm going to stand on a ladder, but of course, safety first. So we actually have somebody spot the ladder to make sure that's nice and stable. And I recommend using a hand strap or at minimum, if you don't have one, at least wrapped the strap around your hand. So it is nice and stable, so you don't drop it on your beautiful subject. So got my safety all set. Next thing I need to do is get up here and figure out my settings. I'm shooting with the Canon five D Mark four, and I have a 24 to 105 millimeter lens so I could get a wider angle shot to fit in the entire...
dress. I'm going to be shooting on manual and it looks like the settings that I need R s a 800 cause I have her in the shade. The reason she's in the shade, it will give me nice, even natural light. So it makes it a little bit darker, so I'll bump up my I s O shooting at 1 200 of a second. So if I'm holding the camera out when wiggling a little bit, I don't have to worry about camera shake. And I'm shooting at five point. Oh, because I'm not worried about a really narrow depth of field since she's lying flat against the floor. Now, in order to get my composition, I can just guess, you know, I can just hold it out over her and shoot. But if I want a little bit more precision, I'm actually going to use live view, so I'll be able to see with Live you on the back of my camera. What? I'm shooting so I can get the composition just right. Beautiful for her pose. I want nice long lines, so I have the pinky side of her hand pointed towards me at the top and then for that bottom. And can you just curve a little bit more so it looks nice. Dance, really? Almost like a ballerina. Beautiful. And then point your toes for me will make it even more dance. Great. Beautiful pose. I have to be careful when I'm shooting at 24 that I'm not too far from this side because it will actually distort her body and make her look really short. It'll make the bottom part of her body look tiny, so I need to get that angle out from over top to avoid distortion. And to do that even more. Getting a little bit of a higher angle, actually. Help me. So I'm gonna go up the ladder just a little bit more. All right, Here we go. Oh, cool. Okay, so really long legs try to lengthen about beautiful. And I'm at 24 millimeters Nice and wine. I can see the competition in my live. You. Wow. That's so pretty. Okay, me Try a couple like this, and if I miss the edges, the frame going to shoot some of the left and some on the right liken composited in later. If I need to horizontally, I'm getting the whole thing, so it shouldn't be a problem. Perfect. I got it. So, everybody, I look forward to seeing your unusual angles. You can share your photos with hashtag creative Photo Challenge, or you can join the Facebook group. And actually, if you want to receive these challenges direct to your inbox, you can visit creativelive dot com ford slash CPC
Ratings and Reviews
I am so much more willing to participate this challenge, tho' i don't have the materials and studio equipment. I only have a tripod, a camera, a softbox, a flash and a reflector but it ain't gonna stop me. I'm eager to learn new things, I love creative live, I love Lindsay, and I LOVE Photography! So thank you all for this free class! keep inspiring us!
I loved it, I highly recommend this class. It's super informative and Lindsay is a superb Photographer and teacher. Thanks for sharing
Very fast class full of great ideas! My only question is how did she edit the silhouette to look like that at the end? I recommend this class if you're looking for some fun inspiration!
Student Work