Challenge #3: Reflections
Lindsay Adler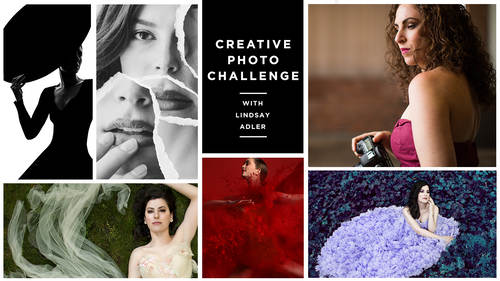 Challenge #3: Reflections
Lindsay Adler
Lesson Info
3. Challenge #3: Reflections
Lesson Info
Challenge #3: Reflections
everybody. I'm Lindsay Adler, and this creative photo challenge is all about shooting reflections. And in this case, I'm actually going to bring my mirrors with me for this shoot. What I've done is I've taken three pieces of mirror and I've taped them to gather to create my very own prism. Now, what's great is this gives me a ton of different creative results in camera on location, depending on the angle of the prism were depending on the focal length of my lens. I'm going to get completely different results right now. I'm shooting with the Canon five D mark for and I'm shooting with 10 and 24 to 105 When I shoot it, a wider focal length, I'm going to see even more reflections. And when I zoom in for a longer focal length, I'm going to get fewer reflections and narrower death. The fields I'm shooting right around I s 0 800 So I do have her in the shade and I'm sure the 1 2/100 of a 2nd 4. okay, so let's do wide. First it's It's a little longer. Maybe let's try 50 instead of 24 I will b...
e 50 millimeters beautiful and let's try longer. So I've done 24 50. Let's do Beautiful right there. Great with your eyes Open out That way The eyes back. It made Israel soft. Good, beautiful. Just like that's gorgeous. Perfect. I got it. That looks beautiful. Now I want to see your photographs of reflections. So if you want to share them, use the hashtag creative photo challenge or you can join the Facebook group. Go to creativelive dot com ford slash CPC to sign up to get these challenges direct to your inbox.
Ratings and Reviews
I am so much more willing to participate this challenge, tho' i don't have the materials and studio equipment. I only have a tripod, a camera, a softbox, a flash and a reflector but it ain't gonna stop me. I'm eager to learn new things, I love creative live, I love Lindsay, and I LOVE Photography! So thank you all for this free class! keep inspiring us!
I loved it, I highly recommend this class. It's super informative and Lindsay is a superb Photographer and teacher. Thanks for sharing
Very fast class full of great ideas! My only question is how did she edit the silhouette to look like that at the end? I recommend this class if you're looking for some fun inspiration!
Student Work