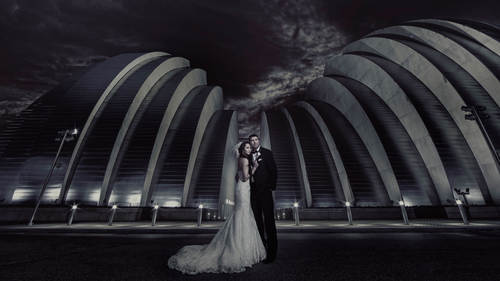 Lesson Info
Branding
So let's talk a little bit about branding. First of all, why is it important? Write the history of a brand. We're going to showcase you signature for your signature collection albums and then talk to you about the next steps or branding of each level. So I'm gonna start flying to this. We've obviously talked about branding before, but that doesn't mean we shouldn't talk about it again. In fact, branding should be something that's on your mind all the time. No matter what you do, you've got to constantly be thinking about your brand. That being said name, name is the first thing that goes into your brand. What are you calling your studio? Is it fluffy cats? Photography? Like I changed it up last time. What we call in the last time Happy feet was last night. What? I just called now. I don't know. Fluffy cat. Yes. Goodbye, Fluffy cat. Is it fluffy cat foot RV? Or is it no Salvador? Some kind of party or your name? I make the argument that if you go with something that's very generic, very...
broad, you don't signal that you're an artist. Okay? This is one of those perception is reality conversations that's not too mean You will not have a successful studio if you call it fluffy cat photography. It just means it's something that you could be should be concerned about, and something you should be thinking about is you want to push into the higher end. I believe that we've been very fortunate. I have a unique name and by calling it Salvador's and got a photography, whether it's true or not, it signals that we are a higher end, unique studio. So just keep that in the back. Your mind logo. Oh my gosh, logo is so important. I'm going to show you my logo, but logo is the next thing you've got to start investing in. So if you're that newbie and you don't want to spend any money, spend money, get your logo Don, you can get him done from anywhere from 600 to $1000. It will be the best $1000 you've ever spent because you cannot do it the right way on your own. Unless you're a graphic designer, right? So I'm not talking about the people of graphic designers. I'm talking about the average Joe this is not what they're good at. So let the people who know what they're doing. Do it. Your website. Holy cow. So tired of looking at bad websites? Were photographers were visual artists? How can you look at your website and not realize it just straight out sucks? You know, it does. So fix it. Do something. Hire someone, Get it fixed. Ace up. We talked about this yesterday. This is your storefront. This is where everything's happening. This is where your clients are finding you. So why is this not in tip top shape? Get it together, make the investment pricing. We've covered pricing yesterday. Get your pricing right. When that phone rings in the clients asking you how much it is, you can't still be fumbling on this stuff. Step back. Take a deep breath. Work on your pricing and packaging. Make sure it makes sense. Not to me. Make sure it makes sense to your clients. Also not to you. Just cause it makes sense to you doesn't mean short make means. It's gonna make sense to your client awareness. Part of branding is awareness. People have to know who you are. It's not just about when you advertise, people are going to hire you, right? So that's not how it works. Oh, I spend $1000 on marketing and advertising. I book to weddings. That's great if it works that way, but it's not always about that. It's about awareness. I need my clients to know who are you. If I have clients were going, I've never heard you before. Why would they spend top dollar for my brand? They won't. So I need to be everywhere. That's part of why I'm sponsoring that bridal show. I know there's no way I'm gonna translate sponsoring the bridal show, too, getting getting weddings. But I do know that it will create more brand awareness, quality qualities, party, your brand offering quality products. And we're gonna talk about some of this stuff here in a second is part of your brand. If you're not offering quality products, you're signaling that you offer an inferior product inferior service. Therefore, you're not worth the money on paying whatever offer superior product Superior service. Then I can charge more money right out of the gate. That's my X factor. That's how I differentiate myself. Service your reputation, your image, your image is the way you dress. It's the way you carry yourself. It's the way your studio looks. It's the car you drive. All these things are part of your image. Whether you want to accept it or not, this is reality, okay? Of course, your service, your reputation also become part of your your brand. If you're known as taking three months to turn around wedding images, that's a bad brand. Move right? So if you're known for turning the images around quickly, that's gonna be part of your brand as well. And that's what we're always trying to dio your experience, the way you package products, houses for packaging, an album. And so this is the way I'd want to be able to package an album, and I'm gonna open this up. This is a wood box. You imagine delivering this level dovetail sides here, and I don't know if they consume in on that. But dovetail sides here. This is the way you want to deliver a wedding album, and so this to me, the way you package your product away, you deliver your product is what's going to separate you from the pack, and I'm gonna open that up in a second there. Products you offer also go into the brand, right? We keep talking about that. I keep hammering you wanted. It's about quality products. And we figured that out at year two. I didn't wait till I was a seven year vet or a six year vet to start offering quality products. I made that investment early on. All right, All that being said, let's look at the original Salvator Cicada logo. Ah, that is painful, man. Look at that fun with colors. Three different colors. I have no idea what font that is. No idea what I was doing. What does that signal to you? Let's play this game. We do this all the time. I tell you to do it. Look at your logo. Look at your brand and tell me what you see when you look at it. Water. Give me some keywords When you look at that. Do you see? First of all, my luxury, My brand I want to represent creative, stylish award winning. There's nothing creative, stylish award winning about this at all. It just looks like it was thrown together. Do we agree? Right? This is our logo Today. This is a brand that's been built around it. It's clean. It's simple. It matches the overall brand. And so we had to hire a graphic artist to go from this to this because they understood our brand. They understood where we were going. This is this is a can font. If I go back to this, this is a canned font. Okay, this is not a can fund. This is a font that you can probably buy, but it's customized. Bs has been customized for our brand. The teas. There's one line that goes through the entire T the's air things. OK? Because if you put two teas together and normal fund right, the switch, the cross is gonna go through both room. It's not gonna look right, Alright, they're gonna overlap each other. And so he brought right. Look at the spacing between all the letters and the old logo. Can you see the spacing isn't even. That's because it's just a can fund. Pay somebody who knows what they're doing. And now all that spacing looks right. Okay. I can't do that. It's not my skill set. That's not what I'm good at. Jules, we're going to revisit an oldie from the past. It is not painful right now. So, jewels. If you watched our last course, we gave jewels. Ah, brand makeover. This was her original logo that does not represent her brand at all. And so I took jewels for this exercise, and I said, Give me some inspiration that you want for your logo. So these were some inspirational pieces you came up with. Rights was the logo should represent you. It should represent your business. We gave this to Justin. Justin Hang. He owns a company called Visual Or put his web address up in a second. This guy's amazing. Here's what he did by hand. So he looked. He took this, had a conversation with Jules, went off and started hand drawing all these logos to get an idea of what her logo her brand should look like from there. He created this. This is what you want. This is not something you, as a photographer are gonna be able to produce. This is what he went off and did work with jewels. Now it it down to the top three that she liked even made some tweaks on it. you can see here. Bottom right hand corner is the 11 of the ones she liked here. Okay, But they also switched funds so that if you can see, look at the bottom right hand corner here, look at the font that represents Jeff and jewels. And then look at the bottom one here. They modernize that fund. She wanted something a little more clean line. That's the process as you're building your logo, your brand that you absolutely should go through. And here was what we ended up with as final for Jules. And that's her new brand. And what's the reception been from clients? Or talk to me a little about that? I just want to say thank you again because the response husband absolutely phenomenal. Everybody loves it. I think it really represents who we are. Just in did a great job, and it's just so exciting for me to order business cards. And it's awesome. Yeah, and this was my gift to you. I couldn't take looking at your old brand anymore, but this is my gift to you guys because we believe in your business, and we want you to be able to do that in this to me represents your brand. Your future on it just immediately sets you apart from the rest. And then if we take a look at her new the new page of our website has just been implemented yet, by the way. Okay, so we got to get on that. But this is her mock up for her. Knew her new website, which also is very representative off her brand. So if you guys want to go look, here's Justin's website. Visual lord dot com. Absolutely amazing. He is an artist, just like we are. You are working with him directly. You're not working with, like, a staff of creatives your working directly with him. And he understands the photography industry because he's stuck working with me all the time. So he understands what we're looking for from a branding perspective.
Class Materials
SCP Wedding Copyright Release.doc
SCP Wedding Copyright Release.pdf
Initial Booking Email Templates and Call Scripts.pdf
Initial Booking Workflow.pdf
SCP 2013 Pricing Guide.pdf
Top 10 Objections for Sales.pdf
Mastering Business Fundamentals Keynote.pdf
Ratings and Reviews
How is this just $99? I would of definitely payed at least twice as much!!! Half way though the course and this information is more than what the price is worth. Thank You sal, We love your great energy and amazing information.
My husband and I truly enjoyed this informative course. We love the way Sal is straight to the point about things and how to handle difficult situations. Taylor was awesome and helped me to embrace who I am and make it work for me. We can't wait for another class by Sal and Taylor. Josh and Lory
My husband and I truly enjoyed this informative course. We love the way Sal is straight to the point about things and how to handle difficult situations. Taylor was awesome and helped me to embrace who I am and make it work for me. We can't wait for another class by Sal and Taylor. Josh and Lory
Student Work