Andrew Shoots the Truck Bed Scene
Andrew Kearns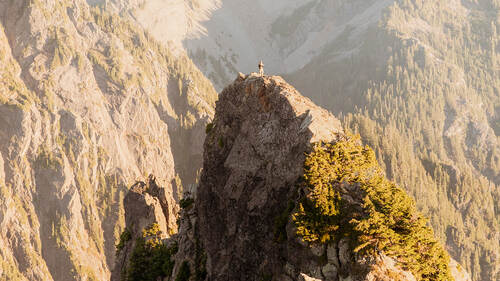 Andrew Shoots the Truck Bed Scene
Andrew Kearns
Lesson Info
14. Andrew Shoots the Truck Bed Scene
Andrew arrives on location to his subjects house, and sits down with Eli to walk him through the shoot with the mood boards and sketches created earlier. Heading outside, Andrew talks in detail through each part of his process while directing Eli to capture the shot.
Lesson Info
Andrew Shoots the Truck Bed Scene
(mellow music) (mellow music and vocalization) We're out here on Eli, our subject's property. And he has a truck right around the corner that you'll see very soon. I saw pictures of it. And when I saw it in person it's just like this perfect little patina of this green and like these yellow highlights. I'm hyped on it I'll just say, really what I want you to see is how all the pre-production we did will come into play during the shoot from knowing our subject well to just communication skills and just personable skills as well as referring to the mood boards, the ideas I'd drawn out, all that stuff. You'll see that all come into play during the entirety of the shoot. First thing we're gonna do is just go into Eli's house. Just sit down with him and talk through some of the ideas I have, show the mood board as well and really just get on the same page together 'cause that's why we did all the pre-production to be on the same page. So let's go inside. (mellow vocalization) Right? T...
hat highlight there is just slightly yellow. Mm-hm. I'm a fan. It's a good, it's a good green. Yeah, and you can't, you don't really get that unless it's like a certain type of paint, a certain age to it. Right, exactly. I was hyped when I saw that little glimmer, but yeah. So there's some stuff inside the car I want to get. There's some details of the car I want to get as well. Mm-hmm. And yeah, I like this shot of homie sitting on the fence so we can kind of do some stuff without the truck as well. Yeah. Yeah, we can definitely use the fence line just down the, down the field. Sweet. Yeah, that works perfect. And then, I drew out a few ideas. My (laughs) I dig it. I saw, I actually checked out your website and I saw your illustrations, and you know. And hey, you did it. What do you think of these? Yeah, I'm just starting out, so. That paints a picture. Yeah, yeah. So kind of like on the one we just saw on the Pinterest board, you have the just inside the cab of the truck, resting a few notes here looking out the window. And I'll just kind of direct you when we get in there. Yep. I wanna get a portrait shot of you in there as well as some details, thinking about the hands, maybe adjusting the mirror, just things you would do in the truck. Oh, like you're getting ready to actually plow or something. Yeah, something like that. I wanna get a wide angle shot. So most of the shots I'll probably be shooting are more like lifestyle focused on the subject, which is you and like the truck and just what you're doing. Yep. But I also wanna make sure I'm getting some bigger grander shot. I call it casing shots. So you like detail mid-range and then like big, wide casing shots. Gotcha. So that's kind of what I have here. I wanna get a wide angle and a zoom shot of that. Those are mostly just notes for me. Okay. And then you can tell what that is. (laughs) You're gonna do the door swinging open. Yeah. Boom, there it is. You crushed it. Man, okay I'm surprised. You're multi talented. (laughs) So having those leading lines of the door frame and then the truck frame kind of leading to you in the center. Yep. I wanna get a portrait shot, obviously. And then maybe, I'll see what I think about detail shots. I'll kind of see what's there as I'm there and see if we can direct something, getting more detail oriented, maybe like hands on the frame or I don't know. We'll see what we get there. Did you, did you look in the interior of the truck yet? No. It's got some character. Okay. Yeah. Like good character? Yeah, it's just that green cut kind of carries through inside. No way. Yeah, it's good. I'm hyped on that. You have shades here like that? (laughs) We don't need shades. I just threw that in for fun. I don't want you to have shades on, but yeah this one does your, does your truck bed have kind of the ridges that run into the back like that or? It does. Perfect. It does. Yeah, it's full of crap right now but it'll take two seconds to get that out. Sick. So I wanna try to use those for some leading lines in. Okay. You can tell by the perspective I added into this drawing. Yeah, mm-hmm. So, my camera's-- Life like. My camera's gonna be a little lower on this one. Gotcha. Everything pointing into you just sitting on that corner of the truck. Cool. And I wanna get a wide shot like this as well as like a detail shot with like boots maybe, stuff like that. And then yeah, we'll see what comes out of it as well. So that's the plan, pretty simple, pretty straightforward. Sounds good, man. Yeah. (upbeat music) Gotta take the phone and wallet out. Don't want them bulging the pockets. (upbeat music) Oh yeah, much love here. (upbeat music) (thumps) So he is just cleaning out the truck right now even though I didn't really plan to shoot that it's just a nice little scene kind of getting into it. The mountains in the backdrop too are super nice. Yeah, I'm excited. We're just getting started, too. I don't know if I'm a fan of it yet or not, but over yonder it's very bright, which almost is like a light source pointing this way. So I probably, unless it becomes sunset and it's this beautiful background, I'm probably not gonna shoot this way 'cause it'll be super blown out. But for now, I'll probably be using that as like a key light shooting this way into the mountains. So we have a perfect light source for a good backdrop right now. It's like angled perfectly. You think you could aim it well enough to miss me? We'll see. That'd be kinda sick to get some little explore ground blur. If you break this camera, I have another one. You want me just kind of shove it off the side? Yeah, I'll stay on this right side. So if you shove it off this side. Yeah. Let me get my settings dialed in. I'll do my best. Make my shutter speed up or my... (beeps) All right, whenever you're ready. (thumps) Nice. And then same thing. Try sweeping it off a little far back and I wanna try to get the motion of it. Okay. Almost just going by the camera. Yeah. I'm gonna lower my shutter speed a little just to get a blur to it. All right, three, two, one. (thumps) Nice, let me look at the other one. (thumps) Oh, that's sick, let's do another one. Nice. We definitely got it. That's sick, though. I'm gonna go a little lower more center. Can you miss me if I'm more center? Yeah. All right. Just selecting my focus point. All right, three, two, one. (thumps) Nice. (thumps) Precision. Oh, that's sick, yeah. On surface. Let's do one more, I'm gonna just change the angle a bit. (thumps) All right, whenever you're ready. Good to go? Yeah, three, two, one. (thumps) Nice. Yeah, that's brilliant. Thanks. Woo hoo. Yeehaw. Bigger than I thought. (mellow vocalizing and music) So one of the ideas I drew out with Eli just sitting on the corner of that frame right there with the mountains in the backdrop, it's just an obvious frame to capture. So now let's do that. I wanna make sure I get a portrait of this, like the one I wrote down and also get more closer in with the details like the boots. And we'll see what comes out with posing as well as we're shooting. Would you be able to scoot left on it and then turn more toward me? Mm-hmm. Or sorry, scoot right. So this way? Yeah. Perfect. (camera beeps) And then look toward me, but a little more beyond me. Lemme just get my settings dialed here. We're gonna shoot a low aperture, just a high shutter speed and right now the light's pretty even. I'm looking at the curves or the, I'm looking at the histogram in my camera and yeah we can, we're not really losing any data other than the snow in the background, but I think I'm gonna be low enough for some of these shots where I'm not getting any snow. Yeah, like right there, there's no snow, so. Yeah, just hold that. Look beyond me, (camera clicks and beeps) a little to your right. (camera clicks and beeps) Now and look directly at me. (camera clicks and beeps) Chin up just a little bit, and take your hood off. (camera clicks) (camera beeps) Nice. (camera clicks and beeps) And in camera with you leaning like that it looks a little odd, so just straighten up. Yeah. Yeah? Yeah. You want anything on there? No, I like actually like your hands right there. (camera beeps) And then with your right leg, instead of having it straight kind of just tilt it a little bit. So you bring your foot in this way or sorry, scoot your foot to your left and then just cock your knee out to the right. Perfect. Yeah. (camera beeps and clicks) And once again, look a bit beyond me and to the right a little bit. (camera clicks and beeps) And with your feet have your right foot a little more forward. And then left foot more that way. This way? Yeah. Okay. (snow crunches) Actually keep, I like the where your feet are just bring 'em back a little. Yeah. (camera beeps and clicks) Currently shooting a little wider at like 28 ish. (upbeat music) I like the orange gloves too, it's a nice touch. (upbeat music) (camera clicks) Actually, I know we just took the wood out but maybe I could have you reaching in here. (upbeat music) You wanna just throw another in there? Have them kind of, not as neatly stacked as those two. Just like lay them over top of those others kinda. (upbeat music) (thumps) (upbeat music) Nice. I'm adjusting my settings to have my aperture at F5.6. I was just shooting those last ones at 2.8. I didn't mean to, I wanna shoot at a higher aperture so I have Eli in focus as well as I don't want the background to be completely washed out and blurry. So gonna try to stick between like 5.6, 6. probably don't go above eight though. We'll keep it at 5.6. Get my framing here. All right, go ahead. (camera clicks) (camera clicks) (thumps) Let's do one more time. (camera clicks) (camera clicks) (thumps) Nice. I can get higher. And let's do that higher angle again but I'm gonna be inside here. That's a step side. What's that? It's a step side. Perfect. Shooting at a wide focal length of 28. Will you come and frame real quick so I can get a focus on you? Oh, that's sick. I like that a lot. (camera clicks and beeps) All right, would you go through the motion? Yep. (camera clicks) Go ahead. (camera beeps and clicks) (camera clicks) (thumps) Brilliant. (thumps) Yeah, that's solid. We have him framed on the right side there on that rule of thirds line and then the rest of the image, the other two thirds is just filled up by the truck cab. So I'm actually a pretty big fan of that composition. Let me look through the rest of these real quick. Yeah, a little bit wider as well. Both, most of those are framed the same way. Composition's nice on those, sick. Let's do the, the door hand shot. Cool.
Class Materials
Sonora Edit - Before and After
Mountains Edit - Before and After
Edit 01 - Before and After
Edit 02 - Before and After
Edit 03 - Before and After
Wildist-Kearns-Edit_File-01.ARW
Wildist-Kearns-Edit_File-02.ARW
Wildist-Kearns-Edit_File-03.ARW
Ratings and Reviews
This class is really like a good investment. It's gonna help you step by step and you can come back to it multiple times when you need to. Been watching Andrew Kearns on YouTube since 2018. Massive fan of his editing style. I wanted this class as soon as I saw the discount rate. Being a student from a different country, I probably wouldn't have been able to afford it at it's original price. This workshop goes in real depth towards the "approach" of editing a photo. I learnt a tonne of cool stuff. So many new things. Subtle yet so powerful.
Incredibly Eye Opening This workshop truly opened up a whole new world of editing techniques that I didn't fully realize existed. I'd recommend this workshop for anyone who has a basic understanding of LR and PS already and are hoping to take it to new levels. I will keep coming back to it for a long time!
Student Work