Controlling Luminance Across A Photo
Andrew Kearns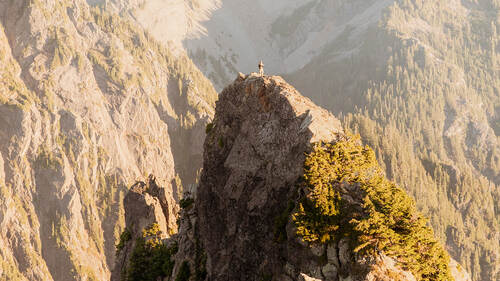 Controlling Luminance Across A Photo
Andrew Kearns
Lesson Info
5. Controlling Luminance Across A Photo
Use the HSL panel to change the brightness of different sections of color.
Lesson Info
Controlling Luminance Across A Photo
So let's get into what you guys came here for, the editing. Like I said earlier, every image I do starts in Lightroom and I'm gonna do three images here and I'll go through Lightroom with these as well as a quick VSCO edit on maybe all of them, maybe just one or two of them. And then we'll take 'em all through Photoshop as well. And you'll see really what these images become from start to finish. So the first one I'm gonna edit is that Monroe Point photo. I took it in... I looked at the date, it's actually, December, 2015 is when I took it. I probably edited it sometime in the last couple years, but it's been a while and my mindset has definitely changed with editing. So I'm actually really excited to see what it will look like now versus back then. And this was also shot on the 5D Mark II. So it's a bit of an older camera that I'll be working with, which is fun. The next one is this one of my friend, Sonora, when we were in Iceland, I really love the overall feel and mood to this imag...
e, but there's a lot of lacking in contrast. And I wanna show you how I'm gonna be editing images with skin tone and a person as the subject in it being the main focus. Like the previous one, you have the landscaping of Carl, but this one's much more focused on like a lifestyle ask type image. I really think there's a lot of potential in it to use contrast to our advantage and make it way better than it is. So the last one will be this landscape of these mountains. There is a ton that can be changed here from transforming it, to color toning, to just a lot. As you can see, I underexpose this one quite a bit to conserve some data in the sky where I could, and it's obviously really dark down here to save some of that data as well. So we're gonna try to find a happy medium by editing it and color toning it. There's a lot you can do with this much data in the photo. So let's get into the first one, that Monroe Point photo of Carl. One thing I didn't mention in the last section is how I like the background to be white. If you right click on your background, you can change the color to whatever you want. I personally just like the white background, 'cause my website's white. Most people, I mean now with dark mode on Instagram, I don't really know what most people view it in, but in general, I just like to have a white background, always have. Personal preference. So first things first, I'm gonna just do some lens corrections real quick. First things first, this has really brightened the sky here. I didn't really underexpose it like I try to do nowadays, so I'm just gonna clip those whites, that's a quick solution for that. So this is a great starting point to really evaluate the image, fix that crooked looking crop. So with this image, I'm really not gonna get much sky back. It is what it is. But I can do a lot of work in this foreground and I can also use that sky as like a pallet to compliment the colors I eventually put in to the grass. But first thing we wanna focus on is just getting the exposure right. So click on that exposure and just find where it's good. That looks solid. Again, I'm just looking at Carl and seeing how he's popping out. It's really nice that he has a black outfit on, a great contrast there between the background of him and just really everything in the image. Like he's the darkest part. So pretty sweet, shout out to Carl, bump up the contrast a bit, push up the shadows, sun, and then push down the blacks, pull down those blacks a bit. So what I'm doing there is I'm creating, like I had mentioned that word earlier, variegated and that really applies to colors, but I'm just gonna apply it to exposure here. A lot of times I will push my shadows up like that and pull down my blacks and that just variegates those shadows a bit. So you can kind of see it there. I'll just undo it. So that's without it. I push the shadows up a bit to make everything a bit brighter, 'cause in general, most of this is a shadow, so when I push those up, it's targeting all of this right here. And then when I pull down those blacks, boom, it just creates a nice contrast within all those shadows. So all this shadow right here, it's variegating it creating a nice contrast there. I literally just said the same thing twice, but you get the gist. I wanna color tone it a bit. It's a bit cool for my liking and I often like warm images. So I'm gonna pop that up a bit. Also quick tip, what I did there is I clicked on this number and same thing, what I did with the exposure, just up and down arrow keys, you can hold Shift to do more dramatic shifts on it, yeah. And I'm gonna come into the tint and just find a nice medium there. So I'm pretty pleased with that. I mean, this is already before and after, really just getting a good contrast between all my exposures. Not overdoing it 'cause generally, like you can actually see it on my curves here that I do like it not too heavy on the darks of my images, but having a nice, lighter tone to the overall image while creating contrast within the midtones, the shadows, all that. So let's go onto the next thing here. So one thing I'm gonna look at here, I clipped the curves there and the highlights earlier, I'm going to unclip them and boom, there it is. And when I come into these highlights here and if you hover over right here, you see all of that is super blown out. That's mainly because I upped the exposure. I'm just gonna come into these highlights on the Sliders panel and just slide it down to see where we're at. Actually I'm gonna target the whites rather, 'cause that's... If you hover over this white, you can see at this top histogram right here, that's gonna light up. You can also click up here and drag. So we'll just do that. I'm gonna click the whites and just drag 'em down to see if I can find any variegation in there. You can kind of get some, my biggest worry though is like this right here. Like even though I brought it down, I overexposed that, I blew the highlights. So it's not really gonna... Like, it might end up hurting us later in Photoshop. So I'm just gonna keep it... I'm gonna create some variegation, but I'm gonna keep it pretty subtle just because I don't want it to hurt us in the long run. We could stamp stuff out in Photoshop later though. So maybe we'll risk it and see what happens. But the main thing too, is I don't wanna create a ton of texture and stuff in the background that distracts you from the subject. So I'm going to create that texture that might distract you, but then think of it in a way like the problem is I want people to focus on Carl. How can I still have texture in the background to not distract you from the subject? So I might edit a bit of texture in here and even then it's still pretty subtle, just taking down those highlights and those whites by bringing those down right now and the thought of editing it more later. So you'll see what I mean. However, it's pretty subtle, so I don't think we'll have to do too much other than this blotch right here that might be trouble later, which we could totally Photoshop out. So that's another thing I'm doing here. I'm thinking ahead as I'm editing. So onto the next thing. Come back to my curves and notch that down. Nice. I'm gonna come back into this panel and bump up the shadows again and then pull down those blacks. Just kind of find a happy medium there. Sweet. Overall, it's looking pretty solid so far. I'm just gonna find a darker shadow that I like there. So as I'm looking at this image, I'm thinking about the colors at the moment and I think what I'm going to do in the overall edit, like I said, thinking ahead here, I'm gonna have this green area or the land mass a lot more warmer, an orange or greenish, like whatever it might be, we'll see where it goes and then I'm gonna have that sky area more blue. So again, thinking back to that circle, those are good complimentary colors there. And that's what I'm gonna aim for throughout this edit. So Command + Alt + Shift + H, bring us into that Hue panel, just notching it down a little more orange. So that's without it, that's with it. And then I'm going to come to these trees right here. This is an older Canon camera and I was never super fond of the greens that came out of the 5D Mark II and III, this is like I said, the 5D Mark II, So perfect example. They just look super greeny. That's not really an adjective that exists, but whatever. I'm gonna come in here to the hue and just bring it down and match that color there of the trail area. But again, that's just kind of having that same color tone throughout the landscape, but just variegating it a bit. Such a good word. Come into the aqua, which is probably this area right here. And again, bring it closer to that green, just testing the waters here. Okay. So there. So that blue right there is targeting what I was kind of trying to target. So I'm gonna undo the aqua, come into the hue and do that. And like, obviously that looks terrible. So I'm gonna just make it a little bit more subtle and it's still not stellar. But to help that a bit, I'm going to go Command + Alt + Shift + S, bring it into that saturation and target that, take it down a bit and Command + Alt + Shift + L for luminance. And so the reason why I'm gonna brighten this up a bit is because I wanted to create... Like, I'm kind of looking at this similar to the gradient I was discussing in that image with the three friends running on the beach, it had that nice natural gradient from bottom left to top right. So I'm kind of thinking about that here and a good way to do that is just to bump up those blues with illuminance just illuminating them a bit more to start that blending. So right about there. So that's without it, that's with it and it's creating a nice, easier, less colored area up here. Notice when I activate it, it does change the sky too. Just be wary of that if it's gonna affect your image globally, like it will do that. For me, not a big deal right now. I think overall, I'm just gonna color the sky globally later. So keep it going here. So now I'm gonna come back into this HSL panel, go Command + Alt + Shift + L to the luminance, pop up these greens just a bit, not too much, and then go Command + Alt + Shift + H and just mess with that hue of it and just get a more natural hue. That was a little too orange for me right there, so adjusting it up just slightly so it's more natural on that green. Like I know I can take this into Photoshop later and really get local on it if I want, so I'm just gonna keep it more natural at the moment. So this is the before, this is the after, there it is side by side. Pretty solid difference so far. Yeah. Main thing is that sky. I'm not super attracted to it right now, but again, we'll touch on that later. Those trees that I targeted earlier that I didn't think were like a very attractive shade of green, I'm gonna come into the saturation and just drag down the green here, and that's gonna make those a little less green and I'm gonna come up to the luminance here and blend them in a little more with the background by illuminating them. And so I'll just show you those changes before and after. Boom, that's what it was before. Mainly looking at those trees. It is affecting some foreground elements, but not a big deal. And then here's with it after, boom. So it just blends in a little more subtly, looks like a little bit more of that background, which I'm just doing that to separate that background from the foreground a bit. And in order to do that a little more, I'm gonna add some gradient filters here, creating that contrast. Remember, that's what I'm thinking about constantly. I'm going to just change this orange a little bit. I'm always making micro adjustments when I edit too. Like, that's just... I'm always doing that. There's no way around it. I don't really have a super set order, but I know what I'm trying to accomplish. And so for instance, I just looked at that orange again or the landscape again, and I just felt it was a little too orange. So notched it back up to that green. And I'm gonna just saturate it a little more. Cool. And that's creating a nice contrast between the saturation and the desaturation. So in the back, it's a little less saturated, but in the foreground, it's a bit more saturated, nice little touch in that contrast. So I'm gonna come into those gradient filters and I'm going to take the exposure down. We'll start it kind of heavy at - and adjust accordingly. So I'm gonna put it right about there. Hit the O key, see where it's affecting. Just kind of eye it for now. So as you can see what that's doing... Oops. So there's with it. That's a bit heavy and there's without it. So what I'm gonna do is I'm just gonna put it at zero and slowly come down until I like it. Maybe something right there. Again, it's subtle. Maybe we'll go right there and I'm gonna adjust it up here real quick. Oh, chill. Boom. And then I'm gonna come to a gradient filter down here, just put it -33 and boom. So I wanna make sure it's not affecting too much of that background. As you can see, it kind of falls off right there. So this is without it. This is with it. Just creating more contrast between really a lot of things there, the background, the foreground, as well as just the overall exposure toning. So you have darker... It's not really dark necessarily, but it is separating it from that brighter background. I'm gonna click this again. I think it's a little too hard. So I'm gonna go just one up and cool. So this is before, this is after, and there it is side by side. That's looking really good. So now I'm gonna try to do some color contrasting with... A lot of people will do it with split toning, but I wanna try to do it in the curves. I'll show you what it'll do in split toning real quick. So if I go the blue, it's gonna contrast well against that orangeish green color and you could add that more to the shadows as well. That's pretty solid. So that's without it, that's with it. I think it's a little too overdone and that's why I like to do curves. 'Cause you can keep it a bit more subtle. However, I did like those shadows down there. So I'm gonna put it like 6% and drag it to like right there. I think that's a nice touch to it. So that's without it, that's with it. It's very, very subtle. Again, just creating more variegation. All about that variegation. I'm just gonna tweak it till I like it. Cool. So that's without it, that's with it. I'm gonna change my crop here as well. Just looked a little crooked almost. You can fix a lot of that in Post too or in Photoshop as well. But yeah, like I said, I'm always making all these little micro adjustments as I go along. It's a lot. Before I get into the coloring of this, one thing I might try real quick is running a gradient filter on the sky right here. So I'm going to hit the M key, just create one that's a Dehaze tool. So I'm gonna put that -10 at first and drag it and oh, that is nice. Okay. So let show you without that. So that's without it. Fine, doesn't look bad, but then you do that and it almost adds that atmospheric feel to it. Like that is so nice. I'm gonna just adjust it too so it's not affecting that rock up there as much. Angle it a bit more this way. Boom. So that's the O key showing you what it's affecting there. That's pretty solid. So that's without it. Oh that's without all the gradients and that's with all the gradients, but if I wanted to just cancel this out, that's without it, that's with it. It almost like creates this foggy atmosphere to it, which is pretty sick. The one thing I'm really hating right now, I'm just gonna point it out, Is this blotch right here. I'm just gonna worry about that in Photoshop. So if you're looking at that being disgusted, I am too. So don't worry. We'll fix that later. Definitely a Photoshop job. I'm gonna come back into the gradient real quick and then notch this down a bit as it got affected some by that dehaze filter we just added. Gonna go up a slight bit, and then maybe I just add dehaze back in. Cool. So I'm just gonna show you what those gradient filters are working together to do. That's without it, that's with it. Pretty sick. That's awesome. That's looking really good actually. And I'll hit the Y key once more so you can see. That's the before and that's the after. And this is all just in Lightroom right now. Like we haven't even gotten to Photoshop. Yeah, it's pretty wild. So we're gonna jump into the Curves panel here and we're gonna ignore that first one that changes the exposures on stuff, the RGB one. We're just gonna focus on the blue one, the B of the RGB. I'm gonna create two points on the curve. One right around here, one up here. What I wanna do is make a little blue in the highlights and then also bring a little warmth down here in the shadows. So really quick, what this is doing, it's thinking about this image. So even though these aren't really so much shadows anymore, when I change something in the curves, it's thinking about the shadows from the raw file. So all of this is gonna get changed if I drag this down and all of this, like the brighter area will change if I drag this around. So I'm gonna add a slight, subtle blue to the highlights there. And then I'm gonna bring a little warmth and orange into those orangeish greens. I guess it's more of a yellow, not so much of an orange. Cool, very subtle, but I'm gonna flatten it real quick. That's without it. Hold on, I'm gonna make it bigger. That's without it, that's with it. I don't even know if you can tell the difference. I can see it, but really it's just a stepping stone to start coloring this. So I just enunciated it a little more. So flatten the curve. You can really see it in the highlights. So just watch like right hereish. Undo. Boom. You see that blue pop in, creates a nice overall subtle contrast to the image that makes those colors blend a bit better. I'm gonna come into the green channel. In fact, I think I overdid it a little bit on that warmth at the bottom. So I'm just gonna bring that up in the shadows. Come into the green channel. Remember, like I said earlier, if you push green in, obviously the green's gonna come in and if you take it out, it's gonna add magenta. I often find the magenta works really well with earthy tones. So I'm gonna hit Alt and click here and here. I wanna bring some earthy tones into the shadows. So Alt + Shift, pull that down a little bit. Oh, I've been staring at a screen for so long my eyes are bugging. Yeah, I like that. It's very subtle. But if I flatten the curve, you can kind of see it. So I'm gonna count it down 'cause you almost like will miss it if you don't see it. But three, two, one, boom. You see that little subtle hint of earthy magenta tone in there. Big fan. I'm gonna push the greens up too and just see if I like that in the highlights, not overdo it too much. In fact, I'm gonna create another point here so it's not affecting these midtones too much. Just push a little green there and then bring a little magenta into the midtones there. It's looking a little bit too overdone. I'm just gonna take a little yellow out of the... Actually I'm gonna take a little magenta out of the shadows there. Cool. That's a little easier on the eyes. Before I go into the red channel of the curves, I'm gonna come into Command + Alt + Shift + H, come back to that Hue, Saturation, Luminance panel and just push that a little more green. And the reason I'm doing that is because as I'm adding more of these color tones into the curves, I notice it's getting very orange and so I wanna make it a little more green and then bring orange in through the curves very subtly. So again, it's variegating that color area. Boom. So that's what it was and then I'm gonna redo it. You can see it kind of pops it in there just a little bit, but I think it's contrasting very nice against those earthy tones we kind of added in from taking away some green, adding in that magenta. Let's hit this red section to finish it off. Just gonna create two and just see what I'm looking at here. Cool. Flatten that just to see the before and after. Yeah. That's actually a bit more than most of it. So just to show you all that's changed, I wanna undo or flatten this main curve. So obviously it's gonna look bad for a second, but when I turn these curves on and off, you're gonna see how much all that affected it. So I'm gonna hit Shift + Tab, make it big. I'm gonna turn 'em off. Boom. It just got a lot flatter there and then I'm gonna turn 'em back on. It makes it a little more contrasted and a little less flat. Variegating the whole image altogether. Personal preference, I think the shadows here are a bit too dark. I'm just gonna bump that up a bit. Maybe actually just target the shadows And one maybe easy fix. I think what's getting me is this right here. We could just set that out in Photoshop. If you're gonna, just ensure you rig it. We can create a radial mask, invert it and go like that. Cheat codes. Cool. So hit the Y key. This is the before, this is the after. I need to put those curves back on. Boom. That's looking pretty good. You have a lot of good elements going in this image. Like we discussed before the foreground, the background, and really we wanted to separate that a bit more and we accomplished that through colors, through dehazing the background and making it feel a little more hazy. So that's looking pretty solid. The last thing I'm gonna do here is just fix this Transform panel. You can see all this space right here that's not really necessary, but Carl is centered in, which is nice for the comp. So if I just take this horizontal pattern and bring it to like 18 or so, it just deletes some of that empty space that you don't really need, but keeps Carl centered in. So that's that. I think the last thing we could do is just mess around with some curves here. I'll probably just not talk, 'cause this is probably really long at this point and just kind of summarize it afterward. The last thing I wanna do is come into this Curves panel. We could mess around with this one, but I wanna keep it a little more subtle 'cause I really like where it is. So I'm gonna come into this 0.1 right here and just do some adjustments real quick in there. Gonna come into the hue here and just make this a little more green, make it feel a bit more natural. Cool. A lot of boom. That's a pretty good edit in Lightroom for that image. So I'll just bring up the before and after side by side here. I really like how the color toning is working. There's already a lot of good elements in the photo that made it great. So that edit really, I think enhanced it quite a bit and to each their own on this too. You could have definitely kept it a little more green on the grass area and the landscape area. And you could mess around with those colors and try to tone that accordingly, but I do like that orange color a lot and I think it's gonna contrast really well against the sky and we'll do further coloring stuff in Photoshop as well, but that's that. Not much more to do 'cause we... That was pretty solid. I think this is going to outdo my previous image years ago. So with that, let's get into the next photo.
Class Materials
Sonora Edit - Before and After
Mountains Edit - Before and After
Edit 01 - Before and After
Edit 02 - Before and After
Edit 03 - Before and After
Wildist-Kearns-Edit_File-01.ARW
Wildist-Kearns-Edit_File-02.ARW
Wildist-Kearns-Edit_File-03.ARW
Ratings and Reviews
This class is really like a good investment. It's gonna help you step by step and you can come back to it multiple times when you need to. Been watching Andrew Kearns on YouTube since 2018. Massive fan of his editing style. I wanted this class as soon as I saw the discount rate. Being a student from a different country, I probably wouldn't have been able to afford it at it's original price. This workshop goes in real depth towards the "approach" of editing a photo. I learnt a tonne of cool stuff. So many new things. Subtle yet so powerful.
Incredibly Eye Opening This workshop truly opened up a whole new world of editing techniques that I didn't fully realize existed. I'd recommend this workshop for anyone who has a basic understanding of LR and PS already and are hoping to take it to new levels. I will keep coming back to it for a long time!
Student Work