Focus Tracking
Chris Weston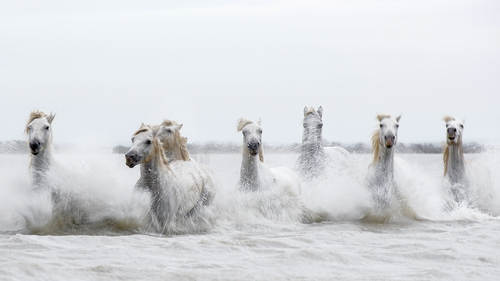 Focus Tracking
Chris Weston
Lesson Info
40. Focus Tracking
Focus tracking allows moving subjects to stay in focus. See how modern digital cameras use focus tracking in this lesson on autofocus area modes.
Lesson Info
Focus Tracking
in the old days before auto focus. Wildlife photographers like me as well as sports photographers or indeed, anyone photographing a moving subject would use depth of field to make sure this subject was sharp at a day. We could be far more accurate because with modern focus systems, not only do we have auto focus, we also get focused tracking and the purpose of focus tracking is, with the camera toe automatically maintain. Focus as a subject moves around. The image space is clever stuff, and how it works depends on how the subject is moving. Movement could be straight towards or away from the camera across the frame, left the right or right to left or diagonally across the frame from corner to corner. You can also be predictable or unpredictable. Tell the camera how to track the different types of movement using the auto focus area modes. Now, before I go, one is important not to confuse auto focus area modes with focus modes. The A F area mode refers to how much of the focus grid or th...
e number of F sensors used. When focus tracking every camera manufacturer has its own fancy terms for a F area modes, but generally they could be distilled into a single area or multi area, with a subject moving predictably, let's say across the frame, with a camera set to continuous auto focus and single point area mode by panning the camera, I can keep the active auto focus sense on the subject, and the camera will accurately track and adjust any changes in focus distance. Things get trickier when movement becomes unpredictable. For example, if I'm trying to find a car for horse coming straight onto the camera, although I can predict the general movement, I know where the horses and where it's going. If I'm focusing on the horse's head, which is where I want to be focusing to get the I sharp, the head is gonna be moving up and down is the horse gallops and is much harder to predict his position when I make the shot. That means there's a good chance it will deviate from the coverage of my single A F point, and if that happens, I'll lose focus on the head on. Whatever was behind the horse will come into focus. So with movement like this, where there's an element of unpredictability. I switch from a single point to multiple points. The question is how many points? Well, the basic principle applies. The more unpredictable the movement, the more points you need going back to the horse galloping towards me. Because the movement is within restricted area, the head's going to move only so far. I would only select the sensors immediately adjacent to the active sensor. What I'm doing, in effect, is creating a zone of focus that directly relates to the area within which the subject might move on to enable me to compose the image. How I want. I can choose the area of the focus grade that the zone covers, in this case, the center of the viewfinder. By limiting the number of a F points, I'm giving the camera less to do with. That speeds up the whole process of focus tracking. Then his movement gets unpredictable. I want to add more points, take birds in flight birds have a wide area in which to move. That makes it harder to predict when the frame they're going to be at any given point. And that unpredictability means I want to set more F points for a wider zone of focus on a better chance of getting more than one sharp image. Another option is to use a function called focus tracking delay. Now, this isn't available in all cameras, so you need to check your camera specifications when turned on focused tracking, DeLay tells the camera to pause briefly before it starts the tracking process, using example of birds in flight. If the bird I'm photographing suddenly drops out of my point of focus rather than immediately focusing on whatever is behind the bird, the camera will wait a moment to see whether the bird comes back into focus and how long it pauses. You can change in the menu settings. Another time you may want to use this function is when there's a chance of another object momentarily obscuring your subject. I'm focusing on the writer in pink, but as the opposing writer comes into view in front of my subject, the camera refocuses. I've lost my shot. To prevent this from happening. Aiken, turn on Focus DeLay, which will tell the camera toe hold focus on the original subject so the focus tracking delay mode is a useful function to bear in mind because it can make the difference doing getting the shot and the shot that got away
Ratings and Reviews
What a marvelous course! What a marvelous teacher! When I went to college, my father would always ask me about my professors, more than the courses themselves. He was passionate about learning and although too busy with earning an income to go beyond an undergrad degree, continued to read 50 books a year. I still remember how he'd get almost visibly excited when I'd tell him about some special professor who taught with such enthusiasm and, more than just passion, evident delight and joy in the subject. 'Ah they're the best, son. How wonderful you have such a teacher." Well, he passed away decades ago but if he were still around I'd get a kick out of telling him about Chris Weston, the 'Prof' of this course. He's one of the very special ones: a teacher who's loved and lived his vocation--his avocation--since he was a boy--and still is as excited about it now as he was then. The result: a course that seems to be more a labor of love--of pouring far more energy and thought into the details then one typically finds in these courses--than anything else. Bravo Chris! I'm already on to your next one.
Chris is an amazing instructor who dissects theory giving amazing analogies that bring concepts to life. I have rarely been able to sit through most video course for more than a half-hour but watched this one from beginning to end. A good refresher course if you've been away from the camera for awhile or there are some concepts that still illude you. I highly recommend this course and look forward to watching his others. Thank you for the clarity and great explanations.
This was an amazing class. I have looked at a number of basic photography classes. This one was by far the best I have seen. Chris is an exceptional teacher. He breaks things down into digestible information and then inspires you to be creative. Thank you!
Student Work