Bass and Synths
Kenneth Gioia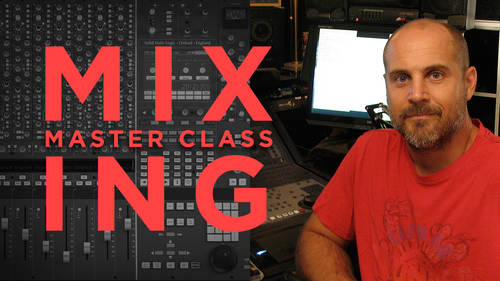 Bass and Synths
Kenneth Gioia
Lesson Info
9. Bass and Synths
Lesson Info
Bass and Synths
Let's move on to some bass tracks. I was pretty happy to a base sounded before. Not sure how much I want to do. Do it individually. Might put a compressor on the total on the Fulda level. What's leave these guys all for now? The Pops base isn't really jumping out at me too much, so I want to start off with leading it natural. I know I compress it on the way in, so I know it isn't that un compressed, it seems to jump out too much and not being controlled. I'll put a compressor on it, but let's just check out these base pops, I assume Mountain See, I think I'll go with that for now as well. Then we have our keyboards turn the Milan it save and let's start the all off, and I'll bring him in one by one. So with the effects drop, use some serious reverb. So start off with the vocal one that should work cords. He's since locals with it. No, that was facing first notice. The synth chords a little up front, the face since a little further back kind of side. How important what the sound to be b...
y their balance, Get a little reverb to those as well. Do dupe should really put the We were further down. So I find it every time do you to see the face in. Do you? And she got the piano. Maybe a little topping on this Too much, actually. Sounds pretty good. Find my effects. Go to my cue. All right, we'll save that. And we have these fun beeps show a little trick with this to paying them a little bit. So we're gonna go to our effects and put type in on our filter here, pan, and we'll choose time difference. Pan, we're gonna automate this using parameter modulation. So I'm gonna go to touch this one right here. This is basically just gonna pan it left and right this control. So if I So this but here. But I want to use a different one. Let me try. Different pin. Let's see, that actually could really use a delay if I wanted to. Just go to this one with the filter off and just use to be delay and just use the completely dry sound. Then automate the delay right here. I should say automate Thea panting by setting this too wet and the time to zero create auto pan by just parameter modulating or automating this one button right here The pan To put that goto, uh, primitive modulation this opens up will choose LFO, which was two pan like using a sine wave right here. See, this is the panning is happening. And then I could choose it to sink of the tempo. Let's try 1/4 note. That might be too fast. Let's hear it. How she feels good. Just a just this here. No, that's a good spot. Right there for a minute to quarter notes. Half note. I think, like the better with the Cardinals, Sometimes things are easier than you want to be. That creates a little cooler effect, and now we can set a little revert to that. But But, Chris, pretty wide effect of the sun's bouncing back and forth so we will save that. And next we have again. This is based on the order, so it makes it a lot easier. So I know no other keyboards air coming in at this point of the song. So as I'm balancing those beeps, I know all the interpretation that's happening. So let's check out gangsta. We'd won right away. I know one some reverb on there. See this one? Same thing with this one. We'll blend them. Bring both down. I'm not crazy about the blinds. Let me hear what I don't like about it. A little dryer. Just hear transition from the beeps. No, we have the harmony centre. I'm gonna go to that first. Which plays over here. Give that some reverb. Bring that in. Try paying it again. Still a little bit off that first good resume. Now the well, it says next. Trim this a little bit. This is in the 1st 1st So we have a vocal here is gonna pop the vocal in just to compare it to see how it blends with part. I don't know. I don't know. I can do anything more with that. You don't know. They could use a little reverb. Not a ton, though. Just a little ambiance to it. Mistletoe up front. No space between as I mentioned before. It's important that you have the vocal in when you're doing this. Because if you slap it on at the end, all these balances may not work out for you. That's why I put it on. But I'll turn it off as I'm working on the sounds. But then I like the puppet right back on just to make sure I'm comfortable where everything is sitting. So the next keyboard is our gangster lead. Then we have these synth It's over here. I really don't like he's in the middle. So I'm gonna do I'm gonna put some panning on this as well, going to go to the track and I'll put in effect on it. Over here, we'll go to the Dawei. Let's see, Yes, we got a delay and keep it on wet. And so the delay to nothing so really amusing. It's the way problem is just to be ableto automate the pan. Not actually using the delay could set the Museo milliseconds, but still gonna affect the panting By clicking this, choosing primitive modulation and choosing LFO against moving back and forth like this. We could choose to have a dude in tempo and let's try to coordinate some dying for two according out for some reason, see if it works at this time. This is a sine wave, so If we go back to the program, you'll see it's moving solely back and forth. If we choose a square wave instead, I think my work better. It does one side or the other like here, left or right, and I think I probably don't want use quarter notes on this, though. Let's see that feels better. We'll give it a little reverb over him in the track. The reason I'm putting on the side decides the fact that I like the panning effect. Is the vocalist still happening here in the vocals in the middle? So I don't really want to fight with that. I want to give it its own space, separate from this with, and that kind of gives it that that's feeling pretty good. Save it. Next thing is a little flute now, if who only comes in once nice and close to it, but it definitely needs some reverb. It's a bit too much. Got about 28. I'll go with that. Can we save? Now we have a squeak and a china. It's gonna matrimony is closer. I was just with one. It was actually pretty good sound to show you set up a stereo delay for, so we'll use probably according to DeLay. I'll make a new track. For this reason. I'm going to put on a separate track. It I'm probably gonna use this on a few different things. So make a new track. Call it stereo delay and Gore. The effects will open a delay, and we'll start with one. I'll make it an eighth note delay and gonna pan pan it yet Let's just see how it sounds of eighth note and completely wet. And I'll put on this sound here. What's during the routing from here here down a little bit. And the spirit. Now it's making a stereo delay by going to it, paying it to the left. We're getting another tap, which repeats the same tap and go the other side. But to make it stereo, we have toe make this longer because both taps are now eighth notes. So second tap, I'll make 2/8 notes quarter note, and that should go back and forth, Uh, and does what put some reverb on the delay. So do actually some ambiance to it. Ed. New send and local flavor? No, let's put some river directly on the squeak as well. That's the delay. And this is the reverb. Uh uh. Nice to make this easier. Now, I'm gonna put this delay all the other top above the drum folder, and it would do the same thing with a vocal reverb. Should make it a little quicker for sending things to it. So we're back on our squeak track. Yeah. Now it's to the same thing with that shines good. Cute. A widow reverb seats around the top. It's nice time saver. Good. And at another one for a delay. Good. Uh, good. And that's balanced thes together. She just started this one first. Bring them together. Let's see that with the vocal turned on again So little wet for me. So I'm gonna bring the river down a little bit on the vocal. No. So, because of that, I'm gonna pan these little guys because they go with the vocal, this one over to the side here. Okay. Just to make some room for the vocal and again we'll hear it with the vocal Teoh. That's feeling pretty good. Save it again and what's left. You got a sick of key parts. If you notice as much is going on that it isn't so much and you can't tell what's going on. Still could hear it. But most of it could still arrange pretty well. It's not just a message stuff thrown on top of each other. This is just adding some meat during the solo. So if I turn this off, it's pretty empty. That's plenty as faras. Anything else going on? Any effects on that? Finally, a last keyboard is the glockenspiel. I believe it's a real one. I think we actually played that. So let's give it some delay first. Don't you just love delay and river? I could blend that in. What's trim this? A little bit. It, I think, was worth it. I like it.
Ratings and Reviews
this is really great mixing course, kenny has a great workflow and i learned quite a lot and it was easy to undestand, and i dont even use reaper, what you learn in this course applys to all daw and tools, which is great
Kenny's Mixing Master Class blew my mind. His workflow and level of organization during mixing is a real eye opener. I'm also a longtime Reaper user so this is an excellent all around resource for me. I feel like I just stepped up my game. Thanks Kenny!
so far this has been a great training class for brushing up on the basics it would have been nice if you would of went over gain staging more and how you got the static mix level wise when faders are at zero its a little deceptive. I did appreciate the minimal set up you use though.
Student Work