Retouch Menu & Recent Settings
John Greengo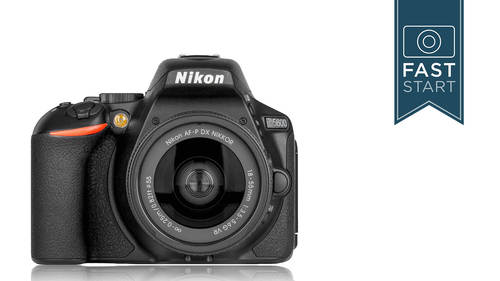 Retouch Menu & Recent Settings
John Greengo
Lesson Info
21. Retouch Menu & Recent Settings
Lesson Info
Retouch Menu & Recent Settings
Alright, next up is a retouch menu, and we're not gonna spend too much time in here. This is a place where once you have taken a photo, you can go in and tweak and adjust that photo. Now the one place where there is something kind of interesting that you can do is the very first one, the NEF or the RAW processing. So what I want to do with my camera here is just do a little demo here for you to show what's going on here. What I need to do first is make sure that I take a RAW photo. So I'm gonna go into the camera, and I'm gonna adjust my camera to shoot a RAW photo, just one plain RAW photo right here. I'm just gonna shoot one little RAW photo of our prop table over there, not an exciting photo, but that doesn't really matter. We're going to go back and we're going to go into the menu system. Menu, come down to the retouch tab, and go to RAW processing. So what I'm going to do is I'm going to hit the right button to enter into this. Select a photo, I'm going to select the last photo we...
've taken here. And I'm going to hit the OK button. So now we're looking at this photo and what we can do is we can make a number of adjustments to this. The first option here is, I can turn it into a fine, normal or basic JPEG image. So let's say I need a small image. I'm just going to go with a basic small file. Here I can select file size, large, medium and small. Let's say I'm going with the smallest one. I'm looking for just a small email version of this image. I could go into white balance and I can adjust the white balance. If I had it incorrect when I shot it, I can fix it here. This is one of the beauties of shooting in RAW. You can fix it later. It was pretty good to start with so I'm going to leave it there. But exposure wise, if I said, you know what, this wasn't quite the right exposure. I want to make it lighter or darker. RAW images have a lot of latitude to make them brighter or darker, so I could adjust this. Let's say I want this at plus one. I can say OK. I'm not going to go through all the other setting in here but if you don't like these settings you can go in here an adjust them. If you want to execute this and make a new file, I would hit the OK button. It is now making a JPEG version of that raw image. So let me go back to live view, lets play back. Let's go back to different information, and so here's my RAW image, which was taken at 6000 by 4000 pixels. The next image is a basic JPEG image, the smaller size resolution. You can see that I brightened it up as well. It's going to have those adjustments. So it's a little bit of a mini version of Photoshop right in the camera. That only works with the RAW images. You're not going to be able to do that with the JPEG image. Now there are other things you can do with the other images. As far as trimming, and resizing and changing the D-lighting, and making some of those adjustments that we were talking about doing before the photo and now doing them after the photo. There's all sorts of things that you can do in here as I say, we've talked about a lot of them doing them ahead of time. But you can do them afterwards as well. A number of different things including editing a movie. If you want to trim a movie, the beginning and end of the movie, you can do that to get it down to the right size. The final tab, is recent setting, at least that's what it's currently set up as. What you can do in here, go ahead and choose the tab. What I'm going to recommend is choosing my menu. Recent settings is going to give you a list of all the places that you have recently been in your menu system. Which is not a bad option, that's pretty good. But my menu, allows you to go in and add which items you want and rank them in the order that you want. If there's about five or six things you go to on a regular basis in the menu system, you can have those in my menu, so that when you turn on my menu, it goes straight to your menu. Let me show you on the back of my camera, what's that going to look like. Go ahead and hit the menu, I'm going to need to get down to this final tab down here under my menu. When I go to the right here and come down, these are actually all the recent settings that I've been to. So I need to go down and choose tab. So what I want is my menu. I'm going to go in here to add items. I can either hit OK or go to the right. I can then add items from the playback menu or the shooting menu. Let's see what's available in the shooting menu. Something that I might change on a regular basis. It looks like this camera has already populated my menu, it looks like I've gone and added a bunch of these. If we want to we are going to have to back, back out of this. Oh come on. Let's remove some items. We'll do the reverse. We're going to remove items. If I don't want a number of these things in there. It gives me no information on these checked boxes. So I'm going to go in and rank these items then. I can select an item, like rating, and say that's less important, and I want to move it down here to the bottom. I can say set picture control, I'm going to hit OK, that's important. Let's bring that up to the top. You can populate this with as many items as you want. If you don't like them in here, you can turn them off. For instance, I have rotate tall in here. Let's say I never want to do that. I can delete that from the system. Let's back, back out of this. Let's go up to remove, darn it, wrong tab. Let's go up do remove items, come to the right, the rotate tall is what I was going to turn off. Did I miss it, there it is, rotate tall. I made the mistake, I need to go to the right to select, and then hit OK. So it's now going to delete that item, not from the menu, but just from my menu. I would encourage you to spend some time, go in here, add a bunch of items, that you think you're going to use on a regular basis, rank them in the order that is most important to you. Then you're going to want to come back to that in a few months to see if really did pick the right items in there. That will obviously change as your photography changes along the time. It's a great way to customize the camera so you don't have to scroll through the entire menu all the time. Because there's a lot of stuff in there, as you have seen. That completes our section on the menu.
Class Materials
Nikon D5600 Recommended Settings
Ratings and Reviews
I received my D5600 as a Christmas gift, and while I picked up a few things on my own, this class was wonderful. I learned more than I would have picked up just by reading a book about the camera. Thank you, John!
John is a fabulous teacher. So clear and easy to follow. I will take many of his classes as I learn photography! Thanks John!
Really great review as there was some features of my d5600 I wasn't too sure about. It's probably one of the best instructors I have come across as he's explains things in simple terms that I am able to understand.
Student Work