Pattern Design: From Hand to Screen to Surface
Molly Hatch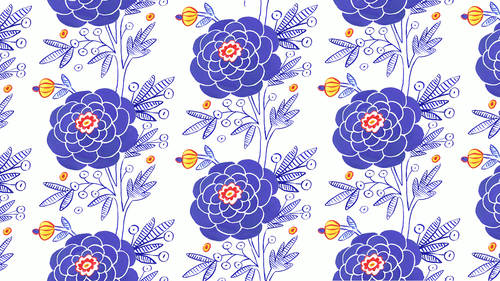 Pattern Design: From Hand to Screen to Surface
Molly Hatch
Class Description
Many designers are so well-versed in the art of working digitally that the idea of creating things by hand can feel daunting – but it doesn't have to. Join Molly Hatch for Pattern Design: From Hand to Screen to Surface and revisit the tactile experience of making images.
Handcrafted artwork and patterns can open new doors for you – both creatively and professionally. In this course, you'll learn how to develop a creative process that combines hand work with digital to get results you and your clients will love. You'll learn how to:
Create repeat patterns by hand, using cut paper and block repeats
Scan and adjust patterns in Photoshop
Hand-color line art to capture unique textures
Give companies and clients the handmade look they're craving
If you're ready to make your designs more unique, more appealing to clients, and more of a reflection of who you are as a designer, this is the course for you!
Class Materials
Molly Hatch - Basic Photoshop Repeat.pdf
Molly Hatch - Paper Block Repeat.pdf
Molly Hatch - Paper Cut Repeat.pdf
Molly Hatch - Source Images.zip
Molly Hatch - Walllpapers.zip
Molly Hatch - Web Book Resources.pdf
Ratings and Reviews
This was just the kind of course I was after to build on existing knowledge and formal training in art and design. There was so much information provided, not only for the work Molly was producing in the demonstrations but also in her candid and honest discussions surrounding building this type of business, PR and working with clients. What a great resource to find CreativeLive. I am so inspired and don't feel nearly as overwhelmed at the prospect of starting work in surface design. I actually appreciated Molly's instructional style particularly for the demonstrations and acknowledge how she was able to create a new beautiful artwork all while responding to questions and talking through the process. Loved it, so thanks a bunch!
I didn't know who Molly Hatch was, was attracted by the subject and it absolutely blew my expectations. I took the course as a mosaic artist who wants to create more of their own patterns, and I learned a lot and felt tremendously inspired. I loved the creativity, the insights and tips on creative life from someone who lives it, and a new skill beautifully explained. Sometimes it felt a bit slow but it was absolutely worth going with the given pace to try and absorb this artist's intuitive, freestyle way of working, that works! I found it so enjoyable that I will watch it again. Yes in the beginning you couldn't see the drawing that well, but that was solved later and didn't really matter (as she started filling it out with black later).
I was lucky enough to be in the audience for this course and I loved every minute of it. I have enjoyed making patterns for some time but it was so awesome to see her different techniques for getting a better fitting more technical pattern for infinite repeating. Molly was an amazing teacher and I know I will be referencing this class over and over again to find new information that I might have missed the first time around.
Student Work