Adding Materials and Decals to 3D Models in Dimension
Jesús Ramirez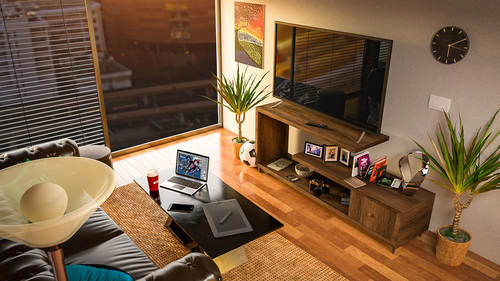 Adding Materials and Decals to 3D Models in Dimension
Jesús Ramirez
Lesson Info
3. Adding Materials and Decals to 3D Models in Dimension
Lesson Info
Adding Materials and Decals to 3D Models in Dimension
We've already looked at the content panel here. I just want to point out that you can filter 3D objects by category, so we have the models, which we've already looked at. Then you can click on materials. These are the materials that give your 3D model a look. So for example, on this one here called metal, I can click and drag it into the can and now that can will have a metallic look to it. I can also give it a different look, for example maybe this glitter effect or this gelatin effect. Whatever you wanna apply to the can. So I'm just gonna apply the metal one again. So, we also have lights and we're not gonna talk about lights a lot in this course but I could apply a different lighting to this scene. So, for example, one that would really show off what's going on is this studio color stage. If I click and drag that into the scene, you should notice how now the can is reflecting the light that I dragged in there. Usually, you don't wanna do that. Usually, what you wanna do is use your...
image that you...either a photograph that you shot or a stock photo and that will become a light for the scene and I'll show you how that looks like in a second. But yeah, adding materials is very simple. Just click and drag them, and there's a whole bunch of them that you could, that are free with Adobe Dimension or, as you saw earlier, you can go into Adobe stock and then click on 3D content and look for materials. Some of these materials are not free, some are, so you just have to look through the ones that are free or you can purchase a different look for the 3D model. So, that is how you would bring in materials. There is also something in Adobe Dimension called a decal. So, if you're working with a 3D object, and you wanted to place a logo onto that 3D object, you don't necessarily want to create a material for the entire can, just for that logo, so what Adobe Dimension allows you to do is place a decal. Just an image, a graphic, onto that can. So now, that image that I grab, that air image, I just drag and dropped it onto the can so that logo now appears on the can. And let me actually just click here. And with the move, I just click on the background so that I can select the environment and with the environment selected, I can go into the lights and just use a studio light just so we don't have that purple, weird lights. So that's more or less what the logo would look like on that can. And that's what I did on my composite, on my 3D render with the laptop. So I have this laptop with all these logos from my friends' websites or companies. They're just decals that I drag and dropped onto the laptop. So let me just double click on the decal on that graphic. You can click and drag that graphic around in 3D space if you want to. You can scale it, and you can rotate it. So you can do anything you want to that decal like so. And I can drag as many decals as I want. And again, I'm using the graphics that come included with Adobe Dimension, but if you have your own logo or your own graphic, you can of course import it by using the plus icon and going into import your content and then just click on place graphic on model and it'll give you that same result but with your own images.
Ratings and Reviews
This class blew my mind! Before watching, I probably wouldn't have even attempted incorporating 3D into my composite work. Now, it is WAY less intimidating. I can't wait to try it out!
Student Work