Creating a GIF in Adobe® Photoshop®
Ben Willmore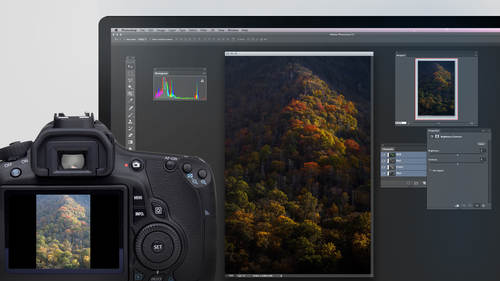 Creating a GIF in Adobe® Photoshop®
Ben Willmore
Lesson Info
35. Creating a GIF in Adobe® Photoshop®
Lesson Info
Creating a GIF in Adobe® Photoshop®
I thought I would share with you a special technique that does not require filters. But I think it's fun. Ah, you ever we did time lapse where we had multiple shots. We put him together, created a movie. Well, sometimes I create things like that. But what I want is a file that I can put on my website, where it will show a video in a play over and over again and never stop. And I do it with it only has a few frames to be explained. So let me see your show, you an example, and then I'll show you how it's done. Okay, here's one. And this is just a few friends. What I ended up doing is it took my camera and I often travel with a mono pod. Tripods nice as well, But a mono pod is sometimes more convenient when you're moving around very quickly. What I did here is I extended the mono pod a little bit over my head, and I jammed it into the corner of this Land Rover that were driving in to stabilize it. So it's like, right in the like equipment to between the seat here and the edge of the vehic...
le. Then I couldn't do it where I have a cable release in my hand and I'm just going click, click, click, click, click and taking pictures. And then I ended up putting together into this. But what is interesting about it is it's continuously playing. It's not just play until the end, then stopping because it probably dizzy looking at it. Uh, officially, a few other examples. Then I'll show you how you can create them. That one. I think I'll actually have to play in the finder taking just a moment. Okay. The one from Africa? No, Um, if you're gonna do this kind that we're plays over and over again, you can't have any audio because the file format we're gonna use is the GIF file format in Gift does not support any audio. GIF is really simple. There's another one. And when I shot these, I actually had no real plan to turn them into video. I was just experimenting with shooting, and I wasn't sure what the best shot was going to be. But then I realized that I hadn't moved the camera much and that these would be good examples. So let's see if we can figure out how to accomplish that. I'm gonna do when I haven't done before. And this is a waterfall in Iceland. So here's what I captured in general. When I shoot waterfalls, I often capture more than one shot because you never know. The position of the water is gonna be quite different in each shot. And I never know which one I'm gonna like the most. So I'm gonna take those images, click on the 1st Hold shift, click In the last one, I'll go up to the tools menu, choose photo shop and choose load files into Photoshopped layers. That should stack my images just as we've done in the past. The next thing I'm gonna do is I need to make sure that the background on those images is in the same position and each shot and sometimes they end up shooting these things handheld. And if so, it's probably moved around a little bit. Well, if you remember before I had an image of some taxis driving over some markings on the road and I shot him handheld. But I was able to get in the lineup of one particular feature. And Photoshopped. What I needed to do first was get all the layers selected, so the top most layer is selected. Now I'll scroll down, hold shift and get the bottom layer. I'll then go to the edit menu and choose Ottawa line layers. I'll use the auto setting and I'll click. OK, now these particular images. I'm assuming I was on a tripod, so I doubt they're gonna move much. But I'm just showing you this just in case he shot them. Handheld. It looks like they moved him a tiny amount of science. Get the bottom edge of the photo A little, uh, little mess up there. Just so you know, if you have a considerable amount of motion, I'll see if I can show you what might happen when you're done with auto align layers, you might get it looking like this Where if you look at my layers panel, I got a whole bunch of these images. But can you see a checkerboard around the edge of each one? And that's because they were shot hand held and I was not trying to keep the camera perfectly still. I was just shooting and later on, I decided I was going to use it for this purpose. So when I was done with this, what ended up doing is cropping the image. The problem is you can't just crop the images. He usually would, because if I cropped the image right now and I crop it in really tight on this, it might be that one of the other frames, he's gonna be in a different position and he might end up extending outside of where I have the cropping rectangle see flying, find one words. Trunk goes really like this guy like that. He's sticking out quite a bit. So I end up doing this. I can cycle through these particular images, and I pull down guides to mark where I think I want to crop it. So let me show you how to cycle through the layers very quickly, and then we can market with guides. Eso What I'm gonna do is first, I need only one layer to be visible, and that's the layer that's active. So the bottom most layer is active. If I option, click on the eyeball that's there. If there were any other layers visible, they'd become hidden. We've done that before. Option clicking on the eyeball. Then if I hold down the option key on my keyboard and use the square bracket keys. Same keys he used to change the size of your brush often watch what it does in the Layers panel. It changes which layer I'm viewing and so I can quickly cycle through. If I just hold it down, it'll look darn near like a movie. So what I can do here is Aiken. Add guides. Toe add guides. First, you go to the view menu and turn on your rulers and then click on the ruler and pulled on a guide. And I already did this so that when I pulled on a guide, it made them visible. But let's say that's what I pulled out where I'm thinking about cropping the image. Well, then I cycle through the images using the keyboard shortcut. I mentioned Option in the bracket, and I make sure that he never extends outside of those guides right there. He's pretty close, isn't it? With this trunk, So if so, I could move my mouse over here When I'm in the move tool, grab the guide and move it over a little, and I'll just cycle through each one to make sure that he never makes it. Outside of my guides were planning cropping. The image makes sense. Hear his ears getting close to the top. I might bring it up just a little. All right, then I can use the crop tool, and I'm gonna crop to where those guides are. If I go to the view menu, I can either Ah, hide my guides by choosing this, or I can clear them. Just get rid of him. I don't need them anymore. So that's how you end up cropping the image. I just need to make sure I've cycled through them so that he never goes outside of my cropping. Now I'm gonna go back to that Iceland image is our example. The only reason I went to the elephant images because it moved around a lot when I did auto align layers. This is the image actually wanted to do this with. I'm gonna crop this image just a little bit at the bottom to get rid of the little checkerboard Aiken see down there. And now the next thing I need to do is change the size of my image. I'm gonna choose image size, and I need to type in whatever size. I think I'd like to use this now, most of the time these air displayed on the Internet because the gift file format. If you use it on the Internet, it automatically starts playing the moment that page is loaded in. So it's a nice way to present the images to see how large and image will appear when it's viewed on the Internet, you need to go to the view menu, and there's a choice called 100%. That's how big this is going to look when you get on the Internet. So if I choose 100% in this particular case, this image is way too big to scale this for use on the Internet. What you should do is zoom out on your picture until it's the size you want it to look on the Internet, and I don't want to look at big. Let's say I wanted to look approximately this big, so I zoomed out on my picture until it looked approximately the size I wanted. Then I look at the tab that contains it, and it tells me I need to scale it down to this amount. You see that 6.25? It depends on how much you've zoomed in and out on your picture. That number will vary each time you do this. 6. So I go to the image menu. I choose image size and one of the choices when you're an image. Size is, where is it? Over here percent and I just type in six point 25 You do need to make sure the re sample check boxes turned on free sample means be able to throw away information because we do need it. Scale it down and I click. OK, when I do that, it's gonna look like it's tiny when it's done. But remember, Internet View is 100% view, and that's not what we're currently viewing it out. So, just to double check that everything worked right? I go to the View menu and choose 100% again. Yep, it's exactly the size I was looking for. Now we're going to turn this into an animation. In order to do that, we need this panel that's at the bottom. My screen called the timeline to be visible. If it's not visible on your screen, go to the window menu and that's where you'll find the choice called Timeline. We got timeline visible, and there's two kinds of animations you can create. One is more like a video, and the other is more of an animation, where it's based on individual frames that don't change quite as quickly. If I tap on this little down pointing arrow, do you see the choice called Create frame animation instead of a video? So all I'm doing is right in the middle of this thing called the Timeline. There's the down pointing arrow. I click on it and say, Create frame animation. Then this button changes to become that wording, and when I click it now, it thinks that we have an animation. The only thing is our animation. It has one frame. Well, one frame means it doesn't do anything yet, So now here's how we get it, too. Have more frames. I'll go to the right edge of the panel. There's little side menu there, and there's a choice called make frames from layers make frames from layers all that means is making animation. That's like a slide show. If you're layers. When I do that, I'm gonna end up seen one frame for each layer, sitting here in the timeline panel. See him? And if I click the play button that's down there, we should have little animation that goes really fast. Well, if you look below each one of these frames, you'll see a number listed. That's how long it's gonna wait before the next frame is played. If I want to change all of them at once, I need to select them All right now, the last one selected. I'll hold shift and get the first as well. Then I could click down here where that numbers appearing and tell it. Give me a slight delay between these. See, if 0.2 seconds looks OK. I know that it's going to be smoother when it's played outside of Photoshopped, but let's see. Overall, that's not bad. The only problem is, right now it is only playing the animation once it's not going over and over and over again, and all they have to do to change that is in the lower left. There's a choice that's currently set toe once. And if I click there, you can say forever. Which means just keep this thing plane. So now forget the play button. Now it looks to me like on the right edge of the photograph, I need to crop it, cause can you see a checkerboard appearing every once in a while? I didn't realize that on one of the frames that had to move in a bit, I'll hit stop and just grab my crop tool and pulling that right side a little bit And let's hit place if I Yeah, I got rid of it. And just know that the more frames you have in your animation larger, the file size is gonna be, and therefore the slower is gonna download from the Internet. And so you might want to look at this and say, Do you really need that number of frames? And I noticed one frame that seems a little odd. Do you see some part of the waterfall moves over to the right side. There is like it looks a little different than the others. I'm gonna figure out what layer that's on, and I probably don't throw away that frame so I'm just gonna click through the various frames. I think it's actually the 1st 1 Yeah, the 1st 1 I'll click on it. There's a trash can at the bottom to lead the frame. Yes, and then let's see if there's any others that make it look odd. All right, now, finally, the last thing I need to dio is to save this. So let's go to the file menu and I'm not gonna choose, save or save, as instead, I'm gonna choose Save for Web, because the file format we're gonna use is designed for the Internet. It's the GIF file format, a choose safer Web in here on the right side, near the top. I can tell it what file format to use. I need to use the one called GIF because that's the one that supports looping animations. And so I choose gift and then down at the bottom, right? His words, his animation. It's already set to forever, but I could click there until it only happened once that type of thing, and you could cycle through the frames right now just to preview them. But you don't need to. The way the gift file format works is, it reduces the number of colors in your picture, and by doing so, it makes the file size smaller. So here is the number of colors, and usually I try to find what's the lowest number that still makes us look acceptable. Lower the number of smaller the file size. I don't expect it to look perfect, because if I dio file, size is gonna be too big to be realistic. All of these days, most people's Internet connections were pretty fast, so I think 64 was fine. Now, at the bottom, there's a safe button. I'll tap that. I'll save it on my desktop. Let's go preview it. I'll go to my desktop, and you can either preview it on a Macintosh by clicking once on the file and then hitting space bar, which should play it. Space bar means give me a preview, uh, or just loaded into a Web browser. Drag it down to on top of any Web browser, Mac or Windows, and you should get it plain. There's my waterfall, but I could have just as easily had any one of these other images just like this one. If you look it's the same thing. It's just a bunch of frames, and if I hit the play button, it's kind of fun. One final thing if you want to mess with people I like messing with people is if you click through here and find whatever frame you think stands on its own, where if you showed it is a still frame, it would look acceptable. Let's just say it's that one and go to the bottom of it right here and change the delay. Make it so the delay is something like 10 seconds. It would also be useful if that was the first frame, but it's not essential. Watch what happens now when I play it, it's waiting 10 seconds right now so you'd see this image on the on your Web page. Nobody would know it's animated. They just see it sitting there. And if they waited 10 seconds, they'd see that. And then it would stop again for 10 seconds. If you do it so you only have a couple frames in your animation like it's like you think you mentioned somebody's website where somebody wink, it's a it's a photographer, a portrait photographer, is it? And it looks like what you'll see a picture than All Citadel Wing Co. Are. Look away, exact shrug and really nice test. So what they're doing, though, is there probably making it wink and then setting that time for, like, 45 seconds. So it just looks normal again, and then it'll wing. So that's what you end up doing. Just remember, you have to save it in the gift file format, and you do that by going to the file menu and choosing safer web. So anyway, I thought those were fun, and so I thought I'd share with you. How you doing?
Ratings and Reviews
The best investment I've made to improve my PS skills. Mr. Willmore is a skillful lecturer. English is my second language and I appreciate the clarity of his voice and the fact that he repeats several times what he's doing or what he did. It is great for note taking as well as for practicing. Just an Excellent workshop! Thanks Mr. Willmore!
I absolutely love Ben Willmore's teaching style. He is clear and thorough. This class has a wealth of good info so I had to purchase this course. Thanks Ben and Creative Live!!! PS, Don't forget to forward the PDF. I am waiting patiently.
AB FAB- Ben is an excellent teacher. He is very through and "down to earth" in his explanations. All his courses are worth the time and the money to view and purchase them!!! Please keep on teaching on CreativeLive. Thanks, Thanks, and more Thanks. Janet Bozgan 4-24-14
Student Work