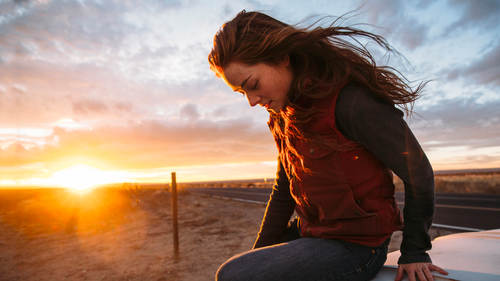 Class Description
You need more than just great lighting and equipment to create an exceptional portrait. Sometimes a shoot doesn't go as planned. The location is drab, the client isn't in the best mood, or you forget to charge your camera batteries. Great portrait photographers are able to think on their feet and connect with their subjects. 
Victoria Will's background as a photojournalist and celebrity photographer has helped her to develop techniques on editorial assignments to quickly connect with a subject. She'll show you how to use your environment to capture a unique image that reflects the person in the portrait. She'll also highlight how to quickly evaluate a less than perfect situation and make it work for you and your subject. 
You'll learn:
Techniques for choosing the light, process and locations for a successful portrait
How to build a rapport and utilize clear communication with your subjects
How to set up a developed concept as well as how to light on the fly 
Successful strategies for marketing yourself as a photographer and how to get your work in front of editors
You'll watch Victoria photograph real people in limited settings and how to scout multiple opportunities in a limited space. She'll go through how to make every frame count and how to get the shots the editor requested, as well as those that speak to your vision in the moment. Learn how to make your subject feel comfortable in only a few moments while capturing exquisite images in Portraits Under Pressure.  
Reviews
This was a great class and I learned a ton! It was amazing to watch Victoria Will in action -- shooting portraits under pressure. I learned a lot watching her walk into an unknown situation -- not knowing the location, what the natural lighting situation would be, and only knowing she had 15 minutes for the shoot. I loved watching her problem solve on the spot with lightning and tight, dark spaces. She also taught a lot about how she interacts with her subjects -- always putting them at ease (like you're the host at a dinner party -- gem!) It's much easier for a photographer to take pictures in their studio, but this course was not about that. This was watching a photographer handle real world situations under time pressure and think on her feet. Loved it! I also loved the parts where she culled her photos afterwards and picked out the ones that caught her eye. In most instances, I found myself agreeing with her!! When she gets subjects to stand up and sit back down, it is the in-between moments she is looking for, or the moment right afterwards -- genius!! Oh, lastly, I loved how she went through stunning images she shot of celebrities like Brad Pitt and Janelle Monae and gave us the backstory of how she creatively problem-solved to get the shot! Hello, showing up two hours before a shoot and knocking on random hotel room doors for furniture?!! Of course she could do that because she has a lovely, warm personality! Oh, and by the way, the bits she shares about her early career path is very inspiring!
Great course! And the best part was the honesty. I was an executive in a fortune 500 company and what the critics watching this course missed is that there are a lot of talented photographers, actors, singers, accountants and even landscapers, but there are very few that are successful and accomplished. Yes, part of it may involve a certain degree of luck, but most of it is the drive and desire to suceed. It is obvious you have both. I used to beleive that a true image could only be captured by styling the shot, metering light and controlling the subject. (Yes, I shot film...complete with developing and printing all my images) Then, one day I realized that, if deliberate-shooting was the right way, why then most of the great images I have were the result of quick, rather than deliberate reactions. I get it Victoria. Love your style and how you get there. Three things I learned today are that the conditions... even the background, do not have to be perfect if the image is strong enough to carry the message. Second, setting up to capture the perfect image, misses all the imperfect, epic moments. Third, I disagreed with almost every image you picked until they were isolated from the rest. Then they made perfect sense. Well done. :) Robert Gabriel
Meredith Zinner Photography
I really love Victoria and her work. She's something suuuuper special and showed me a fab new way to look at portraits. I love her openness, honesty, the whole 'you're at my dinner party' intimacy, care and respect for her clients and am SO impressed at how quickly and reliably she's able to transform any location to suit her needs. She's super impressive, professional and inspiring thank you!