Define the Goals of Your PR Plan
Andreea Ayers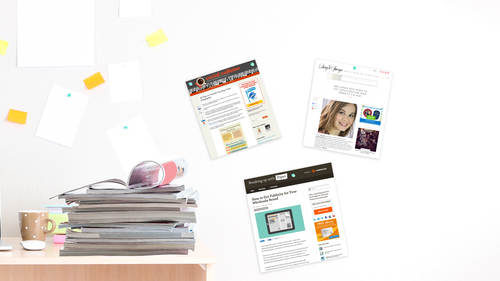 Define the Goals of Your PR Plan
Andreea Ayers
Lesson Info
6. Define the Goals of Your PR Plan
Lesson Info
Define the Goals of Your PR Plan
Let's talk about your pr plan because I know I shared my journey earlier, but you really do have to have a plan to do your pr that there is a lot more that goes into it than just sending out an email like I was doing in the beginning. So let's, talk about first the goals of your pr plan. We I know we've talked a lot about goals yesterday and the day before, but your publicity plan should really outline the best combination of media outlets, and that could include blog's tv podcast, internet print magazines, newspapers, radio, anything that you are dreaming big and imagining your products in that's what your pr plan is going to cover and it's really another way to just set and measure your goals that you want to get with pr, whether it's getting an oprah magazine on or being on a certain podcast, or being featured in another type of magazine or online media outlet, and it doesn't have to be complicated. I know I'm talking a lot about so many different media outlets, but this could be so...
simple, and I'll give you an example of that here later today, but it can be super simple. Whatever works for you and your business that's how your pr plan can look, it doesn't have to be this crazy excel spreadsheet with twenty million things you have to do every month and confident to your business and everything else you are doing in your business right now as well, and one of the questions I get asked most often is, well, how far ahead should I plan and there's a couple of different answers that I would give you depending on what are you trying to accomplish with your business? So there's a short term plan where you're sort of planning one, two, three months out and there's the long term, where is three to six months out? And I know usually sometimes I will plan a year ahead of time, but that's, just because I know what magazine editors are going to be working on, and I'm going to show you exactly what they're working on later today. But you, really I would start out with planning for the first first three months to get that under control, and then once you feel ready to move forward, then go ahead and start thinking a little longer, like maybe six months ahead. And unfortunately, if you do pitch the bigger magazines, they do work about four to six months ahead, as you'll see in a future slight here, so you sort of as you're starting out, plan. One two three months ahead then as you feel comfortable and as you're starting to maybe work with some of the smaller magazines then go ahead and plan six months ahead and be flexible you're a pr plan can actually change there were times when I thought ok I wanted to be featured and five big online news websites and then I did one and I realized that quite wasn't the kind of audience that I was going for or the market that I was trying to reach so I totally erase that from my pr plan and that's okay you don't have tio do it just because you committed to doing it on paper usually I would say the other way where if you wrote it down as a goal make sure it happens but you do have to be flexible because let's say you pitched a gift magazine and you got zero sales from it or maybe you changed your mind and now you don't want to reach out to people who buy gift you want to reach out to a different kind of market then in that case your pr plan has to change and even when you're launching a new product I know with my t shirt business I had a woman's line than a baby and kids line than a men's line and my had to adjust my pr plan according to what I was launching and I wouldn't always know ahead of time that I would launch something so you do have to be flexible keep that in mind you don't have to stick to it just because you wrote it down but as you are writing down your pr plan, there are some questions that you can ask yourself to determine if you're on the right track. So the first question is what is your budget? How much money do you have to spend? Do you want to invest in a pr database? They wanna hire a pr firm if you have the budget for it, do you wantto set aside certain amount for samples and shipping and all of that stuff? Do you want to do sponsored posts? We're going to talk about bloggers and how often they oftentimes they will do a sponsored post where you not only have to send a product sample, but you also have to actually send then a fee for them to write about your product that's not the case with magazines that's on lee with flaws, but you want to think about it ahead of time and see if that makes sense for you and your business. You should also think about your goals and objectives. What are you trying to do with p r are you trying to get more sales? Are you trying to increased awareness for your brand? What do you really want to get out of it? And why and lastly, who is your target market? We talked about that earlier with kate before about she really knows who her target market is and one magazines they read, and she also knows the readers of that magazine and it's so important, because if you are let's, say, selling jewelry and your jewelry is aimed at maybe women in their mid forties, it doesn't make sense for you to pitch a teen magazine, even though they could be writing about jewelry, but that's not really who you're trying to go after and there are quite a few times where how one point I was trying to just being as many magazines as I could, and I would pitch all of them, and then I would realize I got very little sales from it because it was not the right fit with my audience. So once you know your audience take the magazines that your audience reads and that their readers sort of mesh with your own audience as well. And then as you have a plan, he also have to track your results. We've been talking a lot about tracking and knowing what's working, knowing what's not working, but for you, how do you define and measure your pr success, why that success for you look like? So maybe if any of you want to share whether it's getting in five magazines or being on two influential blog's or being on your local tv show, if any of you want to see share what your success is that way you'll know ahead of time how you can actually measure because if you say I want to be in two local tv shows and you've been in two local tv shows that is pretty measurable now the one thing that's not so measurable is when you say I want fifty thousand dollars worth of sales from p r that it's kind of hard to track so you might know, for example, that a lucky magazine just hit the newsstands and your products were in there and you got ten thousand dollars worth of orders but there might be orders coming in for months after that, but you don't know if you can attribute it to a lucky magazine, and even if you were to ask your customers, where did you hear about us? They might old either not respond or not remember because we all see things that we don't know where we heard it from. We just know we want to buy it so we go to the website and we buy so what does success look like to you when it comes to p r keep that in mind as you are crafting out your pr plan and, for example, one of my goals was actually when I first started was to get to national magazines oprah being one of them on local tv spot, and I really wanted to use pr to get more facebook fans. So what I did in that case that when I knew some that my t shirts will be featured in the magazine, I put my facebook like box front and center on my home page. So that way, when people come to my website, hopefully from that magazine, they have my like box right there. They could just click like, and that was one of my goals. So if that's one of your goals with pr, make sure to make it super easy and even if you're trying to grow your email list with pr, which I know it is something that often happens has a result of being featured. Have your opt in box front and center on your home page and throughout your your website, so people know that they can enter their name and email address, so you want to make it easy for them as you're keeping in mind your goals with pr.
Class Materials
PR For Crafters Syllabus.pdf
Ratings and Reviews
This class was so jam packed with useful and current information. It deals with issues that did not even exist as recent as last year. I made drastic changes to my social media outlets and forums, that have greatly improved my fan base. Andreea is an amazing roll model, teacher, and example of success.
I watched all three days of this course, and it has helped my mom and I in so many ways. We started a soap business in late 2014, and nothing we did worked. So we are currently regrouping, and with all the information we learned from Andreea we feel so much more confident this time around. Anyone looking to do great things with their company needs to see these 3 courses. Creative Live great decision on having Andreea on here.
Student Work