Image Composition Overview
Mike Kelley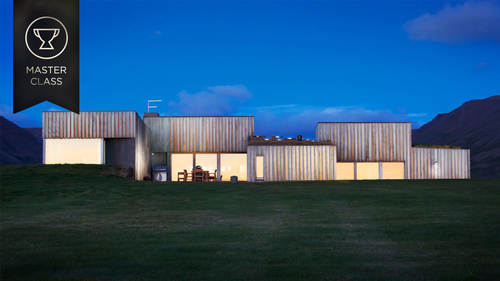 Image Composition Overview
Mike Kelley
Lesson Info
10. Image Composition Overview
Lesson Info
Image Composition Overview
The last talk, we kind of just talked about business stuff and running a business, and being a standup guy and marketing, and that kind of thing. But this is the talk I'm personally really excited about. I love sharing the juicy Photoshop technique. You know, I'm a total computer nerd, like I said. So I'm really looking forward to this one. So what I have for you is, I shot a job back in April, of a concert hall, as you can see up on the screen here. And, I'm going to take you behind the scenes, from basically the client contacting me, all the way through to me delivering the file. And within that, I'm going to dive into the shooting, the gear, how I light things, how I Photoshop all the pieces together, and hopefully you'll learn all the things you want to know about the technique, in Photoshopping, that kind of stuff. And, as before, if you have any questions feel free to jump in. So, let's get started. So like I just said, this gig was shooting this theater, that you can see here. T...
his is the photograph in particular that I'm going to walk you through all the post-production. So, here we go, the assignment. It was photographing a historic theater for a large architectural firm. This firm has been in business for a very long time. They have offices all over the country. And they thought for some reason that I was the guy that they wanted to have shoot this. So, the first thing that I want to talk about are the client's needs and how they aligned with my style. So, that goes back to when the theater was constructed, back in the 1910s. They wanted to capture the grandeur and splendor of that. What happened was, the theater was built way back when, and in the 60s and 70s the declined demand kind of let it sit idle for 30 or 40 years and it fell into disuse. And they were contacted, and they won the bid to restore the whole thing. And they finished that and flew me out and wanted me to photograph it. So what they were looking for was pretty simple. It was five images that really captured the aesthetic they wanted, and mix the old and the new. They kind of wanted photography with a little bit of an edge. They didn't come straight to me. They told me right up front, "We're sending a bid out to like five photographers. "We really like your work, we're willing to fly you in. "You're the least local but like I said "We want you to do this, "so hopefully we can find a way to make it work." So they wanted five pictures, interiors and exteriors. And, like I just said, they wanted to show the grandeur, the splendor, as well as the renovation that they had done. So they needed someone who was well versed in both documenting architecture and putting a little modern edge on it. So they wanted highly polished yet understated photography. They wanted it to look really really cool, but not so over the top, whack-you-in-the-head, over-lit commercial kind of thing. So restraint had to be exercised. Continuing on, they contacted me and like I said, "We're sending a bid out to five or so photographers." and this came across in my email. I was excited. I was like, "This is one of these things "that I want in my portfolio." So, I had to tread lightly. I didn't want to come out and say 50 grand or some exorbitant thing because I thought the value of having this project in my portfolio... Frankly, if the conditions were right, I would shoot this on my own if I could get access to it. So I wanted to make it worth it for myself but I also wanted to get what was a fair price because I knew it was going to be a multiple day job, I knew that there was a lot riding on it, I knew that there were going to be assistance involved, and tons of gear. So, they sent me the bid, and just life before, I had to go through the conversation with myself, what is this job worth? What is it worth financially? What is it worth to have in my portfolio? What is it worth in terms of effort and cost to my sanity? So I did the whole thing that we just talked about. I wanted to know what the images will be used for. Are they going in magazines? Is it going to be an advertisement for the theater? Are they trying to get people in the door? I asked them all these questions and eventually came up with a bid. And I sent it in and they told me I was actually a little bit higher than most of the other people who bid on it. But, and I will give myself credit for this, they really like the way I conducted myself on the phone, in email. And he said, "You sound like a really cool guy "to work with so we're going to have you come out "and do it." And, I got them to pay for travel, obviously the day rate, the creative fee, the licensing, everything, which is still higher than the other photographers, but when I think it's a testament to my earlier lecture, is that being a fun guy to be around, easy to work with, can instill a lot of value in your photography. So I get out there, and it's time to scout the location. So this is one of those times where we're going to have to do a scouting thing. But since they're flying me out there I didn't charge them the whole scouting fee. We spent the whole afternoon, when I first got there, just scouting it. We walked around, went up and down, and got the whole tour. He showed me how everything worked, where the breakers were, how the lighting was. He said, he being the client, he just told me about the renovation that went on, how they had, craftsmen, real artisans come in, and they did the molding, and the copper and gold paint, how in depth this restoration project was, and it was absolutely mind blowing. It was kind of an honor at this point to realize that I had been chosen to photograph it. So, through scouting I kind of learned a lot more about how I wanted to photograph it, how I wanted to use light to make it sparkle, and set myself aside from a regular photographer, who would just shoot it and that would be the end of it. And I thought, "What can I do to make this really pop, "make it really look the way it was meant to?" So, we scouted it and I decided on an approach to tackle the job. And that approach was, we would shoot all day. The good news was, the only shots we had to really schedule were the twilights. They wanted two twilight exteriors and that was obviously the first night and second night. Because of my crazy method, I only do one twilight photo per day because I have the camera on one location, it doesn't move, and I'm adding light, and I'm taking different pieces of time, and so I have to focus on one thing. So two nights for twilights and the light inside the theater does not change. So I had all the time in the world, basically, to come up with three other pictures. So, choosing the composition, like I said in the last lecture, I really like those one-point perspective compositions. They show stability and power, and the eye finds symmetry incredibly pleasing. It's kind of an artistic principle that goes back until the beginning of time. And the art direction, they had a few shots in mind. They walked around during the scouting and said, "I want a picture from here." And sometimes you can't avoid this. Clients are going to say "I want this picture, "and your job is to shoot it and make it look good." Or they're going to say, "We want this shot." But luckily, they gave me some creative liberty to kind of apply my aesthetic to it, which I thought was very cool. So I had a lot of flexibility outside of the three shots that were mandatory, and I could choose the other two. So, like I just said, I love symmetry, grandiosity, power, historical importance and stability. And I wanted to show the elaborate lighting that they had done. I wanted to show the amazing restoration job they did on the molding, all the gold leaf, the copper... I mean, it costs a fortune if you want to do this today. Back when they had cheap labor, it was pretty commonplace to have these intricate buildings made. And they did it exactly historically correct so we really wanted to feature that. And in my compositions I wanted there to be plenty of room for the eye to kind of bounce around. I want you to be able to look at a photo and take five minutes investigating it and find new things every time you come back to it. So, that is how I settled on my final composition that we're going to be talking about today. And here I'm going to show you some of the other pictures that I did so you can get a feel for how the entire job fits together. So here is one of the exterior twilight shots. This was client dictated kind of composition. And within that he gave me the liberty to kind of add and take away as I pleased. I love the car trails in there, gives some motion. They wanted to show the building in context of the neighborhood. It's part of a school. All these three buildings also belong to the school. So it was kind of important to show where it was in the neighborhood and how it fits in. Again, this shot, another twilight, which is the second night. And again, there's my one-point perspective that I always talk about. It looks powerful, it looks epic, it looks grandiose. I really love that stuff and if you can find a way to work it into anything you're shooting, it goes pretty well. Can I ask you a question? Of course you can. I'm just noticing that the street is kind of on a slope. Yep. So when you're trying to get lines straight, horizons straight, what are the lines that you're most concerned about? When I'm doing a one-point perspective, the most important thing, I mean, the first thing that gets grilled into your head in architectural photography is that you want your vertical lines to be straight and true. If an architect or a general contractor hires you, and you lean your camera back, and you go wide, and the building looks like it's falling over from convergence, someone's going to be very angry because you're an architect and you didn't design it to look like it's all crooked. What are people going to think of your work? "Hey, this guy does crooked work." You're a contractor, you put up all these nails, all this plaster work and it looks crooked in the photo, no ones going to hire you 'cause you can't do good work. "You don't know how to use a level, "why would I hire this guy?" So the number one thing is, I use a bubble level, and that gets it pretty close but not exact. Vertical lines are basically the most important thing to me. Those will always tell you where you are. And then I'll use a tilt-shift lens and I'll go into that a bit more in the gear section here, Right To kind of dial in the composition. Does that help? Wonderful. Perfect. Cool. So, here it is again, that exterior. And here is an interior. Really quick, sorry. Before we move on, somebody whose name is Pooping Rainbows, that's right, I'm going to read your name, it's Pooping Rainbows, wants to know, can you just explain what is one-point perspective? Yes. One-point perspective is, basically, if you've ever taken an art class, you learn about vanishing points. Take a piece of paper and you draw a dot right in the middle. And using rulers you can draw lines from the edges of the paper in, so that your perspective is straight ahead, the vanishing point is directly in front of you, and if you've ever watched like a Stanley Kubrick film, you know like 2011 or any of his films, and he has that shot over and over. It creates tension and it creates emotion in the picture. It's basically, you have all four horizontal and vertical lines directly centered in the photo. Like again, take a piece of paper, this is the easiest way I can explain it. Put a dot right in the center, take a ruler, draw lines to it. It's just one perspective, one plane, everything's straight ahead. Perfect. Thank you. So here, this is a two-point perspective because we're not on one plane. We're shooting at an angle, for example. And again, this was a client-dictated composition but I think it's pretty cool. I had a lot of fun shooting it and it does show a lot of motion, and it gives you the whole sense of what's going on in the theater. Here we are again with a one-point perspective. I just absolutely love how the lines and motion, and again your eye can just feast on this... all the intricate patterns and everything, and you can see up here some of this crown molding, which is just mind-blowing in person. And here is the photo that I settled on. I think in just five pictures we have a pretty good sense of this place. We hit main exteriors, we hit the interiors and it really leaves nothing unaccounted for, nothing important really. I mean there's some classrooms back in the back, but they're just basically square rooms with chairs in them. There's nothing really impressive about them. We got the big important pieces of the building in just five shots. So, that being said, I want to take a minute to talk about the gear that I used to create basically all of my pictures. And before we start, any questions that pertain to this? I think we did have one that I would love to ask, I'm going to try to find it here. Jason M: "Why did you not center the building "in your one-point perspective? It looks like it's off-center to the left." Let's go back. Good question. Alright, so this is 17mm, basically as wide as a tilt-shift lens will go. And, again, as you can see over here, there's an empty parking lot. And over here, like I said, on that first shot, we really wanted to show the building in the context of the environment that it's in. So, again, one school owns all these buildings. And so we wanted people to know that this theater here, is a part of a neighborhood of buildings so we're going to show the context that it's in. So, I can keep the lines straight and I can just shift the lines to the right a little bit and pick up a lot of context. I think it adds some interest. It kind of mixes things up, to kind of give it a little more tension and interest, and I think, it's just kind of an aesthetic call that aligned it with the show-it-in-the-context so... I talked to the client. We did have it straight on, and we decided, "Hey, what if we shift it to the right? "We'll pick up some of the buildings, "bonus little element there." And that was that. So there was no real deep meaning to it, other than we wanted to show the building in the context of what was around it.
Ratings and Reviews
Mike Kelley is fabulous, so many aspects of his work would make for great classes! I hope Creative Live brings Mike back for many more classes. He's a great communicator with lots of info presented in his class with understandable instructions. . . not that you'll leave the class being able to recreate his amazing images! Although he is very generous in the knowledge he shares on his great techniques. Only issue was not being able to hear/view most of the class as the "live feed" kept cutting out, which was so frustrating. So, I'm purchasing the video. Hope to see Mike in more courses! Excellent!
Firstly this course should be renamed to just Architectural Photography. There's very little information here about shooting real estate photography. Mike Kelley is more of a fine art architecture photographer and the techniques he shows are not really relevant for real estate photography. Kelley's well-known for his blue hour shots and with these he often sets his camera up for a few hours and documents the changing light to later blend into one image. His work is very Photoshop intensive and each photo could require a few hours post-processing in PS. Real estate photography generally requires a complete house to be shot in less than an hour and delivered to the realtor in 24-48hrs. The course is more of interest to those wanting to shoot high-end architecture or interior design projects. Kelley gives some great tips on the business side - how to do marketing, attracting new clientele, how to maintain a healthy relationship with your clients, what to do when things go wrong. Kelley also discusses what gear he uses including the very useful tilt-shift lenses, geared head on his tripod for fine control, shooting tethered, and also some of the lighting he uses. The course features a photoshoot that Kelley did of a historic theatre, and he discusses the techniques he used to capture the images as well as how he processed them in Photoshop. The course was enjoyable & informative, and Mike Kelley is an engaging & fun presenter, with a laid-back style.
Enjoyed this class. Took it to learn more about architectural photography because I know little to nothing about that area of photography. I feel Mike gave a solid introduction in the how-to's of getting into this business, offered some good outside sources, gave good supporting personal stories. Would have liked to lean more about balancing light color and to be referred to some outside sources on learning more about that. Overall, I feel this was a solid intro to architectural photography.
Student Work