What Gear Do You Need as a Real Estate Photographer?
Philip Ebiner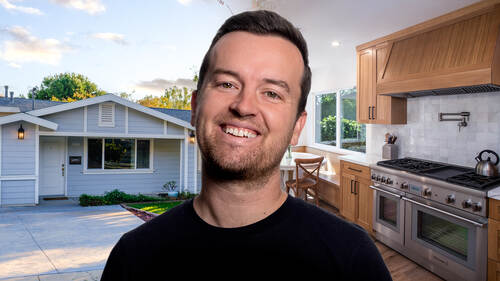 What Gear Do You Need as a Real Estate Photographer?
Philip Ebiner
Lesson Info
2. What Gear Do You Need as a Real Estate Photographer?
Lesson Info
What Gear Do You Need as a Real Estate Photographer?
What gear do you need to be a real estate photographer? There are three main things, a camera with a lens and a tripod for cameras. You can use DS LR or mirrorless cameras either is perfectly fine. The debate over which one is better could go on for years. Most brands are moving towards mirrorless cameras. The setups are a little bit lighter but in terms of price, things are about comparable now. But if you're getting it into this and you're looking to buy a new camera, I would move towards a mirrorless camera because that's where companies are going. The more important question is crop sensor versus full frame because we are wanting wide shots of most rooms. Having a full frame camera allows us to more easily get those wide shots with more lenses with a crop sensor camera. You will need a wider lens to be able to get those wider shots. And I'm gonna go over those lens options in just a second crop sensor cameras are generally cheaper than full frame cameras. So that's the issue. If yo...
u're starting out if you have a crop sensor camera, don't worry you can use that you do not need a full frame camera, but if you are starting and you are looking to buy one, I would err on the side of full frame if you have the budget. Now, I do want to cover smartphones. If you're a professional photographer looking to make money with this, I would not use a smartphone. It doesn't look professional and it doesn't give you the capabilities that you have with a DS LR or Mili camera. However, if you're an agent, if you're a landlord or a host, you can get away with a smartphone, you have to make sure you're paying more attention to, to things like composition than things like lighting and editing. Although smartphone cameras have come a long way and I'll talk about that more in the future in terms of lenses for a full frame camera, you'll want something between like 16 to 35 millimeters. If you're using crop sensor, you'll want something like a 10 to 18. So depending on the camera and the lens, a 10 millimeter on a crop sensor will be more similar to a 16 millimeter on a full frame. And I can tell you that for most spaces, especially tight spaces like a bathroom, you might need to be somewhere on a crop sensor like 12 millimeters. Whereas on a full frame, you'll be somewhere like between 16 and maybe like 24 or so. It really depends on the space. But I would say that anything uh tighter than 18 millimeter or even a 16 millimeter on a crop sensor can feel tight in certain spaces. So you will need one of those ultra wide zooms. And this is why I'm talking about with a full frame camera. You have more options. A 16 to 30 five is more of like a standard range. You could get standard lenses at that size. Whereas on a crop sensor camera, those are more of those ultra wide zooms that are a little bit more specialized, not that you can't get those. It's just there are going to be fewer options for you. Now, another thing to consider is a primer zoom. Remember a zoom lens has multiple focal lengths, you can zoom from 10 to 18 for example, or 16 to 35. Whereas a prime is just at 12 millimeters at 16 millimeters primes are generally cheaper and they also have a wider open aperture generally. So you can open up and allow more light. That being said with the settings we're using for real estate photo, we're usually using something like an F 8. to get more in focus. So having that wide open aperture doesn't necessarily help us out. So that's not one reason to get a prime for real estate photo. The other thing is if you are in a tight space or if you're in a room where there's furniture being able to zoom in or out helps with your compositions. You can always crop and crop out a little bit, but it's a little bit different than being able to quickly zoom in or zoom out with the prime lens. You're going to have to be moving your, your tripod a bit more. That being said in this class, I'm going to be using both zooms and primes to show you the difference and you'll kind of see me walking through the process depending on what room I'm I'm in here. You can see examples of bathrooms where these are super tight spaces. But with a ultra wide lens, you're still able to see the space, see the different aspects of it, even from a corner or from a doorway. Another tool you'll need is a tripod. A tripod is necessary in a lot of cases because in indoor spaces, you will need to be locked down. If you have a longer shutter speed, which we might be using, we'll talk more about settings in a minute in a future lesson. But you're going to want a low iso you're going to want to lock down your aperture and not open up all the way. And so that leaves our shutter speed to potentially be a bit longer than normal and hand holding your camera might not be the best case scenario for getting a sharp image. So having a tripod is great. The other reason is when we're doing more advanced photography such as flam bent, where we're combining images with ambient light with natural light with our flash, maybe pulling a photo where we're exposing to the exterior. Then those photos need to be locked down on a tripod. So you're not getting any camera shake between photos, fluid head versus geared head. Fluid heads are great because it's just easier to pan and tilt up and down. It's more when you're doing video that that's important. However, I like a fluid head tripod. I just find that I can lock down that specific composition more easily. They are more expensive, but I would, I would go for fluid head. And if you ever do get into video production and real estate video is a thing. You might as well have a fluid head uh tripod as well. Some other tools that you might want to consider adding to your tool kit are a remote shutter trigger. Again when we're taking multiple photos, bracketing is a, is one style of photography where we're taking photos at different exposures and combining them so that we have a great general exposed photo. You want that photo to be locked down on a tripod, not touching it even with your finger because you might accidentally wiggle it a little bit. And so having an a remote shutter trigger where you plug into your camera and you can just press it and not move the camera is great. Most modern cameras also come with an app where you can sync up with the mobile app on your phone and you can use that, which is great. But I find those a little bit just wonky. If I can use that term, they don't always connect, they get disconnected. It's just more time consuming to use those kinds of apps, but you can use those. All right. Now, let's talk about the biggie lighting. There's lots of different lights out there. There's flashes also known as Strobes, those are like the typical flash that you put on top of a camera. And in real estate photography, what we're going to be doing is not just on the camera but off the camera to the side of the camera, we're going to be walking around with our flash, taking flash photos. And so you'll need a flash that also has the trigger that connects to your camera. So there's lots of different options. We'll talk about brands in a minute, but flashes are what I would recommend. You can also use continuous lights right now. I'm using a light to light this video. They are great for video. It's great because you can see what the room looks like with the light compared to a flash. You can't really tell until you look at the photo what the result is. But with a continuous light source, you can set it up, you can move it around, you can see, OK, this looks good. I need to point it this way or that way, but they're heavier. They often have to be plugged into the wall unless you have like a big battery pack on them. And so I would suggest getting flash or strobes which are lighter, more affordable, more easy to move around and they don't have to be plugged in you'll need with that light stands to hold up your flash unless you're gonna be like holding it up yourself. But I suggest just using a flash stand or a light stand and then also in an umbrella and or light box, something that's white or silver that's going to spread out that light. The key is that a larger light source equals softer, less harsh shadows. So generally, what we're going to be doing when we're lighting up a whole room is flashing into an umbrella or through diffusion so that the light is not hard, not creating harsh shadows. Sometimes we can use the ceiling and just bounce that flash off a ceiling or a wall to get that same effect. But you'll want to add this to your kit. Eventually here are some photo examples you can see, especially for interiors like this. You're not going to get this lighting when without a flash, there's no window, there's no natural light, you're going to need some kind of flash that's adding light to the seam. Even for this one where we're s there's a big window, I can tell and you'll eventually be able to tell that this photo was shot not just with the exterior light coming in, not just with the ambient lights on the ceiling and the lamp there, but also with a flash to give it more light. All right. So that's about the gear you need. Again, we're gonna talk about settings and setting up this gear in a lot more depth coming up in the next few lessons.
Class Materials
Practice_Photos_for_Editing.zip
Step-by-Step_Flambient_Editing_Process.pdf
Ratings and Reviews
Student Work