Drum Mixing - Snare
Eyal Levi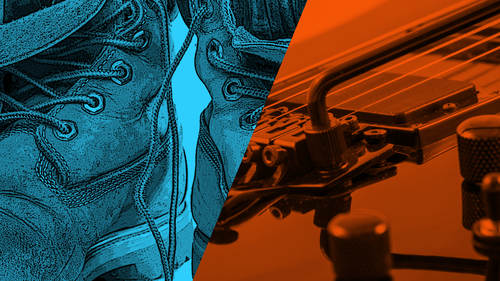 Drum Mixing - Snare
Eyal Levi
Lesson Info
64. Drum Mixing - Snare
Lesson Info
Drum Mixing - Snare
I'm actually curious to hear what'll happen if I use something else, like my own snare on this, instead of those samples. (drums beating) And I've gotta turn that down. (drums beating) Okay. Let's see here. I already selected a snare that I like for my kit. I'm just gonna see if it sounds good in here. Come on Kontakt. Okay, I've got it turned down all the way. (drums beating) Loud. (drums beating) All right, I'm turning down this verb, these overheads. Okay. I'm gonna just blend this in and see what happens. (drums beating) I'm not sure I like that. I'm gonna try a different one. What is that? Snare eight. (drums beating) I like that much better. Get rid of this verb and and this length. (drums beating) Oh, the MIDI, by the way, is programed in such a way that I've got the hard hits, and the fills, and the ghost notes on different tracks for different velocities and stuff. (drums beating) It's important to do it like that because he does so much that it would be a ton of velocity auto...
mation to have automate one velocity track between ghosts, hard hits, and fills. I'm already kind of liking that. (drums beating) I'm going to try a parallel snare compressor to try to get a little bit more length on the snare. I'm going to start with compression, and maybe add some harmonics and just see what happens. Try to destroy it. Ideally, something with a very, very fast attack. We'll see where the release goes. I really, really just don't want much of a transient at all, I just want some length. So, let's see what happens. Okay I gotta send it to my parallel compression. (drums beating) Low phasing, that sucks. Okay, let's see something here. Time to try a different plug-in then. (drums beating) That's not gonna work. Okay, so, I need to do this a different way. It was being fed double. (drums beating) All right, here's what I'll do. Sometimes this is an issue with Pro Tools. Where is it? Okay. Let's just see what happens. (drums beating) Okay. (drums beating) All right, problem solved, however, I need to redo this as a monobus. Where is my snare para? There we go. (drums beating) All right. Sometimes that can get wonky in Pro Tools, but it's easy to solve now. Back in the old days there was kinda no way to really solve it. Okay, so, see what happens when I obliterate the snare. (drums beating) I need to level it off some. (drums beating) Not quite aggressive enough. I'll try it again with this. Yeah, that solved the problem. (drums beating) I'm going to add a Multiband to the snare parallel to kind of handle when some of that top end goes crazy from lead. I'll explain what I'm doing in a second. (drums beating) Now it's loud. (drums beating) Now I'm gonna just add in some harmonics to make it sound a little cooler. You can never get enough of those. (drums beating) Okay, now it's starting to be a little bit difficult to tell what's going on without anything else in there. Mind you, the other instruments are pretty quiet but I can just turn them up a little bit just to check. (heavy metal music) Okay, that needs a lot of work, but what I'm hearing is that the snare's a little pointy, but at least it slams hard. So I'm gonna deal with the pointy nature of the snare. (drums beating) I find that just putting this on sometimes, Virtual Tape Machine by Slate, and letting it just basically kiss the audio, will sometimes make things less pointy, to where you don't need to bother with as much EQ. (drums beating) All right, and I know that I've gotta turn those ghost notes down a little bit. Sure makes life easier when all the ghosts are on one track. Just gonna bring the velocity, so it doesn't stick out as much. (drums beating) One trick that Andrew Wade taught me, which I think is really cool, is to put our bass on a snare, sometimes it works, sometimes it doesn't, right around 100. You have to go very, very easy on it, but it just adds lows in a nice way sometimes. But, like I said, if you go too hard you're gonna end up with a muffly, muffly snare. (drums beating) And I didn't like it. Oh well. (drums beating) All right, I'm about to start sending snare to the drum verb. Nothing's been sent to the drum verb at all yet. It's time to put that into play. (drums beating) Drum verb. (drums beating) All right. This whole time we've been doing this without the rooms. (drums beating) So I'm gonna start by just turning those down a little bit. (drums beating)
Class Materials
Eyal Levi Bootcamp Bonuses
Ratings and Reviews
I'm on lesson 19! Already worth every dollar!!! Priceless insight! I have already incorporated some of the ideas (preproduction common sense stuff that I never thought of, but damn). VERY HAPPY with this course! ALWAYS LEARNING and looking forward to the next 50 (or whatever) lessons!!! Excellent course! GREAT PRODUCER/ENGINEER, GREAT DRUM TECH, and GREAT BAND!!!! THANK YOU!!!!!!!!
I'm just part way though and I'm blown away by the quality approach Eyal takes to getting the best out of the sessions. I love how well everything is explained and Eyals calm manner is just awesome it really makes you want to listen to the gems of wisdom he offers.
Wow is all I can say. This bootcamp goes in so much depth from tuning drums, setting up guitars, to recording and mixing. I have learned so much by participating in this bootcamp. It has taught me some new recording techniques and signal routing for my mixes. I just want to thank Eyal, Monuments, and Creative Live for taking the time to do this. It has been amazing and I will keep going back to these videos.
Student Work