Recording Metal with Eyal Levi: A Bootcamp
Drum Tracking Intro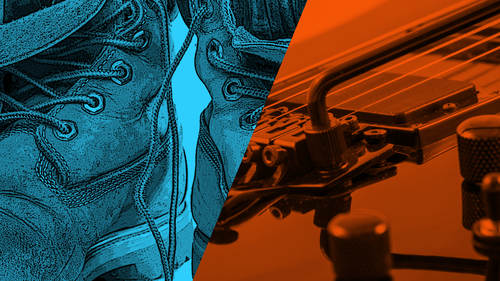 Recording Metal with Eyal Levi: A Bootcamp
Drum Tracking Intro
Lesson Info
Drum Tracking Intro
Welcome to day four of the Metal Recording Bootcamp here on CreativeLive, I'm Eyal Levi, and today I will be tracking the amazing Anup Sastry. As you can see here, we actually do have a lot of stuff tracked, but nothing real except for the samples. Basically what you see here is that every step of the way along getting tones I was dropping markers and taking recordings, so that we could capture the general progression from okay to awesome. We even got Anup kind of playing through the song. We've got a basic take just to see if his levels were straight or if the sound totally sucked or what not, but we're going to be tracking him for real today, and I bet you that this session is going to take about five minutes because he's phenomenal.
Class Description
Recording Metal with Eyal Levi: A Bootcamp will give you access to one of metal's most in-demand producers and educators. You'll also get to watch the talented and seasoned performers of Monuments show you how to record flawless takes and how to prepare to enter the studio.
Recording Metal with Eyal Levi: A Bootcamp is the definitive guide to recording and producing metal. From soup to nuts, start to finish, A to Z, you will learn everything you need to know about recording and producing a metal song.
Eyal Levi will take you inside the studio with Monuments as they record a song from scratch at Clear Lake Recording in Los Angeles. In this bootcamp, you will learn how to:
Prepare for a session in preproduction by choosing tempos and organizing the session

Record flawless drums from selection and reheading/tuning to mic choice and placement to editing

Record rhythm guitars

Record clean and lead guitars

Record bass guitar

Record, edit and tune lead vocals, harmonies, and screams

Mix and master from session setup to final bounce
Reviews
I'm on lesson 19! Already worth every dollar!!! Priceless insight! I have already incorporated some of the ideas (preproduction common sense stuff that I never thought of, but damn). VERY HAPPY with this course! ALWAYS LEARNING and looking forward to the next 50 (or whatever) lessons!!! Excellent course! GREAT PRODUCER/ENGINEER, GREAT DRUM TECH, and GREAT BAND!!!! THANK YOU!!!!!!!!
I'm just part way though and I'm blown away by the quality approach Eyal takes to getting the best out of the sessions. I love how well everything is explained and Eyals calm manner is just awesome it really makes you want to listen to the gems of wisdom he offers.
Wow is all I can say. This bootcamp goes in so much depth from tuning drums, setting up guitars, to recording and mixing. I have learned so much by participating in this bootcamp. It has taught me some new recording techniques and signal routing for my mixes. I just want to thank Eyal, Monuments, and Creative Live for taking the time to do this. It has been amazing and I will keep going back to these videos.