Introduction: Change + Struggle
Jasmine Star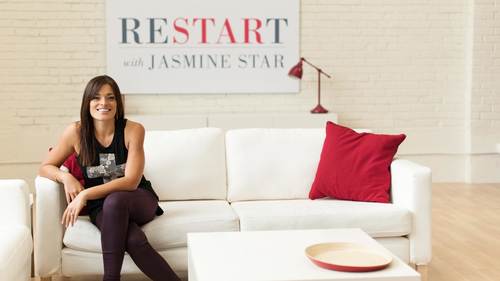 Introduction: Change + Struggle
Jasmine Star
Lesson Info
19. Introduction: Change + Struggle
The class reconvenes; Jasmine reviews what we've tackled together thus far and shares the progress the reSTARt community has made over the past month, from networking to new websites.
Lesson Info
Introduction: Change + Struggle
Just didn't catch his meat shipping in room. Well, I'm so glad in a hole in my face, but there is nothing like a sergeant. The ego is a stripping in front of a group of your peers. Okay, welcome. Thank you guys for being here. I am so glad to see you guys again, and I hope and I've been hearing some of your success stories both on the facebook restart group and you guys holding microphone, talking about how far you've come. Congratulations and thank you guys for being here for people who are watching online. Thank you. I totally appreciate it. And from the bottom of my heart, I sincerely appreciate your time, your energy and the effort that you put into being here. We have a lot of things in store for you today, and I'm excited to get started, and I'm going to reiterate what kind of just said so well, so I'm just gonna cruise through this part. If you like to participate in the conversation today, be sure to use the hashtag restart life. I've been meeting so many great people via twitt...
er via through that mechanism. We're talking about social media today, so talk about all that good stuff later on you can also stop by the restart facebook group it's now over seventy, five hundred people, and all of these people have made the dedication to change and people are going at their own pace. But the good thing is, is a group of people who are all supporting each other. It has been absolutely amazing thing to see now, if you would like it to connect with me personally, even find me at facebook forward slash jasmine star paige speaking of connecting, I want to take a minute to think the wonderful team, a creative life, for connecting me with you and for connecting me with the studio audience. It is amazing creative life has helped me realize my dream of taking small riel businesses, and at the time I felt like my dream was small and crazy and they got behind me and they said, no, it's, not so crazy. We're going to help you do this from the ground up, and so I really appreciate them on a personal note, I would like to think celeste holds our fearless producer when I I thought I would put together this idea, celeste, which is dragged on for it, and she had done such a great thank you. Thank you. Seriously think she's an amazing but in honor and it's a privilege to work with amazing photographers as well as a dedicated team. So here we are in episode three this is our big final hurrah, and I'm so glad that you guys were here especially back for those you guys became both from episode one walked through episode two online and now you guys are here with us. I'm sure it's expected that I'm going to talk about photography, maybe I am, and perhaps I will, but before we get to that point, I want to bring where we are now two completely real place because we have a few hours together, so I'm not going to take the funk. I'm not going to talk about actions, filters, presets I'm really going to talk about life because we've talked about all of those things up until this point, so today I'm going stop real nous not hurt about fear, about pain, about struggle because I don't know what actions he used, and I don't know what camera you use, and I know that what is more important to me is that I'm more interested in the creator than I am the creation I'm more interested in who you are than what you are producing, and we've gathered for the past three months wanting something, and my goal is that you walk away with that one thing. Just one tiny thing and I believe that this one thing well actually act as the catalyst for what the future holds for you. You made sacrifices to be here and I believe it's because you want something and I'm hoping that that thing that you want is changed because change is a good thing change gives you hungry keeps you scared it keeps you humble for so long I believed that if I got my business to where I wanted it to be, I could finally get to a place where I didn't have to change anymore, and six years into my business thie only thing that has remained constant has been changed I hate change would be really honest. I hate change because I know that change and struggle go hand in hand wherever there's change in my life struggle is right behind her shaking her ugly head I'm familiar with struggle because struggle and I mean her well, we go way back we're what you might call frenemies I've struggled with the shame I carried for being poor for receiving groceries anonymously left on our doorstep during childhood struggled with being embarrassed of walking out of the salvation army with my easter off it I struggle with the pain of being extremely overweight as a child and struggled when the boys constantly made fun of me and called me the beast at church no less I struggled with feeling academically inferior I was homeschooled and I didn't learn to read until about eleven years old I remember distinctly feeling that I was slow that I was behind the curve so here I was struggling with the insecurities of feeling poor fat brown and stupid hello hotness on dh then it continued because I mean here I was I was twenty five year old photographer and I said I was a twenty five year old girl and I said I wanted to be a photographer and I didn't even own a camera but then even worse when I did get a camera I suffered with so much social anxiety that I couldn't even admit to people that I was an aspiring photographer much less talk about how I wanted to take photos of people once I asked a co worker if I could take his photos for free and I'd give him the digital negatives and he just simply replied with no that wasn't just know and I was like oh okay to make matters worse I struggled with the looming fear that I was destined to build my business in the shadow of the salvation army I worked part time and j d worked with the start of a company s so money was tight for us and not like toe it was just tight like tight in like the worst possible ways as in our date nights on friday when we wanted to go big we would go to target and we would roam the aisles and I think I can pretend we buy things that we couldn't afford and then we wanted to go big we would get a one dollars chinese combo meal and then they would give us one fortune cookie even though they saw that it was two of us there and then we would split the fortune cookie and I always got the good ones and then he got the terrible fortunes because that's how I roll but those days were filled of with my best memories and I wouldn't trade them for the world because I was used to struggling this is just a different part of my life. When I was struggling I was finally doing the struggle with somebody who believed in my dreams the more I started thinking about this notion is trouble the more I realize that it's the thing that connects us to each other regardless of our age brothers of our race, religion, business experience we all know the language of struggle so if we all speak struggle I'm asking why is nobody talking about it? I believe that in this indian industry it's easier not to deal with it we sweep struggle under the rug and we only talk about shiny pretty things look at my new lens looking my upgraded computer we hide behind tangible items because it's something on the outside that we can show as others to put on display of our success, I'm okay and you're okay and we're all okay, but research has caused us to turn this notion inside out. What we've done is we've inverted the shiny and we have showcased the struggle. Now this look different from many different people, but through the process there was a common theme and that common theme was struggled and I felt like I was looking at people's fears and as people were fearful and scared, they kept on pushing on and it was beautiful. I'm like so proud of how far people have come on, we have learned well, what is wrong with wei have learned from each other. Now I'm going to ask you, what can we learn from the struggle and that's gonna be the premise more from today? A few months ago, I was reading a book called the art of fielding now the other is something so profound and struck me a silly, and it was then reading a book about baseball, of all things that fit in perfectly with what I wanted to talk about during the restart process, chad harbeck, the author writes, everyone lives to suffer as long as the suffering makes sense everybody suffered the key was to choose the form of your suffering now most people don't do this alone, they need a coach, a good coach makes you suffer in a way that suited you. Now, this was a lightbulb moment for me because in our industry we all suffer. I have yet to meet a photographer who picks up a camera just on a whim and suddenly start shooting award winning images for ten or twenty thousand dollars. Now, if this idea is true that we all struggle, then we as business owners must find ways to make our struggle makes sense, then once we make sense, we have to find ways to navigate it. Now, these three past months have been about creating strategy strategies to make sense of our struggle, and then we expedite we minimize the time how long were struggling because we meet somebody else and you already went to that what happened? How did it go? Great now your struggle is helping somebody else, and we're gonna hope that that person is gonna pay it forward and then pay for it or to raise the bar of our industry get an amen because I'm like nervous you guys hear that billy go going on, I'm not going to stand here and say that we're not going to struggle, I'm going to stand up here and I'm going to talk about struggle and we'll talk about how we face it because because the average business fails and less than five years and that number is closer to three or four years for wedding and portrait photographers, I asked myself why? How does this happen? The promise of a restart then became this in order for us to radically change things, we must do it together by learning and helping each other. It was just a simple as that I've been thinking about this concept ever since the launch of exposed magazine the magazine exposed launch about a year and a half ago close to two years ago. Now the common theme that I was hearing from photographers was one thing they said when I read it it made me feel less alone and in the sea of social media and a sea of living our cyber lives online and we're surrounded by others how many of us feel lonely now if you're feeling lonely or if you feel like you're doing things alone, then I'm guessing when you hit that three or four year mark and you're frustrated and you don't know what to do and you don't have friends I'm guessing it's easier to cope to walk away to close your doors and feel like you didn't make an impression on this industry, but the minute you've make friends I've come to believe that this changes everything I believe that this room is stronger together than we are apart I started this restart process by saying that and I believe it but I believe it because it just like that guy and like the boulding commercial not only of the president, I'm a user like when I started my business and I met some great girls in two thousand seven and we were all kind of struggling, right? We all had this roughly the same amount of weddings, but we wanted to grow we wanted to walk away from our full time jobs, so I started noticing that all of us were roughly the same amount we charge the same amount our styles are very similar we all valued client care very much and just we like each other's people, so I took the women on a whim, I emailed them and I said, hey, do you guys want to meet up, you know, for lunch and so he's decided to get fancy. We went to the cheesecake factory, and so remember, we met for lunch and we just talked about life and we talked about some of them have kids, we talked about their goals, and then I proposed hey, do you guys want to share a google google calendar? So whenever I'm booked, I can go into the google calendar and I could see if you are open, so if you're open, I'm gonna start sending weddings your way and when your booked and I'm open you consent weddings my way. So instead of arbitrarily just sending referrals elsewhere, we decided to make a commitment to the four of us to ensure that our weddings are years were booked that was revolutionary for me. A lot of times, he will ask, how did you book thirty weddings your first year? Not spending a dime on marketing? I will first and foremost say, word of mouth and word of mouth, but that third huge component was my friends. If you're trying to do it alone, I'm going to tell you, it's going to take you longer and it's going to be harder. So the largest and most successful groups believe in their based on this belief that we're in this idea, that we're in this together, and that I have your back, and that you have my back for the greater good. And yet in the world of art it's, almost unfounded to me, it feels like it's more about me, myself and I and amazing work that I produce and to an extent, I understand that pablo picasso painted paintings on his own, and ernest hemingway wrote books on his own. But what shouldn't be underestimated or under or overlooked was that these influential artist thrived on each other now these artists picasso, hemingway a lot of other writers in paris at the time they running overlapping circles and they pushed each other and sometimes these relationships weren't that great but they remained tethered to each other and they promised each other to push and pull and sharpen and refine their work and perhaps today could be the start of something different for you. So we're here today connecting you with the pablo picasso's and henny ways of your neighborhood yes, here in seattle but online in the groups and via social media because what I want you to do is I want you to push and pull and challenge each other because the more entrenched to become with the people around you, the harder it is for you to walk away from your dream I'm begging you please do not leave this building please do not leave the facebook group please don't stop the connections that you're meeting with the peoples people's where the people in the lounge because I believe it this is going to be the small spark in the industry. My dad always raised me that if you change a house, the new change street and if you change a street and changing neighborhood maybe changing neighborhood you change a county, your county just state when you change a state, you change a country and I believe the same thing can happen in our industry you change thirty people in a room in seattle all dedicated to making a change and then we all go out into our independent markets and then what happens? The one street the one home becomes the one street that the one street becomes the community and that's what I believe that could happen don't leave here today without meaning to new people that will revolutionize how you see the world online. If you're at home in your pjs and you ditched work, don't leave without connecting with people online these do people can change the trajectory of your business, and I hope that you do the same for theirs now on that note, let's talk about people who are making friends in the restart group. Last month I highlighted a few success stories and I thought it was really exciting and it was great, you know, I'd love to show even more progress today. Now this lovely group this is joint amber of joint amber photography. They were here during episode one, unfortunately couldn't fly back from north carolina, but what they have been doing is watching us online from concord, north carolina. Now, according to join amber, they shared ideas, they brainstormed, and they shared a lot of strawberries after seeing many peers hold their secrets from their businesses and holding them from other people, this meeting was refreshing to connect with like minded believers actually loved seeing it now monica greenaway sent me this photo now this is a group photographers meeting and watching research together and they meet in pleasant in california and there are five of them and they come together from castro valley san matteo, sacramento and monterey monica says being together has been a life changer and she can't wait to see what the future holds for them now this oh we go back this is britney lauren she has been a faithful re starter and she's been so supportive of others in throughout the process if you have been on the facebook restart group britney is actually very vocal in there and it's great to see and she was our model for episode two last month and I only wish our model she went back back to portland area and met up with a great group of people for coffee so there are a lot of people doing great things and I love seeing these people work together now talking when these photographers get together I know that they're talking about their businesses but they're also talking about the brand which leads me to ask what is brilliant now ah brand is a set of expectations, memories, stories and relationships that taken together account for consumers decision to choose one service over another and this is defied by seth golden now I have used this same quote on this same slide every single episode because I want and I need it to stick out, I genuinely dio because a brand isn't one big thing, it's a culmination of a lot of small experiences. Now we've established that we've been breaking it down, but I'm going to keep on coming back to that because when we talk about the last thing I wanted somebody to dio is to walk away from the restart process and say, well, you know, I can't believe I didn't learn how to build a brand well, it's a lot of work and it's a lot of small pieces now, if you only want to do two of the like we talked about nine things, chances are you have a really hard time building that brand now it's a culmination of small experiences, and this is what gets people talking about your brand and endorsing your business. So what types of wedding photographer experiences are there? Theoretically, we can all offer the same type of services in our business, like we all shoot, we all have proofing options, things like that, but anything you could do in advance to enrich this experience is going to be beneficial. So to bring everybody up to speed for those people who are just tuning in for episode three here's, the cliffsnotes version of what we've done in three months episode one I focus on the communication experience, and now this is how we correspond with our clients, and this is how we personalize that experience. Now, the second experience is the client experience, and here we focused on creating a conversation map in order to help conveyor thoughts and help us book events with clients who are searching for us specifically for us and not just a wedding photographer. Thirdly, we went through the shooting experience. Now this is where we challenge ourselves to shoot for our brain ing words into attract the type of clients that we want. Then in episode two last month, we focused on the online experience, and this is our online store front, and this is how clients view our portfolio. So I want to ensure that what you are putting out is making somebody feel something because one somebody feels something, it helps them get to know us. Lastly, we dove into the pricing experience, which I thought was gonna put everybody to sleep. And guess what? We're going to be visiting pricing today way calculated our wedding profitability on a per wedding basis and then we're gonna get into business profit building today, it's gonna be a full day before we get into the photographer's big reveal. Because I'm really excited to showcase their websites so darn proud of how far they've come I actually want to showcase the progress of online restores because it's not just about three people we're talking about a community which has happened to be using them as examples going to start with krishna carbone are and doing a happy dance since falling restart I have booked the following two family portrait one pennant portrait, one wedding, one corporal portrait, one event a total of six bookings all I could say is wow! She goes on to say that she's achieve these results by displaying her photos that speak towards her brand and effectively used the conversation map. This is so incredibly awesome to hear now we're going to move on. We talked about remember we went through a lot of different components, so I'm just be highlighting a lot of progress has been going on this is vicky now above you'll find vicky's before logo but after going to the restart process, she decided tio make changes that reflect on who she is as a photographer and that's what you'll see at the bottom the thing is the but I like the most about her after logo which we'll see at the bottom is that it's not entirely different from the first I think that she's staying true to her vision but she's amping it up for a professional appeal that's what he has been in about now I particularly like this because I saw this on the facebook restart group and promised tandem in our graphic designer hopped in and heather hill house asked if promise could give feedback on her logo and promise responded with the following I love it and it has a unique look to it how fun I see it as being whimsical and light hearted for more polish looked look, I would suggest the following edit so what promised it was took heather's logo and she just removed a few things that she felt might have been distracting and the logo is still so much the same but has adjudged up appeal. I'm seeing you guys not right or we like okay, I feel like this is q vc do we like this way? Wait there's more okay? Courtney fending goes on now, according didn't get a new website, but she simply added on a section about into her about section so she hasn't about section but this section she entitled sincerely me this is a way to personalize her online store front. She simply added photos with details of who she is, the things she likes and I really do think that she's using up her put online personality now monica greenaway of love monica in northern california sent me this photo of her before website now if you were to meet monica, I don't think that this really shows off her personality, but her new website I think really does now she added a video in the lower left hand corner and that's going to show her inaction and she's added updated portfolio pieces to showcase her talent and best of all, I think that her about section really highlights what makes her unique I love how she person a lot personalized the page and showcase her perspective as much as she is showcasing her work. This is amy of sun shower lifestyle photography now she is a portrait photographer, so I was excited to see that portrait photographers are following along with us and making that apply to their own business. So this is her before andi, I'm going teo show you her after photos, and she also writes, I'm in love with facebook groups such an inspiring and friendly group of artist this is her after I think that it has a great appeal, I think that she d cluttered I think it looks professional and I think it showcases mohr of her line of vision now robin rachel is a photographer from chicago, illinois she sent me this before a photo of her of her website and I'm blown away at the progress that she's she's made in that she's done now this is her before home page and this is her about this is there before about paige now I don't think it's so bad, but I just think it's really text intensive she has a lot to say and their dark colors in it now I want really excited too take a look at her afters now this is what her after looks like this is now her home page so it distinctly has an editorial vibe to it she changed from black to white she still has a photo of herself on her home page to immediately let you know who she is and her vision now this is also her rave section that I'm in a really showcasing right now. Now I'm like this because she still showcasing a lot of information but to me she's doing it an aesthetically pleasing way this is her clients talking about their enjoyment of working with her as a photographer that was done really well now. Lastly, mick, listen listen mcclain rights hope you jd and polo are doing great I wanted to share a success I wanted to share our website success story with you as you inspired us to go from procrastination too fascination in just a few weeks from the most recent restart session I re launched our webs are knew what I call big girl site less than a week ago and we've got in four meeting set up including a magazine photo shoot inquiry who wants to book and user images to anchor an article they're writing about a local father and son cycling team, the publishers exact words were, I was ready to hire you guys based on the website alone. Your images are awesome. Thanks for the push and can't wait to you. See young, creative, live in a few weeks. I'm really happy for melissa, like if she redid her website and she's getting that from a magazine editor. Ding. That is great, like you couldn't ask for more today. We're going to further this discussion about our experiences, because we want to round out our brands in episode three. We're going to be focusing on the marketing experience, the networking experience, the social media experience, and we're gonna round it out by how to utilize s e o search engine optimization.
Class Materials
2 Week Message on Feb 6.pdf
2 Week Message on Jan 23.pdf
Ratings and Reviews
Jasmine Star is a "star". I was so inspired by her and her marketing. She has got her brand defined perfectly. She is a brilliant woman. The way she thinks about building a brand and never deviating from her vision is amazing. She is also very humble and her stories about growing up were so heartfelt. She is a true story of rags to riches. I came away with a ton of respect for her and a wealth of information. If you are exhausted trying to be a photographer for everyone, and not going in a strong direction-buy this now! The transformation in the three photographers that participated, from their improvement in shooting to their amazing new websites, will inspire you so much. Do you want to transform your business? They grew in three months the amount it will take you three years to do on your own.
THANK YOU Jasmine for this precious lessons, you teach us! only i re-start watching my course today and i already feel some new inspiration to take my business to next level, you talk a lot and that good energy always helps to put this motivation on. Still do a good work! CS
Student Work